I've worked with International Living for 14 years, and I've seen a lot of lists of the best places on earth to retire.
I don't remember a single one that didn't have Panama either at the top or in the top five.
Of course, for my wife, Suzan, and me, Panama has some special appeal. We lived in Panama City for a while and toured most of the country. Also, our granddaughter's mother is Panamanian, so an entire side of our family is there.
So we've had a firsthand look at why Panama rates so highly with North American retirees. These qualities are also well represented on this year's Global Retirement Index—IL's pick of the top 25 countries to retire in the world today—on which Panama is again one of the top picks.
But from my point of view…aside from its tropical climate, beautiful scenery, and modern infrastructure…Panama is just easy.
Thanks to the Panama Canal, this country has had association with not just North Americans, but with just about every country on the globe for a century or so. This gives Panamanians a fairly worldly outlook. They love, respect, and preserve their own culture…but they probably also know as much about yours as you do, no matter where you're from. This makes them interesting and tolerant folks—the kind you really enjoy having dinner or going to a baseball game with. Oh, and they may know more about baseball than you, too. It's a popular sport in Panama.
Panama City is one of the most modern urban centers in the Americas. You can find almost anything in Panama City, and if you can't find it, you don't really need it.
That being said, the Panamanian countryside—and the people who live in it—are as down-to-earth as you can get. By that I mean "invite you over for a cold beer and some barbecue and dance to some wild accordion music until the wee hours" kind of down-to-earth. And you can easily get to the countryside, because the PanAmerican highway runs the entire length of the country. And since Panama is not that wide of a country, there are high-elevation spots where you can see the Pacific and the Caribbean at the same time… No place is really too far away to explore.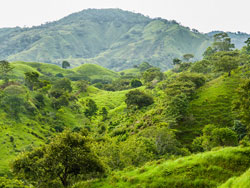 I myself am not a fanatical fisherman or surfer, but I have friends who are, and Panama has so much coastline and so many fertile fishing grounds that these friends are perpetually happy and entertained.
I'm more of a highland guy at this point in my life, and there are communities all along Panama's mountainous spine that I'd happily settle in. As far as I can tell, no place in Panama gets really cold, but there are plenty of upland spots where you can live surrounded by lush forest and be happy to have a jacket or sweater of an evening…and that's just my style.
In fact, it's so my style that Panama ranks on my personal list exactly where it ranks on International Living's Global Retirement Index this year. I currently live in Ecuador, and it suits me right down to the ground. Ecuador is #1 one on this year's retirement index. And at #2 on that same index is the first place I'd look outside Ecuador right now. Yup…Panama.
If a guy played his cards right, he could end up with a little hideaway in each country. Then, not only would he have a place in the top two retirement destinations on the planet…he'd also be able to see his granddaughter's side of the family on a regular basis. And maybe dance to some wild accordion music every now and then.
Get Your Free Panama Report Here:
Learn more about Panama and other countries in our daily postcard e-letter. Simply enter your email address below and we'll send you a FREE REPORT — Panama: First World Convenience at Third World Prices. 
This special guide covers insider advice on real estate, retirement and more in Panama. It's yours free when you sign up for our IL postcards below.
Get Your Free Report Here