With another Fast Track Panama Conference under our belts, I'm amazed once again by the appeal and the staying power of this magical country for U.S. and Canadian expats.
I get to come here every year for our Fast Track conference, and I've heard many of our presenters, experts, and expats tell their stories of life in Panama before. But sure enough…with an audience of several hundred folks soaking up the information and opinions about retirement in Panama for the first time…it's almost as if I'm hearing it for the first time myself.
And it makes me appreciate how much Panama has going for it.
With the Panama Canal and the banking industry as a backbone, Panama has one of the most successful and stable economies in the Americas. This makes almost everything better in Panama. The shopping is more varied. The healthcare is more comprehensive and familiar to North Americans. The opportunities for business, volunteering, and recreation are legion.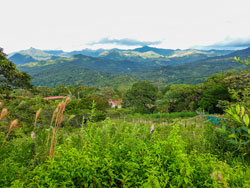 And economic stability aside, Panama is simply special geographically. With the Caribbean on one side and the Pacific on the other, there are probably more—and more varied—coastline and beaches in Panama than any place you can mention.
Not a beach person? Mountains run right through the country from east to west (another unique thing about Panama among Central America countries…it's oriented east and west rather than north and south). And up in those mountains are places like Boquete…El Valle…Sora…and Santa Fe, some of the most popular—and soon to become popular—expat havens in the hemisphere for their mild climate and magnificent scenery.
I get to see all these places through fresh eyes each time we hold a conference here. It's a remarkable experience, and it's one I look forward to every year.
This year as we wind up the Panama Fast Track Conference, we're sending 400 potential expat retirees out into Panama armed with more information and on-the-ground experience than ever before. And Panama will find a place for each and every one that decides to give her a try.
Panama is that varied, that strong, that special. And the people are that welcoming.
When I see it again through the eyes of our attendees, I realize again that Panama truly does have a place for everybody.
Get Your Free Panama Report Here:
Learn more about Panama and other countries in our daily postcard e-letter. Simply enter your email address below and we'll send you a FREE REPORT — Panama: First World Convenience at Third World Prices. 
This special guide covers insider advice on real estate, retirement and more in Panama. It's yours free when you sign up for our IL postcards below.
Get Your Free Report Here