Right now, in Mexico, there's a place where rich celebrities, like Cameron Diaz, Demi Moore, and Orlando Bloom come to hang out…but where you can still buy a condo without the millionaire-price tag.
A small number of members of Real Estate Trend Alert will be able to buy a luxury condo for just $145,000. Developer finance will be available.
This is a strong pre–release opportunity. Members get access to the best units before they're snapped up. I can't say what the "retail" pricing will be at launch yet because the developer hasn't decided. I can say for sure that it will be significantly higher than what members of Real Estate Trend Alert will pay. How do I know? Well, for two reasons:
1. Historically, RETA members have done very well in the Tulum area.
Only five years ago, members of Real Estate Trend Alert bought condos here with prices from $127,000. I recently saw one listed for $265,000. More recently, in February, RETA members were able to lock down a condo here with prices from $141,500. Within weeks of that opportunity being released to the general public, it sold out—for $181,500 per condo.
2. RETA member-only pricing is at a 20% discount to comparable "retail" pricing in the area.
The condos that I have negotiated this deal on are priced at $145,000 for RETA members only. If you were to buy a similar property in one of the nearby developments, you would pay at least $181,000 for it. That's a difference of at least $36,000.
It's hardly surprising that these condos have done so well when you see what this area has going for it.
It's a very convenient location for vacationers and expats alike. You can fly to Cancun airport (70 minutes away from this community) from many North American cities. Miami is under two hours flying time; New York, Chicago, and Toronto about three and half hours. And Houston is just over two hours away.
Government policy is fuelling growth through new infrastructure and an emerging Mexican middle class. Completed infrastructure includes a new flyover road system at Playa del Carmen.
This community is located in a major high-end resort. Infrastructure and amenities surrounding the site for these new luxury condos are already in place. And it's stunning here.
The beaches here—replete with clean, white sands and turquoise waters—are growing in popularity with discerning tourists. And, steps from the beach, you can wander into untamed jungle, ancient forest cities, and dive into mythical cenotes.
Mexico's Riviera Maya greets about 4 million visitors annually. They plan to greet millions more. Major infrastructure investment is part of a government program to deliver and cater to increased tourist numbers.
Some development is coming to this largely untouched stretch of coast…but it can't sprawl further south thanks to its proximity to the Sian Ka'an Biosphere—a 2,000 square-mile nature preserve. The land of the biosphere is protected and won't be developed.
That means the supply of quality condos will be restricted, even as the Path of Progress moves south. The Riviera Maya is serious about making this Path of Progress happen. Plans call for a new rail line that'll link Cancun airport, Tulum, and Merida. A site has been identified for a new international airport. (However, ground breaking has been mired in delays. It may or may not happen.)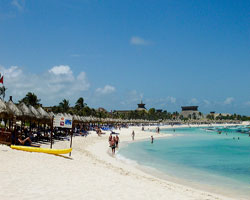 So while demand is about to boom, due to the protected status of the biosphere, supply will be very limited. This is where you have an opportunity to make a strong property investment—one that could earn you money almost immediately.
The rental market here is readymade—that's even before this stretch of coast starts to attract millions more visitors. It's not just accessible and attractive to North Americans; Europeans have been coming here in large numbers for years.
Newly (and longtime) affluent folks from Mexico City, and other major Mexican cities, are coming in their droves. You'll hear Portuguese spoken, too, but few Portuguese accents—they're coming from Brazil. Each time I return Colombian flags and visitors are more visible.
The developer behind these condos is strong. I have seen his work on other projects and been very impressed—no expense was spared. He builds the high-end classy homes the market wants.
And, everything all around is high-end and immaculately kept. Next door, luxurious homes nestle in ancient forests and along the golf course. Tens of millions have been invested in building tasteful infrastructure and amenities.
As I've said I'm strictly limited in what I can tell you here, and now. All that razzmatazz will be saved for when this goes "retail."
But I can tell you that a small number of members of Real Estate Trend Alert will be able to lock down a condo for $145,000 with developer finance.
Editor's Note: Ronan McMahon appears here courtesy of Pathfinder International, IL's preferred real estate advertiser.
Free Real Estate Report:
Learn more about living, investing and real estate overseas in our daily postcard e-letter. Simply enter your email address below and we'll send you a FREE REPORT: "International Living's Insider Guide to Buying Real Estate."
Get Your Free Report Here