Last spring, on a beautiful evening in Cabo, I swung by a special brokers event here in the 5-star Quivira Resort. You wouldn't normally catch me anywhere near a crowd of brokers gathered for something like this.
But this was a big deal…
Local agents generally fancy themselves as insiders with their fingers on the pulse. But in truth they get in on the action long after my RETA group has had the best opportunities.
In Quivira that day the local brokers were faced with prices $97,200 higher than Real Estate Trend Alert members had paid months beforehand. Even more for the premium condos…
Across my global beat, we often find local real estate insiders feel blindsided when they hear about the incredible terms RETA get on deals.
In this case, if you were a member of my group your price for a two-bedroom, two-and-a-half-bathroom condo in the 5-star Quivira Resort would have been from $259,800.
These condos were then offered discreetly through the developer's regular sales channels for $316,829.
By the time the brokers event was held, the price was $357,000, or more.
Needless to say, I didn't stick around for the free chardonnay.
The thing is, with every kind of investment, there are insiders and then there is everyone else… On Wall Street it's the fat-cats that get in early…and get out with millions in the bank. Regular folks like you and me…we're locked out of deals like that.
If you don't know who the schmuck at the poker table is, it's probably you. And, if you think a game is rigged against you…it's probably much worse than you think. There is always a group of people in the know…insiders who have been there before you, picked the best deals, and bought at the lowest prices.
But when it comes to real estate around the world…RETA members are the insiders. The scale is tipped in our favor. We hear about opportunities well before anybody else does—and, more importantly, we get the kind of access to them that nobody else has. And we can keep it that way. (Find out how to secure your insider status, right here.)
As real estate insiders, we hold the aces. Our combined gains already amount to tens of millions of dollars. And our influence grows stronger with every deal.
For the past two decades, I've been quietly building an extensive network of contacts. People I can tap for information on any market on my beat…developers who have seen RETA's buying power and will offer us significant discounts in order to keep us sweet…and insiders who inform me about the best deals coming down the pipeline.
This is how I can get exceptional opportunities in front of RETA members as quickly as possible—before other investors even hear about them…
For example, I recently told members about a six-bed, three-story home overlooking the Pacific Ocean in Nicaragua. The original listing price was $789,000, but when it hit the market for $250,000, my contact on the ground picked up the phone and brought it to me.
RETA heard about it first, and the eventual buyer got it for just $220,000. It was a stunning deal. And not one you'll find by peering through a broker's window or browsing the internet.
The deals come fast, but I've been setting the groundwork for months, even years, in advance. My team and I are on the road weeks of every month (we're getting ready to start scouting as soon as things start opening up again)…and then there's all the due diligence…the negotiating on members' behalf…and, of course, the matter of details coming together on the ground…
Since the COVID-19 crisis began, we've ramped our efforts up a gear. I've added new members to my team…extended our rolodex of contacts…and spent hundreds of man-hours mining for opportunities.
In March I brought members our Surfside opportunity. True beachfront condos on Panama's Riviera Pacifica from $214,300. We got this opportunity in part because of the crisis. A little-known change to tax codes offhanded us a "bailout" to the tune of $65,700.
A week later, we were looking at deals in Medellin, Colombia, where falling currency values were spewing up incredible opportunities. A nice three-bedroom apartment, which would have listed for $221,875 a few months ago, was going for $178,392…a four-bedroom apartment that was $187,500 listed for $150,754… that's just the effect of falling currency. But with a motivated seller, you could offer about 30% lower again…paying less than $80 per square foot.
Then it was Tulum with our Edena deal. Our RETA-only price was $149,000 on spacious two-bed homes. But because of the crisis, I negotiated an added kicker, giving every member who bought a pool worth an extra $7,000. I expect these homes to fetch $225,000 or higher soon after delivery. And that's not to mention the income potential. I figure on 13% gross yield, easy.
In Uruguay, members could lock down ocean-view lots ahead of a Path of Progress from $31,356. Cash buyers got an additional 15% discount. Once the world recovers fully from the current crisis over the next few years, I expect these lots to be worth $50,000.
Make sure you never miss deals like these again, when you lock-in your insider status.
This is only the beginning…
There's a boatload of crisis deals to come, and if you're a RETA member, they'll be pouring into your inbox thick and fast in the coming weeks and months.
There's a lot more to look forward to. As soon as planes are back in the sky, RETA members will be on the move taking Members-Only Scouting Trips (MOSTs). These are where small groups of like-minded RETA members put boots on the ground, go onsite, and take a look at opportunities for themselves. These trips are always a lot of fun, and just another incredible benefit of being a RETA member.
And when we return to normality—whatever that will be—I'll be joining RETA members in person for our annual Gathering. It's a closed-door event where we play the hottest deals…pinpoint the lowest-risk plays…discuss the best ways to supercharge our investments…and talk about how to double our money in five years while keeping risk low. (Learn how to get invited before anyone else.)
I'll know soon whether this year's event can go ahead or not, but either way, I'll be bringing the deals…so get ready.
Wishing you good real estate investing!
Connect with Ronan on Instagram  or Facebook
Get Your Free Real Estate Report Now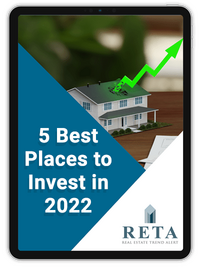 Sign up for our free daily Postcard e-letter and get a valuable free report on the The 5 Best Places to Buy Real Estate In 2022.
Related Articles
The 10 Best Places to Invest in Real Estate
These Crisis Deals Are Not For the Fainthearted…