Enjoying beach life comes relatively cheap in the Ecuadorian town of San Clemente.
Expat Linda Irwin moved there in March 2013 with her son Logan and says food is her biggest expense. Even with a growing teenage son, her weekly grocery bills run just $100 a week.
Linda owns her four-bedroom house, which she purchased for $110,000, so she doesn't pay rent. The house is directly on the beach and comes with an incredible ocean view. Each month she spends around $15 on electricity, $10 for water, $25 for Internet, and cable TV is only $23. "We enjoy eating out several times a week but spend no more than $15 on a dinner for two," says Linda.
Anxious to escape the snow and freezing temperatures of Colorado, Linda and Logan first tried out life for nine months in the highland city of Medellín, Colombia. They then headed for the beach on Ecuador's Pacific coast.
They rented an apartment in the coastal town of Crucita for three months before deciding to settle in San Clemente, a small fishing village several miles north. "The people here take pride in their town, where the streets are clean and there are very few buildings in disrepair. What I like most is that there is no malecón(boardwalk), so there is direct access to the wide beach," says Linda.
Coming from the lifestyle of a busy obstetrician/gynecologist back in the U.S., one might wonder how Linda has settled into the laid-back culture of coastal Ecuador. "I can't really say what I do all day," she laughs, "but I'm rarely bored. I take walks on the beach and meet up with other expats in town. I try to spend some of each day practicing Spanish, too." Running errands and general household chores takes up some time, as well. "We adopted two street dogs right away, so we spend a lot of time with them. They can also get the house dirty quickly, with all the sand they bring in!"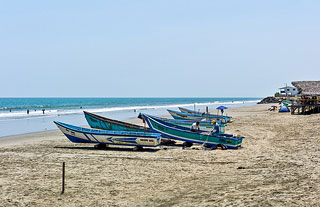 Logan is also keeping busy. He attends an online school but has found time to indulge in some of the activities that Ecuador's coast affords. "He just went fishing with some other expats and an Ecuadorian captain. He had a great time and he caught the biggest fish," Linda says.
Linda has five other grown children who still live in the States. The conveniences of the 21st century have made it easier for her to live so far away. "We go back every six months and two of my sons have been down here to see us," Linda explains. She also has several free apps on her cell phone that allow easy, free communication with her children. "We text all the time and talk for free. If these were still the days of long-distance calling rates, I don't think I would be down here."
Communicating easily with family is great, but you need real-life friends wherever you are. Linda has lucked out in that department. "We have made a lot of friends here, mostly expats but some locals, as well. In addition to having people to talk to and do things with, I feel I can call any number of people for help or advice when problems or questions arise. That's what makes us feel at home. And that's why we will stay."
Free Ecuador Report:
Learn more about Ecuador and other countries in our daily postcard e-letter.
Simply enter your email address below and we'll send you a FREE REPORT – Ecuador: Live Like Royalty on Your Social Security.
This special guide covers real estate, retirement and more in Ecuador and is yours free when you sign up for our postcards below.
Get Your Free Report Here