It's hard not to smile a lot when you live in Cotacachi, Ecuador.
Take, for example, my walk through the leather-boutique-laden main street this morning. I strolled a total of five blocks and encountered more familiar faces than I could count. Alberto, a local landscaper, greeted me with a "Buenos dias, Señora Wendy" as he zipped by on his well-used bicycle. My Canadian friends Brian and Janette stopped to chat for a few minutes and catch up. As we finished our discussion I heard a shouted "Hola, Wendy." I turned to see one of my regular cab drivers, Richar, rolling by in his freshly washed yellow taxi, arm out the window and wide grin on his face.
Cotacachi is a fabulous place for socializing. There's a hip little coffee house with funky wallpaper and fully loaded bookshelves that makes a great meet-up spot. There's a great restaurant run by an American-Ecuadorian couple where you can get fish and chips and a frothy artisan beer. Or head to the expat-run pub in town to catch a baseball game on their ultra-huge screen.
But you don't even need to hit up a restaurant, café, or bar to find a good place to mix it up. Cotacachi has two perfectly manicured parks where wooden benches open up an invitation to rest your feet and strike up a conversation with others in the plaza. (Get used to locals chatting to you if you don't start the conversation first.) Or you can shop with friends as you meander through the bright stalls of the small craft market, enshrouded in local textiles, clothing, and wooden carvings.
At night, it gets much quieter here. In fact, when I first arrived in Cotacachi, the standing joke was that the town rolled up the sidewalks just after sundown. Cotacachi still is a quiet little town. But over the last few years, I've had the pleasure of watching this little Andean village transform itself into a multicultural music center.
Previously, there was no place to go for an evening to relax with a glass of wine and listen to some good tunes. But, in the last couple of years, things have slowly begun to change. As it turns out, Cotacachi possesses quite a bit of musical talent amongst its natives.
Several of the expats in town are also accomplished musicians, which has created a nice mix of styles.
Eighteen months ago a few expats began playing together on Friday nights in the back room of a restaurant and eventually a weekly jam session took shape. Then other restaurants and bars began hiring musicians to entertain on weekends or for special events. Suddenly Cotacachi had a music scene and based on the turnouts, it was obvious that the town was starving for live musical events.
I've also noticed an uptick in the amount of Ecuadorian musical talent on show. A few weeks ago several musicians from the nearby Intag valley came to Cotacachi with their own style of music.
And my sons and I, along with about 60 other Cotacacheños, (natives and newbies), really enjoyed a folk harp festival that came to town. A harper from California played hymns, folk songs, and her own songs. Next a gentleman who splits his time between the U.S. and Ecuador shared with us thousand-year-old European melodies and songs from Mexico, Venezuela, and Spain. Finally, a man from a nearby village played us Andean harp tunes while people from his community passed out cups of hot blackberry cider to the crowd.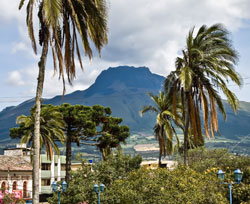 The people and the vibrant social scene are not the only things that will put a smile on your face in Cotacachi. If you've gotten used to living modestly because treats were out of reach, here you'll enjoy some luxuries that would cost far more at home.
For just $5, you gain entry to a local, spacious hot tub, steamy Turkish bath, and toasty sauna. At a local four-star restaurant, you'll pay just $12 to $13 for four courses—appetizer, soup, main course, and dessert, with fresh fruit juice.
Day to day, our bills are smaller than back home, too. Our electric and Internet runs us about $30, water $3 or $4, and our annual property taxes for our new three-bedroom, two-bathroom house are around $60. And for $20 or $30, you'll fill your basket high with enough produce to feed four for a week.
Consider all that and the fact that the climate is temperate and pleasant all year round and ask yourself: What's not to smile about living in Cotacachi?
Get Your Free Ecuador Report Here:
Learn more about Ecuador and other countries in our daily postcard e-letter.
Simply enter your email address below and we'll send you a FREE REPORT – Ecuador: Live Like Royalty on Your Social Security.
This special guide covers real estate, retirement and more in Ecuador and is yours free when you sign up for our postcards below.
Get Your Free Report Here