"We spent about five years researching good retirement destinations before actually moving to Panama," says Bill Hamilton who moved with his wife Mieke to the country's capital city.
"I'm the type of person to look up every single thing…crime rates, politics, cost of living, real estate, health care…and Panama City kept popping up in my research as the best option across the board."
Though in their 60s and already retired from previous careers, the Hamiltons made the decision to move in order to take a stab at running the Balboa Inn, a nine-room B&B in Panama City.
It's a decision that they haven't regretted.
"We absolutely love this part of Panama City," says Mieke of the Balboa area.
Located in the capital's Ancón district, this area is a world away from the city skyscrapers. As she makes a sweeping gesture to indicate the inn's exuberant yard, Mieke says, "I love nature, and this area allows me to be close to it."
While the downtown financial district of Panama City is all towering banks and condominiums, greater Ancón is full of homey neighborhoods—there's a lot of thick, green foliage and plenty of wildlife.
"We have little green parrots and different colors of tanagers and woodpeckers here every day," says Bill. "And a family of agoutis started bringing their newborns, too." This is an area where it's not at all uncommon to see a cuddly sloth or even tiny capuchin monkeys.
Tall, "gringo" types, the Hamiltons would stand out in Panama City, you might think. But the city is international, with people of every race living here and passing through.
Mieke enjoys local customs, she says. "It's so nice, how people in the city like to dress well and never leave the house unless they look their absolute best. And at the same time, people are so nice and genuine. Our first Christmas here, we were so surprised. Our Panamanian friends and neighbors showed up close to midnight, dressed beautifully and bearing massive plates of food. It's a tradition we didn't know about, but it's wonderful."
Panama City is also the ideal hub from which to explore the country, say the Hamiltons. "We love traveling to different parts of Panama, and we always use our vacation time to see something new. Just the other day, we returned from the Azuero peninsula. We drove from here, and on the way we saw the El Copé National Park. Then we headed to Chitre."
A growing city in the Herrera province, Chitre is known for its friendly people and folklore festivals. "There are all kinds of events, from rodeos to processions, and we try to see as much as we can."
Bill says the friends he has made in Panama City have helped him get to know Panama better.
"We made friends with a guy from the States who has a bed and breakfast in Pedasi called Café Limón, and we have exchanged stays. We have friends in Bocas del Toro, too," says Bill, showing me a photo of a bright-yellow hotel called El Paraíso Escondido. It sits on stilts over the Caribbean. "They have a see-through floor so you can look down into the water."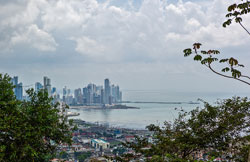 Best of all, however, is Gunayala, the reserve governed by the Guna indigenous tribes (previously the Kuna living in Kunayala until they voted to change it). "We've become friendly with a Guna family that comes to the city often, and were invited to stay with them in their ancestral home. A lot of people fly to the Guna islands, but you can actually drive to the Guna launch point at Cartí," says Bill.
"It's a beautiful drive through the mountains. You leave Panama City at 5 a.m., and by 10 a.m. you're on an island picking out a lobster for lunch."
Of course, the couple has found much to explore right in the city, where they spend most of their time. "We love to walk on the Amador Causeway, a few minutes from here, or have a cold drink at Casablanca, in colonial Casco Viejo. And we go hiking all the time at Soberanía National Park," says Mieke. Just 16 miles from the city center, the vast park is a treasure trove where visitors can spot toucans, howler monkeys, iguanas, and more.
They also enjoy the great food the city has to offer, reeling off favorite restaurants, from Lebanese favorite Beirut to a hole-in-the-wall Thai diner called Sukhi, to Nikos, a popular local chain.
"I buy fresh baked bread from the Nikos around the corner every morning. The birds know it," Bill says, adding that he feeds them every day. As if on cue, a soft blue and grey tanager lands on our table. Behind, neon-orange bird-of-paradise plants punctuate the deep green of the tropical foliage.
The Hamiltons truly live in an oasis…and it's hard to believe the city's biggest mall is just a few miles away. "You can have beautiful surroundings and convenience here," they say. "It's perfect."
Get Your Free Panama Report Here:
Learn more about Panama and other countries in our daily postcard e-letter. Simply enter your email address below and we'll send you a FREE REPORT — Panama: First World Convenience at Third World Prices. 
This special guide covers insider advice on real estate, retirement and more in Panama. It's yours free when you sign up for our IL postcards below.
Get Your Free Report Here