With a vibrant cultural scene, Panama's capital is a wellspring that's well worth exploring. In Panama City, you have so much to choose from that whether you're into art, architecture, gourmet cuisine—or anything else—you'll find plenty to keep you occupied.
Best of all, this surprising city is filled with contrasts. Small colonial gems and skyscrapers with cutting-edge designs…hidden galleries and state-of-the-art museums…centuries-old ruins and more modern wonders, too.
For those of us lucky enough to live here, there is a never-ending list of cultural activities. If you're in town for a short visit, however, here are the top three cultural sites you won't want to miss:
Frank Gehry's only Latin American landmark: Panama's newest and flashiest museum is the work of world-renowned architect Frank Gehry. Though it's still a work in progress (the museum will eventually house Central America's largest aquarium), the Bridge of Life "biomuseum," is open for business.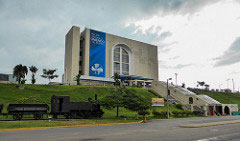 Located in the city's picturesque Amador sector, the wildly colored creation showcases avant-garde architecture and construction techniques. The real theme, however, is Panama's extreme biodiversity. The isthmus' creation and impact on the planet is highlighted via highly interactive exhibits. Learn about Panama's unique geology, its tribes, the flora and fauna, and much more.
A true feast for the eyes, this museum will entice you to take photos, so make sure to bring your good camera. The grounds are every bit as appealing as the interior. Happily, lines are usually quite short, so don't worry about buying tickets ahead of time. Just give yourself a couple hours to enjoy the experience. Once you're done, take a stroll down the Amador Causeway and enjoy the views…or select a café and sit for a spell.
The Miraflores Museum: The Panama Canal is one of Panama's must-see attractions, but it's often dismissed by art lovers as an engineering marvel and nothing more. Few know that the Miraflores Visitor Center, near the Canal's Pacific entrance, houses a four-level museum. If you're interested in Panamanian culture, this is an important stop.The exhibits feature historic canal models and information on the thousands of men and women—from all over the world—who helped make the waterway a reality. Their stories…the challenges they faced and their then unparalleled ingenuity…are fascinating. And their descendants populate Panama today.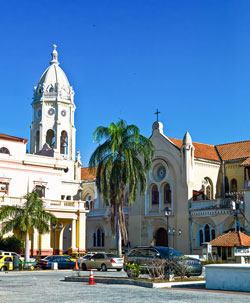 You may also want to stick around after the museum closes. Evenings, the canal continues to function and the lights and passing ships are a wonder to see. You can view it all from the newly re-opened restaurant at the top of the building. Prices are steep, but where else can you dine on a balcony overlooking the Panama Canal?
Colonial Casco Viejo: Old brick roads, Spanish and French colonial architecture, and a gritty local feel all add to Casco's allure.Known as the second city, it was founded in 1673—after the first Panama City site was burned to the ground by marauding pirates.In Casco there are various plazas and more than 11 streets of architectural specimens, churches, galleries, nightspots, and more to explore.
Don't miss the Plaza de Francia, or French Plaza, located at the end of First Street. Here you'll find a monument to the ill-fated French attempt to build the Panama Canal. You can climb the steps to a walkway along the old city wall. Called Paseo Huertas, it offers expansive views of the ocean, the iconic Bridge of the Americas, and the city skyline.
In Casco you'll also find the Santo Domingo monastery and gallery, the San Jose Cathedral (known for its golden altar), and the Presidential Palace. For a truly unusual tour of this colonial sector, contact Esperanza Social Venture Club. Through the Fortaleza program, former gang members and area residents give insightful tours of Casco Viejo as only they know it.
Get Your Free Panama Report Here:
Learn more about Panama and other countries in our daily postcard e-letter. Simply enter your email address below and we'll send you a FREE REPORT — Panama: First World Convenience at Third World Prices. 
This special guide covers insider advice on real estate, retirement and more in Panama. It's yours free when you sign up for our IL postcards below.
Get Your Free Report Here