Many may be surprised to hear that Peru has been voted the World's Best Culinary Destination for the past four years in a row. The World Travel Awards recognize and celebrate excellence in the tourism and travel industry worldwide. Drawing from culinary traditions as varied as the country and its residents, Peru provides a synergy of wildly different ingredients and cooking styles in its restaurants. From the cevicherias of Lima to the picanterias of Arequipa, new taste sensations await you around every corner.
Here is a list of our top 15 favorite dishes to get you started on your exploration of the tastes of Peru.

1. Lomo Saltado
With its roots in Chinese stir-frying, this dish is a combination of classic Peruvian ingredients. Strips of soy-marinated beef, onions, tomatoes, ají chilies, and other spices are stir-fried until the beef is just cooked. Lomo Saltado pops up all over Peru in various forms but is always covered in a meaty gravy. You may find it laid out on a plate, wrapped in a tortilla, or even stuffed into an empanada.

2. Ceviche
Ceviche is considered part of Peru's "national heritage." The classic Peruvian ceviche consists of raw sea bass, marinated in freshly squeezed lime juice, with sliced onions, chili peppers, salt, and pepper. Although traditionally marinated for several hours, today it is only marinated for several minutes before being served. It is the same type of process as is used in making Japanese sashimi. Many Peruvian cevicherías serve a small glass of the marinade along with the fish, which is called leche de tigre or leche de pantera (tiger milk or panther milk).

3. Anticuchos
After 10 years in Asia, we grew to love the huge variety of street food available everywhere. Here in Peru, we are thrilled to find out that our quest for the perfect roadside treat can continue. One of the most popular is anticuchos de corazon (grilled heart). After marinating in vinegar, cumin, ají, and garlic, the heart is cut into small cubes and grilled over charcoal. Usually served on skewers with onions or potatoes, they are also found as appetizers in restaurants throughout Peru.

4. Rocoto Relleno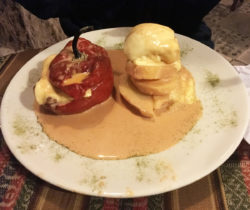 Spicy red ají chili peppers are stuffed with a mix of ground beef, onions, garlic, raisins, herbs, and spices, then topped with queso fresco (fresh cheese) and baked in an egg-and-milk sauce. The rocoto chili is originally from the Arequipa region and the dish is one of the most popular in Arequipa city. Since we moved here, it has quickly become one of my favorites. These chilies are about 10 times hotter than an average jalapeño, but quickly cooled by the tasty filling, melted cheese, and creamy sauce.
In November 2016, Arequipa set a new Guinness record by making the largest plate of Rocoto Relleno in the world. More than 100 chefs used 2,800 rocotos, 1,100 pounds of meat, 700 pounds of onions, 400 eggs, and other ingredients, to make the meal fit for a giant.

5. Alpaca
Alpaca is another important source of protein in Peru. Lower in fat and cholesterol than beef, it is just as tasty. You are more likely to find good quality alpaca steaks at high-end restaurants accompanied by one or more of the several thousand different types of potatoes found in the country.

6. Pollo a la Brasa
There seems to be a chicken rotisserie restaurant on every block in Peru. Whether it is a hole-in-the-wall "mom and pop" operation or a large chain restaurant, you will see whole chickens roasting on a spit and plenty of satisfied customers.
Traditionally, the chickens are marinated in garlic, herbs, and spices, before hitting the barbeque. These days, you are more likely to be treated with something much more plain—unless you are lucky. But every plate of chicken does come with green huacatay (Peruvian black mint) sauce served next to it.

7. Ají de Gallina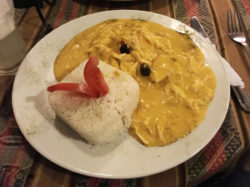 Spend a little time in Peru and you will soon discover that it is a country of sauces.  In this case the sauce is made with cream, ground walnuts, cheese, and ají amarillo (a bright-orange chili with a medium-to-hot heat level). This mild but spicy sauce is mixed with chicken and served over rice with boiled potatoes and black olives.

8. Causa Rellena
This is a famous layered side dish that is found everywhere. It is sometimes served as an elegant terrine in high-end restaurants, but is more likely to be found as a casserole. Mashed potatoes blended with lime, oil, and ají amarillo provide the base. The topping layers are tuna, salmon, or chicken, followed by layers of avocado, hardboiled eggs, and olives. These layers are repeated until it reaches the desired thickness.

9. Tacu Tacu
African slaves originally made Tacu Tacu from leftovers during colonial times. It is a tasty mixture of rice, lentils, onion, and spices that is formed into a thick pancake. It can be a stand-alone meal, or used as a side dish for other specialties such as Lomo Saltado. Often, several small versions of the pancakes are served as an appetizer with salad ingredients on top.

10. Chupe de Camarones
As you walk by the menus in the doorways of the picanterias in Arequipa, you soon realize that soups are a big part of this country's cuisine. For less than $10, you can have a two or three course meal, often starting with some type of soup. Here in Arequipa, Chupe de Camarones is its culinary masterpiece.
This chupe, or thick soup, is made from fresh river shrimp, potatoes, corn, and peas. Equal doses of queso fresco and evaporated milk, along with a mixture of herbs and spices, result in a thick and filling meal that is topped with a fried egg.

11. Chicha Morada
Chicha morada is on every Peruvian menu. In traditional restaurants around the country, a large jug of this purple drink will appear on the table before you even order. Made from purple corn, pineapple, cinnamon, cloves, and sugar, it dates back to before the Inca empire.  It is a sweet refreshing drink that makes a great accompaniment to any Peruvian feast.

12. Picarones
For anybody who likes rich chocolate, assorted breads, and cakes to die for, Peru is the best place to be. And leading the pack of all this stuff that is bad for you is the famous picarone. This Peruvian cross between a fritter and a doughnut is made from a mixture of flour, yeast, sugar, local squash, and sweet potato.
After the dough has risen, small pieces are free-formed into doughnuts and dropped into hot oil.  Using a wooden stick, the picarones are fried and turned until they are a golden brown. Crispy on the outside and doughy on the inside, the doughnuts are served with a sweet and spicy syrup.

13. Papa a la Huancaína
Originating in the mountainous city of Huancayo, this is a popular side dish that combines a spicy creamy sauce poured over potatoes and topped with hard-boiled eggs. The combination of queso fresco, aji amarillo, garlic, evaporated milk, and saltine crackers is not the most aesthetically pleasing dish, but makes for a flavorful and slowly increasing burn.

14. Suspiro de Limeña
This is a sweet and luscious dessert whose name means "the sigh of a woman from Lima." It is usually served in individual glasses, but can also be prepared for a crowd. The bottom layer is made of dulce de leche, a confection made by slowly heating sweetened condensed milk. Other healthy ingredients include egg yolks and copious amounts of sugar. Topped off with a sweet meringue flavored with Port wine and sprinkled with cinnamon, it results in a rich, sweet, creamy concoction that is a favorite with Lima residents.

15. Cuy (Guinea Pig)
Not for the faint of heart, guinea pig is a traditional Andean entrée. Although not as popular as the other dishes mentioned above, it is still a staple food in some parts of Peru. Those who can overcome its association with their pet guinea pig back home say that it tastes similar to rabbit. Cuy is often baked and served whole like a small suckling pig, with potatoes or rice and a spicy sauce. In other regions, it may be cut into small pieces and fried with a pepper sauce.
Get Your Free Peru Report Here:
Learn more about Peru and other countries in our daily postcard e-letter.
Simply enter your email address below and we'll send you a FREE report: Peru – The Land of Incas…and Adventure.
This special guide is yours free when you sign up for our IL postcards below.
Get Your Free Report Here