Exchanging your existing life for a brand new one in another country is a big deal. Moving overseas offers a grand adventure while reducing living expenses and offering an overall improvement in lifestyle, but there will be challenges along the way and it's best to be prepared.
Where Should You Go? What Country and What City?
Figuring out where to go has to be the most important challenge faced by those considering retiring or moving overseas. Future expats often spend months and sometimes years researching numbers of countries—corresponding with expats who have already made the move, subscribing to relevant blogs, and using the Google thing. In the end, however, regardless of the research you have done, the only surefire way to determine if a country is right for you is to actually live there for an extended period of time
Certainly, do all the research you need to do to feel comfortable, but understand that you cannot possibly know all the answers before you go. Moving overseas is the perfect example of jumping off a bridge and learning to fly on the way down. The greatest asset you can have is confidence in yourself, knowing that you will be able to handle whatever challenges you face.
Regardless of which country or region of a country you select, you are the key to your success.
Learning a New Language: Is it Necessary?
While this list is presented in no particular order, learning a new language definitely belongs near the top of anyone's list. It is likely to be the greatest challenge and the one with the most impact on every aspect of your new life.
Unless your destination is one where English dominates, you should make an effort to learn the language of your newly adopted country. Imagine your existing life in the U.S. or Canada, and not speaking a word of English. That does not mean you have to be completely fluent in your new language, but you will need to convey your needs and wants as well as understanding those responding to you.
It is not essential to understand every word being spoken to you, nor is it important to speak in perfect, grammatically correct sentence structure. That just won't happen for a while. For everyday-living, you can get along just fine speaking like Tarzan in those old black and white movies.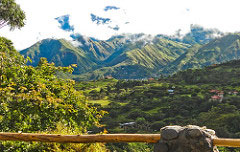 Simple phrases, even if not grammatically correct, will provide a way to communicate and survive. You will feel remarkably accomplished once you can manage a few key phrases. A rough translation of "Me hungry. Want food" will get things moving along in any restaurant.
My wife Diane and I have incorporated virtually all learning methods as we have plodded along in our Spanish. We are approaching 4 years living in Latin America and we have used several Internet based courses, purchased a couple of well-known learning programs using DVDs, we have taken private lessons, group classes and readily engage in conversations with locals.
When it comes to learning a second language, one size does not fit all and what works well for one person may not be right for another. You may even find different methods work better for you at different points in your learning process. Diane loved our private language tutoring in Ecuador, but me…not so much.
Your New Home: Should You Rent or Buy?
There is conventional wisdom on this topic and it suggests that expats arriving in their new country should rent a home for at least one year before buying anything. Nearly all expats go through an initial "honeymoon" period where they are enchanted with their new surroundings. Compared to back home, the fruits and vegetables are fresher, the people are friendlier, the landscape is more pleasing, the climate is better and in most cases, all this for far less money than the prices back home. What's not to like?
But then, after about six months, maybe you learn that the power goes out during rainstorms, the internet service is not always stable, or the local gas station occasionally runs out of gas. Or maybe you discover a town that's 2 hours from where you're renting, and doesn't have these problems, and that's where you should live.
Realtors and developers will encourage you to buy real estate soon after arriving, or even before, because, "it's a great investment and the price will only go up." And while owning real estate is often a good investment, knowing where you want to live is important. Going with the conventional wisdom on this is a safe bet. Rent for a while before buying anything. You can learn a lot about your new community, and the people in it, in a year of renting before shelling out a lot of cash or committing to an area before you get to know it.
It's also true that in many places outside the U.S. there is no central listing service for real estate like MLS in the States. Odds are that the best deals will not be found online. Once you are on the ground in the target area and getting to know the locals, word of mouth can lead you to opportunities you would never find online.
How Should You Manage Your Money?
Generally speaking, there are two things you can do with your money or monthly income when moving overseas. You can leave things the way they are, with monthly checks directly deposited into your existing financial institutions or you can choose to open a bank account in your new home country and have some or all of your monthly checks sent there.
There are advantages and disadvantages to both options. First, not all foreign banking options are the same. Depending upon the country, you may feel perfectly comfortable with the banks there. But on the other hand, there have been foreign banking failures without the sort of insurance protection afforded depositors in the states. Foreign interest rates may also be more favorable as will accessing your funds from a local bank. Foreign accounts are often easily opened, by showing your passport and making a modest initial deposit. In some cases, residency must be proved.
Most pensions can be electronically deposited to foreign banks as they are in your home bank. Social security payments can be direct deposited into your account in 69 countries, including Argentina, Belize, Colombia, Mexico, Malta, and Panama.
Should you choose to simply maintain your existing accounts, you can access your money through your current ATM cards, up to the limits set by your bank. For large purchases, such as a new car or real estate, you can transfer funds electronically from your home bank to the foreign bank of the seller. There will be fees, of course, and an exchange rate to absorb which may or may not be favorable.
Leaving Family and Friends Behind
Of the number of expats who ultimately return to their home country, a significant number report missing their family, especially grand kids, as the primary reason. Separation from loved ones is tough for most expats so, when planning your budget, be sure to include an allowance for family visits once or twice per year (or more if your budget permits).
Skype video call service is a lifeline for expats across the globe. It's a free service facilitating video phone calls between two computers anywhere on the planet as long as there is an Internet connection. Simply download Skype's free software and follow the prompts. You'll be up and running in no time.
Video chats, phone calls, exchanging photos and periodic visits will go a long way toward staying connected to those you love.
Get Your Free Report on the Best Places to Retire in the World Here:
Learn more about the best places in the world to retire in our daily postcard e-letter.
Simply enter your email address below to sign up for our free daily postcards and we'll also send you a FREE report on The World's Top 10 Retirement Havens.
Get Your Free Report Here