So you've decided to move to Costa Rica. Now you have to figure out how to get yourself, your stuff, your pets…your life…down to your new home in the tropics.
It may seem overwhelming. But keep in mind that this country has been a haven for retirees and other expats for more than 30 years and tens of thousands of people have gone through the process just fine and are enjoying their new lives in Costa Rica. It's a well-trodden path and there are services in place and strategies that have been perfected over the years…so your transition will be easier than that of the trailblazers who came before you.
But there are things you should be doing in the run up to your move to make sure it goes as smoothly as possible. Here are some tasks to add to your checklist.
 1. Make sure all your documents for residence are in order
Whether you choose pensionado, rentista, inversionista or any other residence category, you will need to bring specific documents, like birth certificates, from your home country to submit with your application. So be sure to contact a lawyer in Costa Rica or the nearest Costa Rican consulate or embassy for the full list of documents you should have. Also, keep in mind that certain documents must have an "apostille," which is a type of certification from the government in your home state or country.
Trying to track down these items from Costa Rica and having them mailed down can be a difficult process. So the best thing to do is collect them before you move.
2. Decide what you're going to ship, take on the plane, and leave behind or sell
You have a lifetime's worth of furniture, clothing, books, mementoes and more. Now that you're moving to Costa Rica, you have to figure what goes…and what doesn't. Some new expats choose to get a fresh start and shed all but a few treasured items that they can fit in a suitcase.
Others ship a crate (using a cargo or freight company) or large shipping container full of furniture and other items. A car can be shipped as well. The best route in this case would be to contact a customs broker/shipper in Costa Rica. There are taxes/customs duties on household goods and vehicles you bring into the country, and they can help you minimize how much you owe. Plus, they'll coordinate getting your "stuff" from the point of origin to your new home in Costa Rica.
Do not engage the services of a North America-based moving company as they are not familiar with the rules and customs duty situation in Costa Rica and will probably cost you a lot more money in the end.
Whatever method you choose, there are some items that are a must have in carry on and/or checked baggage: prescription drugs (at least a three-month supply until you find a local doctor); medical records; personal electronics like smartphones, tablets, and laptops; and any priceless keepsakes.
3. Find a place to live
Before you planned your move to Costa Rica, hopefully you visited on scouting trips to figure out which region or even specific town you want to live in. That gives you a good head-start as you find a place to live. I recommend renting at first to confirm that you really like the community before you commit to buying property. I say this because I've met several expats who after living at the beach for six months discovered the heat and humidity at sea level was too much. So they sold their house and moved into the higher elevation Central Valley, where the climate is much more temperate, even cool at night.
You can start your rental search from home; you can find listings online at a variety of website s. Most real estate agencies will have a stock of long-term rentals (leases from three months to three years), as will property management companies. For example, in Arenal, go to this website.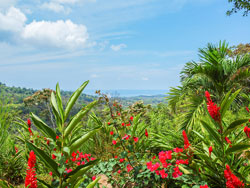 There are real estate agents throughout Costa Rica. Rental prices start at around $400 for a two-bedroom condo or home. It's normal to pay a security deposit of one month's rent. Some rentals are fully-furnished down to the towels in the closet and plates in kitchen cabinet. In some cases, the landlord will pay the utilities. Always ask. Make sure you document any furniture or other items included in the house and that who pays what bills is clear in the lease. Also, keep in mind that prices are flexible. Always negotiate or ask for extras like maid service to be thrown in to the deal.
4. Set up your communications
Thanks to the widespread availability of high-speed Internet, staying in touch with friends and family back home after you move to Costa Rica is easy.
Most expats don't bother with expensive long distance telephone plans. Instead they use Internet phone services like MagicJack or Vonage, which allow you to use a regular handset and have a U.S. or Canadian number. You get unlimited calls for a low fee. It's just like having a phone back home. Skype, which also has video conferencing, is another popular tool. It's free to connect with another Skype user, with a small fee to call phones worldwide.
Several months before you move you should start setting up as many online accounts as you can for your bank, credit card companies, and other services. You can also switch your mailing address to Earth Class Mail, which will organize your remaining mail. They'll scan and email you images of your letters—and send you anything important. In Costa Rica, it's best to set up a PO box at the local Correo (post office). FedEx and UPS are also available.
Finally, bring an unlocked GSM cellphone. You can simply switch out the SIM card for one from a local provider and load minutes as you need them.
5. Learn at least a bit of Spanish
While you don't have to speak Spanish to live in Costa Rica, you will assimilate better and have a more enjoyable time if you do at least make an attempt to speak the local language. It's all part of being a good neighbor. And being able to say even simple words and phrases like "Hello," "Good morning," and "How are you?" will go a long way.
You should start now. And no need to bust your brain studying verb tenses and such. The most important part is to learn key phrases that will help you navigate day-to-day life.
Try online or software Spanish programs to bone up on the essentials. You might also try formal Spanish classes—many are offered free in North America. You should also continue your studies when you get to Costa Rica. There are several highly-regarded language schools in Costa Rica, as well as private tutors available in most communities. Of course, the best way to learn is to just practice with your neighbors, new friends, shopkeepers, and anybody else you meet.

Related Articles
Best Places to Live in Costa Rica: Five Top Expat Havens