Over the years, 60-year-old New York real estate finance executive Will Traylor and Joseph Wisniewski, 54, a former public-school teacher, had traveled extensively throughout Europe. Favorite destinations included Provence and Tuscany. The couple had a dream, described by Will as, "Someday we'll live in a small village somewhere, learn the language, make friends with our neighbors, and become part of the routines and rhythms of village life."
All that changed four years ago when Will collapsed in cardiac arrest on the way to a meeting in Manhattan. When he regained consciousness two days later, he and Joseph got serious about changing their situation. In the fall of 2016, the political situation not only in the States, but in France and Italy as well, further prompted them to make plans. Safety, stability, and hospitality became as important as any other factors in their search for a new location.
When the two traveled to Portugal last December, they discovered what they were looking for. They quickly became enamored with the sun-drenched coastline and picturesque villages of the Eastern Algarve. Joseph describes dining on fresh sardines and grilled vegetables and sipping a chilled local wine, Sette Cavaleiros, at Terraze, overlooking the River Gilão in Tavira. "We looked at each other and said simultaneously, 'This is it. This is our place.'"
Serial renovators all their lives, Will and Joseph opted for new construction. They started focusing on the small fishing village of Santa Luzia, just two miles from Tavira city center. The traditional village overlooks the lagoons and waterways of Ria Formosa Natural Park, a refuge for small marine life and migratory birds. A ferry offers transport to Praia da Terra Estreita, a stunning beach uncrowded even at the height of the summer season. "These small towns are anchored in history and tradition," Will says, "but at the same time are tethered to a confident, buoyant future."
After signing a contract, the couple began working together with António Minhalma and his family business, Santa Luzia Ria Lda. "With four decades in real estate I knew what to look for, and felt confident with the group, known for its integrity," Will says. "In terms of design, we wanted sleek and modern this time around. Carla Gomes of Carlos Carvalho Decoradores Lda. showed us renderings that were right on the mark." Soon a fantasy was on its way to reality.
Nine months later the couple arrived in Santa Luzia, moved into their fully furnished townhouse, and are now living their dream. They opted to go the Golden Visa route, requiring a certain level of investment. Notwithstanding that, they feel they are ahead of the game in every way.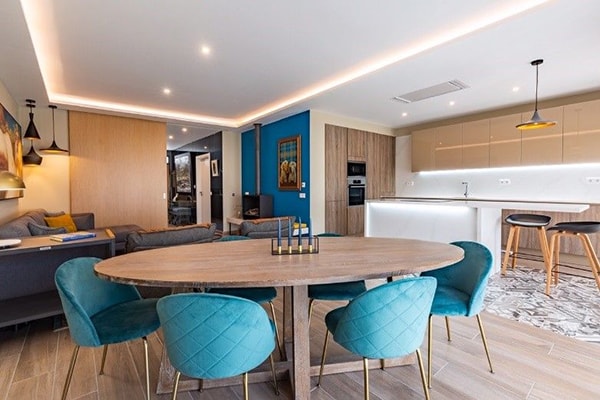 Like many expats, their monthly budget is approximately one-third of what it was in the U. S.
But that's not all. "A comparable home in New York City or on the West Coast would easily cost three times as much as we paid here," Will says. "There you can expect to pay $1.5 million and up for a home of the same quality and size." Noting fabulous year-round weather and an ocean view, Joseph sums it up: "This is Southern California at Iowa prices."
As quiet as Santa Luzia is, it's located on the Algarve Cycle Path. Will is a runner and both he and Joseph love to walk, so Tavira being only 40-minute walk is ideal. Or they can stroll down to the brightly painted boats on the waterfront in the morning to check out the previous night's catch, and then sit down at one of the dozen or so restaurants there and enjoy that fresh catch for lunch. The area is especially known for polvo, octopus.
They also view their place as a launching pad for travel. Spain is about 20 miles away. Faro, the capital of the Algarve, is closer still, providing easy air and train connections to all of Europe.
Get Your Free Real Estate Report Now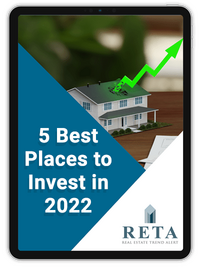 Sign up for our free daily Postcard e-letter and get a valuable free report on the The 5 Best Places to Buy Real Estate In 2022.
Related Articles
Country Homes In Central Portugal
House Hunting In Bargain Portugal
Upcoming Conferences
Live Better, Spend Less, Retire Sooner
IL's Retire Overseas Bootcamp
October 21-23, 2022 in Atlanta, GA

In safe, warm, welcoming communities abroad, as little as $1,700 a month can bankroll a good life... this fall, our experts will show you where—and how.
Early Bird DISCOUNT—Save $200 When You Register by Sep. 29
Details Here IL's Retire Overseas Bootcamp
---
Registration Now Open for the Best of Europe Private Screening

In the Right Spots in Europe, You Can Retire in Style—in an Historic, Sun-Drenched Locale—for as Little as $2,300 a Month or Less—Especially Now With the Dollar and Euro at Parity for the First Time in Two Decades.
And We'll Show You How, October 1-2, During the Special All-Online Best of Europe Private Screening.
---
The Income Revolution Forum
What if You Had the Freedom to Enjoy the Good Life Anywhere in the World You Wanted to Be...and Get Paid While You're There?
We'll show you how—with hands-on guidance—you could beat inflation...secure your retirement...ditch your commute...and turn a skill you already have into a portable side income of $300, $600, even $3,000 or more a month.