It was total bliss…I was sitting in a restaurant, steps from the beach, eating delicious freshly cooked fish, with a cold beer in hand, the turquoise ocean just feet away, and a cool light breeze drifting in…I wondered, could it get any better?
There was glittering sandy beach as far as the eye could see, swimmers splashed in the Caribbean waters, and sunbathers took in some afternoon rays…while down the beach, kite surfers made use of the wind.
I was deep in Mexico's Riviera Maya, in the beach town of Tulum, less than two hours' drive south of Cancun. This wasn't my first trip to Mexico though. I had previously visited the tourist haven of Cancun but never got to see the beauty on offer farther down the Riviera Maya coast: The white-sand beaches, the small villages, the local cuisine, or the everyday amenities that line the coast and attract expats every year.
This trip, I was taking the opportunity to explore the area south of Cancun, including the property on offer for those on the lookout for a second home or the perfect retirement destination.
Having heard so many good things about this stretch of coast, this trip was an eye opener. After just a few days traveling along the Riviera Maya, you immediately get a sense of what life could be like here…and it's easy to unwittingly start planning your retirement in your head.
My first stop along the coast was in Puerto Morelos, a small beach town about 45 minutes south of Cancun. I enjoyed lunch on a balcony overlooking the small town square, and walked the narrow streets and the white-sand beaches.
Beautiful white-washed homes just a couple of hundred feet from the beach offer a quiet place for those looking to get away from the tourist crowds. For $150,000, you could own a one-bedroom condo just a five-minute walk to the beach in a complex with a private courtyard with a pool and dining areas. Two-bedroom, 1,300-square-foot, ocean-view condos are available for $210,000.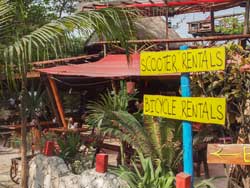 Farther down the coast is Playa del Carmen…this is big-city living, packed with shopping malls, clothing stores, hotels, and an abundance of bars and restaurants, but there's still plenty of room to enjoy the busy beaches. Here, you can find every kind of property on offer, from single family homes, to condos and penthouses…starting from the low $100,000s all the way up to $5 million depending on size and location.
I stayed in a condo just a 10-minute walk from the main beach zone where you can enjoy the buzzing beach vibe, eat or drink in the small beachside bars and restaurants, or take a trip to the nearby island of Cozumel. The seemingly endless shopping along the upscale Fifth Avenue is also a must-see.
Tulum, where I enjoyed my seafood lunch overlooking the ocean, is a chic beach town at the southern end of the Riviera Maya. It's a region that's rich in culture, history, and natural beauty. Here, you'll find gated communities and single family homes by the beach—with one-bedroom condos listing from $160,000, while single family homes closer to the beach start at around $300,000.
As I traveled down the coast, from Cancun to Puerto Morelos, onto Playa del Carmen and farther on down to Tulum, there was so much about this region that drew me in…The food, the endless beaches, the total relaxation…it was hard to get away from the fact that I could see myself living here.
With so many different property types, sizes, and prices available, this part of Mexico's coast offers the picturesque, relaxed getaway you've always dreamed of. Such was the lure of this beautiful location, I'd easily have stayed here long after my scheduled visit.
It's not just the Riviera Maya that offers great-value real estate in a beautiful location. Coming soon in Your Own Home Overseas, our free e-letter, we'll be taking a look at more places around Mexico where you'll find real estate to suit your budget…including the expat favorite of Lake Chapala and the colonial gem of San Miguel de Allende.
Get Your Free Roving Real Estate Investor Report Now

Sign up for the FREE Roving Real Estate Investor e-letter and get a valuable report (free for a limited time) on The Exact Location of Where to Make the Most Real Estate Profits This Year (Plus 4 More Places to Build Your Fortune in Latin America and Europe).
Related Articles
Buy in One of Mexico's Most Beautiful Colonial Towns From Under $70,000
Homes From Less Than $50,000 in This Tranquil Lakeside Town
A Slice of Paradise on Mexicos Pacific Coast from Just $89000