Each morning I'm greeted with vibrant sunshine and the enchanting sounds of a jungle awakening. I often start my day watching the stunning sunrise while walking along the beach. Then, perhaps a late-morning swim in the warm, clear waters or snorkeling on one of the most incredible coral reefs in the world.
Roatán, the largest of the Honduras' Bay islands, is filled with small communities where expats and locals mix and create intimate neighborhoods. You'll find it hard to run errands quickly. Bumping into friends at the grocery store or on the street leads to chats and plans laid.
Frequent meet-ups are arranged by different expat groups throughout the island, from beach days to afternoon meetings on the dock with tropical cocktails in hand. There is a feeling of camaraderie. Everyone here understands that moments spent together are more important than checking items off of a to-do list.
Stretching about 35 miles long and only five miles wide at its widest point, Roatán offers breathtaking hillside views and very affordable beachfront property. And the cost of living on the island is low.
Typical utilities per month run $200 and most couples estimate spending about $600 per month on groceries. For a retired couple who own a home here (where mortgages and financing hardly exist), a typical monthly budget hovers around $1,000. For a retired couple renting, a typical monthly budget is closer to $1,800.
Grocery stores are filled with North American staples and restaurants offer everything from Southeast Asian cuisine to pizza and hamburgers. Caribbean flavors are infused with Latino spice and international influences to create a multi-cultural dining scene.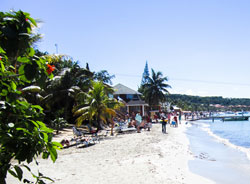 Rentals in Roatán are plentiful as there's a large market of repeat visitors and short-term residents. Apartments and homes rent for one month, three months, six months, or more. Apartment rentals with full amenities in popular areas can run anywhere from $600 to $1,000 per month for a two-bedroom unit.
Expats also enjoy the convenience of several medical facilities on the island and pharmacies offering medications over-the-counter. Others, like Deb and Bill Crofutt say "We can get our prescriptions filled for three months for less than the co-pay in the U.S. with insurance. If we should need medical, we'll go to the mainland."
Many expats actively support their new communities as well, volunteering with a variety of organizations providing local services. Tricia Rolston Power, originally of Baton Rouge, Louisiana, spends much of her free time working to better the community. "I try to get involved in my community every time I see a need or I am called upon," she says. "And I feel very lucky that I have been chosen to do so."
The longer I live on this idyllic island, the more I feel the kind of freedom and pure joy reminiscent of my childhood. And I all too frequently find myself commenting on how lucky I feel to be living in such a special place.
Get Your Free Honduras Report Here:
Learn more about Honduras and other countries in our daily postcard e-letter.
Simply enter your email address below and we'll send you a FREE HONDURAS REPORT: Island-living at an Affordable Price in Honduras
This special guide covers real estate, retirement and more in Honduras and is yours free when you sign up for our postcards below.
Get Your Free Report Here