#WorkFromHome is trending…
On Instagram, you'll find over 13 million posts using the hashtag. On Twitter, it pops up multiple times every minute.
#WorkFromHome, #WFH, #WorkFromAnwhere, #RemoteWork, whatever you like to call it…
Search though any of these tags across social media and you'll find people discussing Zoom calls, offering tips, sharing picture of their pets, and showing off their remote working offices.
I'm guilty of doing it myself. My favorite place in the world to work is in Tulum on the Riviera Maya. Specifically, I like to set myself up at a table facing the ocean in La Luna on Tulum's Beach Road. Between virtual meetings, I can soak my feet in the surf. And at lunchtime I can gorge on some of the best food in Tulum.
Here's a picture I posted of my La Luna "office" last time I was there: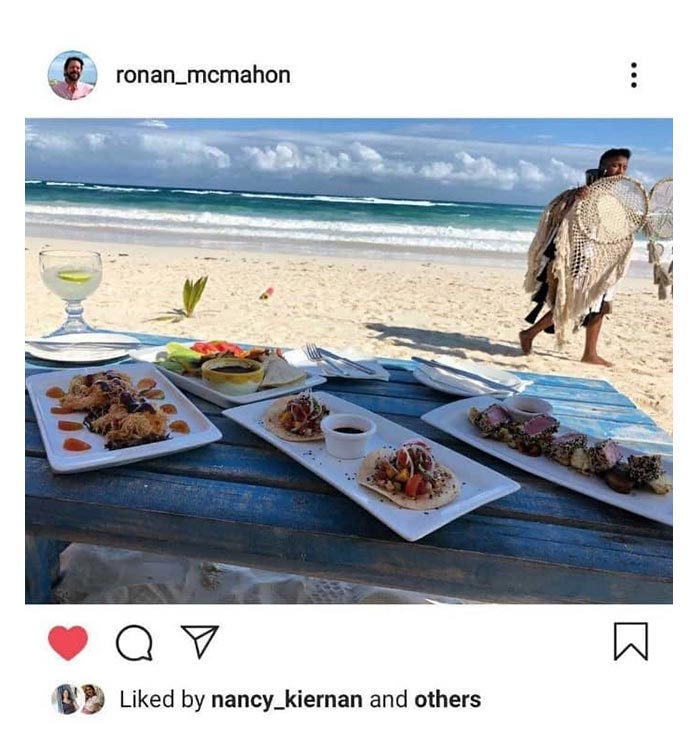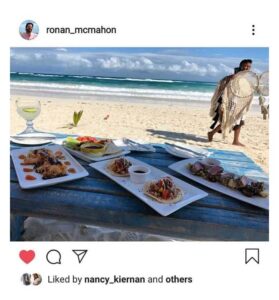 Of course, Work From Home is not just an online trend. A survey by M.I.T. found that half of everyone employed in the U.S. before COVID-19 is now working remotely. Pre-COVID, that figure was 15%. A massive jump.
It's a trend that's been on the rise for years. In the span of one year, from 2016 to 2017, remote work grew 7.9%. Over the last five years, it grew 44%. And over the previous 10 years it grew 91%. And now, due to a once-in-a-100-years event, it's finally gone mainstream.
"There's a New Tribe in Town"
Last week, the major tech publication, Wired, picked up on the story of Tulum's rise as a remote working hub.
It's a trend I've been telling you about in the Roving Real Estate Investor e-letter for months. And, for members of Real Estate Trend Alert, it's a trend we're already set to profit from…
But it's no surprise that Tulum and the Rivera Maya is proving to be an early winner following the phenomenal rise of remote working. It's firmly among the world's most inherently desirable destinations. It has it all…perfect weather, world-class beaches, fine dining, and almost every activity you can imagine.
Remote workers typically stay in destinations like Tulum for months at a time, combining tourism with a flexible working life.
While the Wired article shares some abstract ideas about what draws remote workers to Tulum (See: "Tulum is an energy vortex: a place of high spirituality"), I'm a bit more of a pragmatist…
A major advantage to the Rivera Maya over other big remote working hubs like Hanoi or Lisbon is that it's very easy to get to from the U.S. The airlift is phenomenal. Cancún airport is unrecognizable from when I first began visiting and scouting this 80-mile stretch of Caribbean coast. The number of active airlines varies over time but from 50 to 70 airlines operate from Cancún airport, with around 130 total destinations (about 100 international).
It's also in the same time zone as the U.S., which means remote workers can connect seamlessly with their colleagues back home. Coordinated time zones are going to play a crucial factor as more and more businesses go remote.
And as Wired rightly reports, COVID-19 has added its own restriction that gives the Riviera Maya a head start. "Mexico is one the few territories still open to American passport holders–so long as you arrive by air."
Tulum has the infrastructure to cater to this new upsurge of remote workers: Solid WiFi, remote working spaces, digital nomad groups and clubs. The cost of living is low and the lifestyle benefits are huge…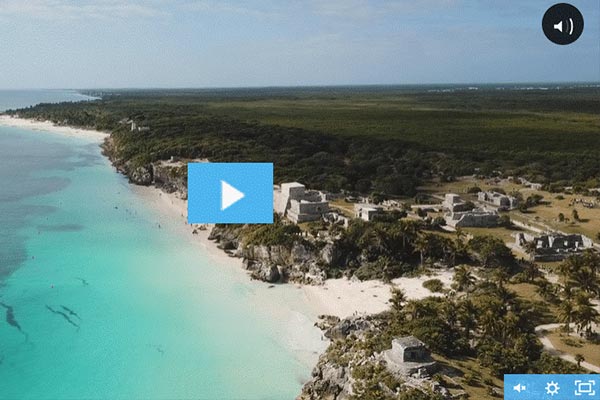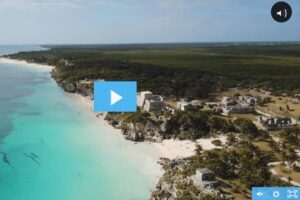 The increasing number of longer-stay folks have every amenity they need, including international schools for their kids, gourmet supermarkets, and so on.
The Riviera Maya already attracts millions of vacationers each year, but now we're going to see more and more of these long-stay remote workers too.
That's why…with the right type of property in the right location on the Riviera Maya…you can get fantastic rental returns.
And like I say, RETA members are already set to profit…
Our latest RETA-only deal in Tulum was for two-bedroom condos in a stunning community on Tulum's emerging Golden Mile from just $134,000.
I'm predicting gains of $56,000 three years after delivery.
And we're set for handsome potential rental yields…I figure an annual income of $18,300. That's a gross yield of 13.6% on those condos from $134,000.
If you're a RETA member you can check out my full report on this deal over on the Current Deals section of the website. Just follow the link in the report to check availability.
If you've missed out, stay tuned to your RETA Alert. I'm currently working on locking in more inventory.
First, There was Only Jungle…
I first visited Tulum in 2004. At the time it was really just a few dusty streets, one ATM, and a stunning white-sand beach. I kept going back. For a long time though, the market was at too early a stage. There were some wealthy folks building condos for friends and family, but nothing that stacked up as a RETA deal.
We got busy in Tulum as the market hit the next level. In October 2017, I brought RETA members the opportunity to buy in the Tao Tulum community from $154,500. Just a few months ago, I accepted an offer for $225,000 on the condo I bought as part of that deal. That $225,000 is probably a bit less than market price. That's fine. My personal philosophy is that I'll take any offer that is double the amount of cash invested.
As for premium condos, with that Tao Tulum deal RETA members could snap up those for just $230,556. This time last year a price list crossed my desk and a premium condo in Tao Tulum was listing for $449,000. That's $218,444 more.
We're profiting from the Riviera Maya's roaring Path of Progress, and in Tulum it can go no farther. To the south of Tulum is the Sian Ka'an Biosphere, made up of over 1,000 square miles of mangroves, verdant tropical forest, stunning blue lagoons, magical cenotes (sinkholes), and 23 ancient Mayan sites.
To the north of Tulum, you'll find a massive archaeological site, the monumental ruins of the ancient Mayan city, which has added to the squeeze on developable land.
Just this week, the developer behind Tao Tulum sent me a progress update, and it's really taking shape…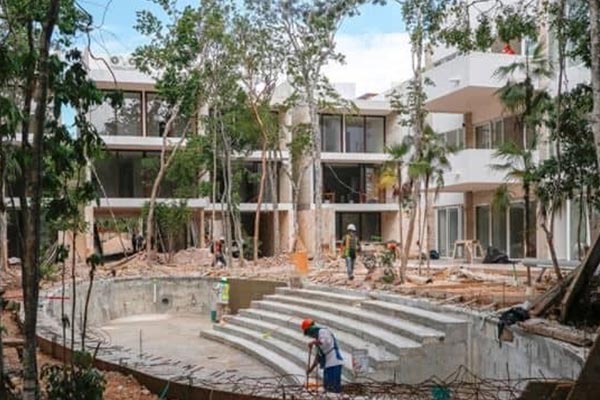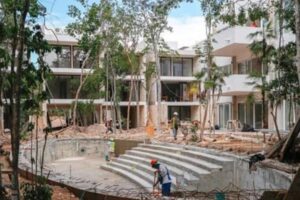 It's hard to believe that only a few years ago this was all jungle. But that's the power of the Riviera Maya's mammoth Path of Progress.
It's a Path of Progress that has made millions of dollars in gains for RETA members over the years. And now, as the Riviera Maya finds itself at the top of the list for the world's new remote work force, I suspect we'll going to see millions more…
Get Your Free Real Estate Report Now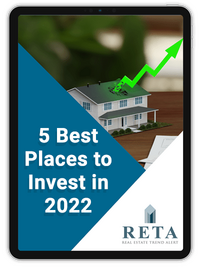 Sign up for our free daily Postcard e-letter and get a valuable free report on the The 5 Best Places to Buy Real Estate In 2022.
Related Articles
The 10 Best Places to Invest in Real Estate
My Only Southeast Asia Recommendation…
Real Estate Scouting Trip in Vietnam