Yesterday, I was out at a stunning new golf community just outside of Cabo.
There's been a major water issue with many of the golf courses here. They can only be watered with grey water—which is fine during normal times—but because the hotels have been quieter than usual, there hasn't been enough wastewater in recent months.
That's the thing: When a crisis hits, the curve balls start flying from all over.
But I can't complain. A dry golf course is the definition of "first-world problems." I feel incredibly grateful to be in such a fortunate position during a global crisis.
On the whole, Cabo already feels close to being back on a tear. It's getting noticeably busier. The car park in the community where I live has never been fuller. Many of my neighbors haven't returned yet this winter, but in their place I'm seeing a younger, work-from-home cohort arriving.
The world keeps turning… Cabo most definitely feels back in action. And, I'm expecting more of the same when I hit the Riviera Maya next week.
Last Sunday, I took part in International Living's Uruguay Private Screening. It was essentially a conference. The difference was that it was all virtual, done online as I sat in my living room in Cabo.
The new norm…
Things have changed, no doubt. But some things remain reassuringly the same. As I discussed with my senior researcher Margaret Summerfield during the event, one of the most attractive things about Uruguay right now during this crisis moment is that it's a place that no one is paying attention to.
In fact, one of the few times I saw it make the headlines in recent months was following its World Cup qualifier loss against Brazil. That's about as devastating as it gets in Uruguay. It's a country that's stable to the point of being almost dull. But in times like this, that's what makes it exceptional…
It's a beacon of calm, stability, and security in an uncertain world.
In a crisis, people flock to places like Uruguay because it's seen as a safe haven where they can park themselves and park their money. This is especially true for its closest neighbors. Many Argentinians and Brazilians consider Uruguay a place to invest and to stash their cash, away from political upheavals and economic turbulence back home.
In turn, Uruguay makes the process remarkably easy. The government openly encourages foreign investment, keeps barriers to investment low, and makes it easy for investors to get their money in and out of the country.
Just this June, the government of Uruguay issued a new decree making it easier for foreigners to settle in the country, reducing the value of property a person must buy to qualify for residency from $1.7 million to $380,000.
Newcomers will also see their tax holiday extended from five years to 10. And the minimum stay to qualify for residency has been dropped from six months a year to just 60 days a year.
In Argentina, where there is perpetual economic crisis, it was very welcome news. In a matter of months, some 20,000 Argentinian's applied.
My own exploration of Uruguay started in Punta del Este, which is known as the St. Tropez of South America. You'll see sleek yachts in the harbor and Ferraris on the streets. Royalty, celebrities, and discreet but super-rich businessmen. The jet-setters who go to Punta respect the low-key vibe. It's part of the appeal. A place to relax, dress down, and blend in.
I consider it a jet-set market where you can still invest and make money. While prices aren't low in Punta del Este, they're relatively low in comparison to other jet- set destinations. For example, it's still possible to buy a high-end, luxury home in Punta del Este with great ocean views for $400,000 to $500,000.
It's a place I personally love to spend time in the spring and fall. And you can make decent rental income just renting in the 10- to 11-week peak season.
Interestingly, most owners in Punta don't even try to rent following peak season. As a result, there's little competition in the shoulder season—a real opportunity for the right owner.
Money comes to Uruguay when times are good, because the rich want a luxury beach home…and money comes to Uruguay when things are bad, because people—like those in Argentina—are afraid their government are going to take their money.
That's the beauty of safe haven places and that's the beauty of these internationalized destinations that are also safe for you personally and places where you'll want to spend time.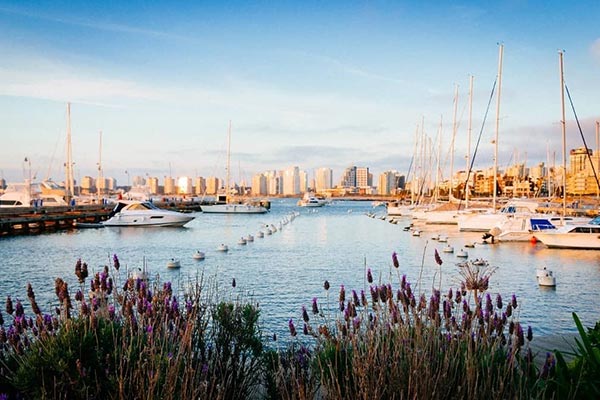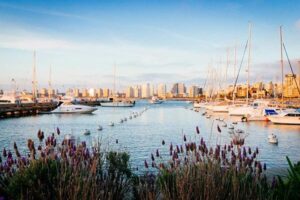 By and large, internationalized markets like Punta avoid crisis volatility, but because it has buyers from less stable economies like Argentina, from time to time you'll find a hyper-motivated seller who just wants a quick sale. And if you're ready…if you've done your research…you can snag an absolute bargain.
This is a cash market, but sometimes you can negotiate seller finance. Because of the Argentine crisis, you can find luxury homes at discounts of 20%. Find a motivated seller and you can knock another 10% off.
I see this as a buying moment in a destination on a multi-decade upward trajectory. Like I say, the pricing in Punta is still really modest compared to other international jet-set destinations.
And I see an even stronger opportunity being created by a Path of Progress moving east from Punta del Este.
Because Punta has grown so popular, the jet-set have ventured farther along the coast, in search of privacy and exclusivity. They followed new infrastructure which opened up La Barra and then Jose Ignacio, but prices in these locations have already soared.
The next stop on the eastward-bound Path of Progress is Rocha. Until recently, natural lagoons acted as a barrier to development. That was until the $11.6-million bridge over Laguna Garzón cut the drive time from Montevideo and Punta to Rocha.
With the new bridge, Rocha is now a place that locals and tourists can get to easily…and its beaches and beach towns are on the lips of the "who's who" of real estate in Uruguay.
This is a place that's low key and small scale. It attracts a certain clientele…folks with money to spend, but not flashy.
It's getting busier. Boutique hotels popping up… It's becoming a wedding destination. But because it's been off the radar for so long, property prices are still incredibly low.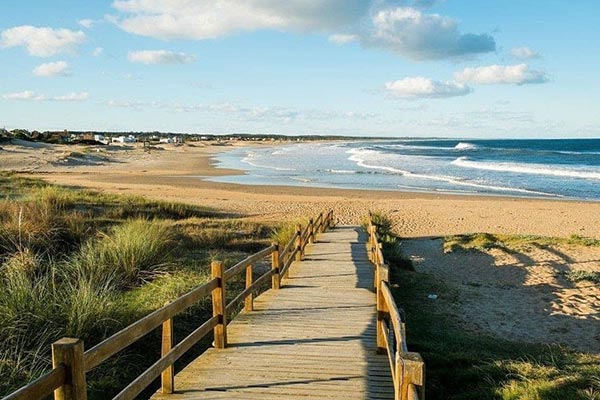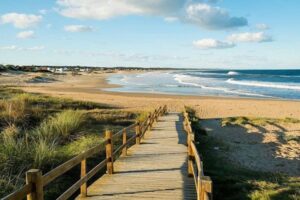 When I was last down there, I stumbled upon an interesting play. There was an opportunity to buy a small piece of land, just back from the beach but still frontline, and put eight simple condos on it—nothing too high-end. That was showing gross rental yields in the 12% to 14%…even before we saw a big expansion of season here.
It's still early days in the growth of tourism, but the yields are already impressive.
My favorite play here is to buy land ahead of the Path of Progress. Because when we see a Path of Progress like this roll through, it's land prices that see the strongest appreciation.
This is also one of the easiest investments you can make. All you have to do is sit on it and wait for the hotels and the infrastructure to build up around you. And all the time your land value will grow while your holding costs remain extremely low.
This play can work on two-levels. Land close to a beach in Rocha can grow in value as development rolls through. But you could also lock down arable farmland. Uruguay has incredibly fertile land, and with increasing pressure on food production worldwide, owning farmland in a country as secure and transparent as Uruguay becomes a no-brainer.
Even if you're not in the market for large scale land banking, it's still a very affordable proposition to simply buy a lot for yourself that you can either sit on or build on. You can buy a half-acre with an ocean view in a good private community in Rocha for around $30,000.
If you were to buy a similar lot in La Barra and Jose Ignacio, closer to Punta del Este, you'd be looking at upward of $250,000 for the same type of deal.
So there is a huge value proposition in buying the right land at the right price ahead of development to come.
Like I say, it's times like this when Uruguay's strength as a safe haven come to the fore. It offers the double whammy of a stable and secure economy where smart investors can park themselves and their money…and it offers exceptional profit potential with the right kind of deal.
Get Your Free Real Estate Report Now
Sign up for our free daily Postcard e-letter and get a valuable free report on the The 5 Best Places to Buy Real Estate In 2023.
Related Articles
The 10 Best Places to Invest in Real Estate