Most North American visitors to Spain gravitate to Madrid, Barcelona, and Andalucía, Spain's large southern region. Relatively few come to Valencia, Spain's third-largest city and a major business center. And that's too bad…because this is a great city.
For tourists, Valencia offers a mild, Mediterranean climate, urban beaches, plenty of culture, and a large historic center to wander around. And if you're looking for a place in Europe to call home, whether full- or part-time, you'll find all the First World lifestyle, urban amenities, and real estate you could want…for a fraction of what you'd pay in Madrid or Barcelona. For comfortable urban living at very comfortable prices, Valencia ticks all the right boxes. And its size—only 810,000 inhabitants in central Valencia, with a population of about 1.6 million in the urban area—lends it a coziness that is rarely found in large cities.
Valencia lies right in the middle of Spain's eastern Mediterranean coastline, just over 200 miles south of Barcelona and about 80 miles north of Alicante. It is also Spain's largest container port on the Mediterranean. With long stretches of beach right in the city—you can take a bus or the metro to the beach for just a few dollars. Seaside restaurants and small hotels line the beachfront, and palm trees are everywhere, all over the city, leaving no doubt that you're in a warm-weather climate.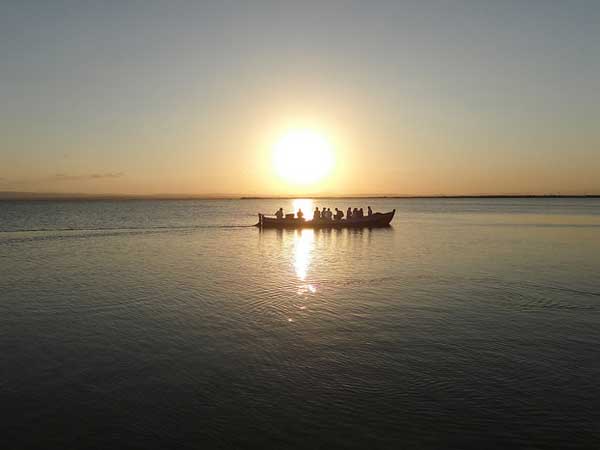 In fact, Valencia's climate is famously mild. Weather can be hot and muggy for part of the summer (usually in July and August, though sometimes drifting into September). And it can get cold on January and February evenings. But daytime temperatures in winter average in the low 60s F—I've strolled the city in February in only a light linen jacket—and a full eight months of the year the city enjoys summery, short-sleeves weather.
The city is also very green. There are numerous parks. But even more importantly, a great swath of greenway runs from northwest to southeast, in a long curve right through the middle of the city, all the way to the sea. Called the Turia Garden, this swath was once the riverbed of the River Turia. Today it's home to green meadows, giant shade trees, walking and bicycle paths, and kiddie gardens. Toward its seaward end, the Turia Garden is home to the City of Arts and Sciences: a vast entertainment complex that includes a planetarium, a science museum, the largest ocean aquarium in Europe, an opera house and performing-arts center, an IMAX cinema, and much more.
Valencia's neighborhoods
Valencia's historic center, the ciutat vella (old city) as it's called in Valenciano, is practically a city-within-a-city. It's filled with narrow, cobbled streets, some medieval Christian towers and monuments, the 13th-century cathedral, and remains of Moorish walls…all reminders of Valencia's 2,000-year-old history. But it's hardly a relic. It's crisscrossed with a few broad, modern streets that house shops on the ground floor, and most ordinary buildings look 19th century or later. Valencia's main city and provincial government buildings are in the ciutat vella as well as the Valencia Stock Exchange, the main bank offices, some museums, and the city's huge central market.
Though the ciutat vella is where the tourists flock, it's also home to some 26,000 people (mostly locals, but including some expats). And, away from the main plazas where the tourists congregate, the old city can be a tranquil place to live. Renovated two-bedroom apartments here will start in the mid-$100,000s to mid-$200,000s, depending on which part of the ciutat vella you prefer. Similar apartments for rent start at about $800 to $850 a month.
Due east of the ciutat vella, across the Turia Garden, are the neighborhoods of Exposició, El Pla de Real, and Mestalla. These are modern neighborhoods, with a layout that's typical of upscale neighborhoods in Spanish cities: Streets are wide, with broad sidewalks on each side, lending an open, airy feel. Most buildings are mid-rise—perhaps eight to 10 stories. Shops are on the ground floor and balconied apartments above. These neighborhoods have a range of shops: hairdressers, clothing boutiques, green grocers, outdoor cafés…even some schools, and the university is walking distance away. There are two metro stops nearby, and a convenient bus service.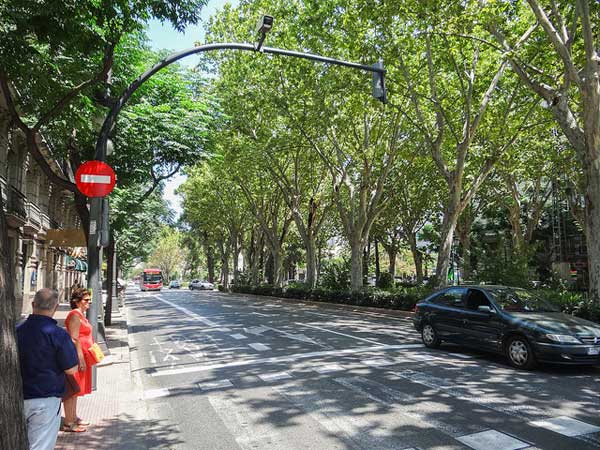 This area is rich in green park space. The Turia Garden forms its southern border and a large park called the Royal Gardens lies to the west. (Valencia's Fine Arts Museum anchors the Royal Gardens, so you're steps away from it.)
Many apartments in this area are three-bedroom, with sizes for two- to three-bedroom units starting at around 700 square feet. Two-bedroom apartments of roughly that size, start at about $130,000, but you'll have more to choose from if your budget is in the upper $100,000s. Furnished rentals in the upper range start at about $800 a month.
For those who want to go upscale, there's the L'Eixample district, especially El Pla del Remei, its most exclusive neighborhood. Lying southeast of the ciutat vella, El Pla del Remei is home to designer boutiques and the "well-heeled crowd". Here you'll find the chic Mercado Colón, with its wine bars, coffee shops, and seafood restaurants catering to the blue-suit population.
This neighborhood is quiet and well-groomed, with impeccable buildings and manicured shade trees. You're within easy walking distance of the Turia Garden and of the ciutat vella. Not surprisingly, El Pla del Remei isn't cheap—but for one of the most exclusive neighborhoods in the city, it's not that expensive, either. Expect two-bedroom properties to start at about $300,000 and furnished rentals of this size to run about $1,500 a month and up.
All these areas are still just a brisk 30-minute walk (or less) from the ciutat vella, and a short metro ride from the beach. Go a bit farther out—say, a short bus ride away—and you can find two-bedroom apartments for sale starting at around $100,000, and for rent at about $500 a month.
Get Your Free Spain Report Here:
Learn more about Spain and other countries in our free daily postcard e-letter. Simply enter your email address below and we'll also send you a FREE REPORT — Live the Good Life in Sunny, Affordable Spain.
This special guide covers real estate, retirement and more in Spain and is yours free when you sign up for our IL postcards below.

Get Your Free Report Here
Related Articles
Low Cost of Living in Western Europe