Even though Uruguay is a small country, it offers a variety of interesting real estate opportunities. Three popular areas to consider are:
The Pocitos area of Uruguay's capital Montevideo—for modern, urban living.
Montevideo's Old City and Centro—for historic and period architecture.
Punta del Este—to be a part of the most fashionable summer beach scene in South America.
Uruguay is the most economically, politically, and socially stable country in the region. The property registration system is among the best in Latin America. And you don't need to become a resident or get a local tax ID number to buy, own, or sell real estate in Uruguay.
Even though real estate values have climbed in recent years, with a little research it's still possible to buy property in the most popular areas of the country for a very reasonable price.
Nearly half of Uruguay's total population lives in Montevideo, Uruguay's capital. It's the country's main business and cultural center.
Where to Buy Property in Montevideo, Uruguay
The most popular community in Montevideo for expats is the Pocitos area. What is commonly referred to as the "Pocitos area" includes the neighborhood of Pocitos, the adjoining neighborhood of Punta Carretas to the east, and the east edge of the Buceo neighborhood to the west.
Within the Pocitos area are two shopping malls, dozens of unique restaurants, an 18-hole golf course, several parks, and a point with a lighthouse.
Just six blocks from the coast in the Pocitos area is a cozy one-bedroom, one-bathroom, 10th-floor condo for sale. It's within walking distance of many unique restaurants, the city's most polished mall, and a grocery market. It's one of the most convenient residential locations in this popular community.
The building is just 14 years old. The unit has its own balcony and separate laundry room. It's offered completely furnished and equipped for $132,000.
Montevideo's Centro and Old City
If you prefer historic architecture over modern, check out the real estate opportunities in Montevideo's Centro or Ciudad Vieja (Old City). In these two adjoining areas you'll find historic buildings, the city's earliest plazas, sculptures, fountains, pedestrian-only streets, lots of restaurants, and interesting shops.
Ciudad Vieja and Centro meet at Plaza Independencia. It's the city's main plaza and where many national ceremonies take place.
The Solís Theatre building, completed in 1856, is diagonally across the Street from Plaza Independencia. In the east wing of the theater is the restaurant Rare Avis, one of the most renowned dining experiences in the city.
The most famous building overlooking Plaza Independencia is the stately and eclectic Salvo Palace. When it was completed in 1928, it was the tallest building in South America at 312 feet.
There is a condo listed for sale on the 10th floor of the Salvo Palace building. The property has 700 square feet with one bedroom and two bathrooms. While the unit still has rich wood floors, it's been remodeled with a modern kitchen and bathrooms and a revised interior that feels spacious and open. Price: $129,000.
Property in Punta del Este
If you'd rather live in a beach resort, look to Punta del Este. It's a two-hour drive east along the coast from Montevideo. In the peak of high season the Punta del Este airport fills with private jets. There is polo, yacht races, fashion shows, and the continent's most-talked-about New Year's Eve parties.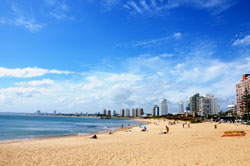 While there are plenty of luxury condos priced in the millions, the majority of condos in Punta del Este are priced between $250,000 and $600,000. And, if you know where to look, you can find good condos in older buildings in some of Punta's top locations for even less.
Spanning half the block between Punta del Este's famous Brava Beach and Gorlero Street, the main street of the Punta del Este Peninsula, is the Santos Dumont Building. It's a condo building with more than 280 units. It's within walking distance to just about everything exciting on the Peninsula, and is arguably the best location in all of Punta del Este.
The huge lobby has a two-story-high ceiling, a wall of glass to the street, marble-clad interior walls, four elevators, and a large wood porter's desk. Building amenities include WiFi and a phone in your apartment.
There are porters on duty 24 hours, daily maid service, and beach service during the summer (staff who provide and set up beach chairs and sun umbrellas for you on the beach). It's like living in a nice hotel.
While condos in new prestigious buildings in the very same neighborhood sell for between half-a- million and three million dollars, you can buy a one-bedroom unit in the Santos Dumont building (when they come up) for between $120,000 and $150,000, depending on the view and condition.
Because the building services are shared by so many units, the monthly costs are a fraction of the cost of many other Punta del Este condo buildings, where the common costs are shared by fewer units.
At the Santos Dumont, all the building's upkeep, amenities, services, and property taxes for a one-bedroom unit add up to around $400 per month.
Good deals in the Santos Dumont building sell fast. The best strategy to get a place here is to contact one of the nearby real estate offices, as well as the porters in the building, so they can notify you when a place that is priced right comes on the market.
Get Your Free Uruguay Report Here:
Learn more about Uruguay and other countries in our free daily postcard e-letter. Simply enter your email address below and we'll also send you a FREE REPORT – Live in First World Comfort in Uruguay.
This special guide covers real estate, retirement and more in Uruguay and is yours free when you sign up for our IL postcards below.
Get Your Free Report Here