With Nicaragua just arriving on the scene as a top tourist destination, many people don't know what this little country has to offer. Like Costa Rica about 30 years ago, Nicaragua gives you the same untamed beauty, exotic living locale, great business opportunities and the lowest prices around. Here are just a few attractions that you should not miss when you visit.
Agua de Ojo on Ometepe Island
Float on your back or swim lengths in this crystal clear turquoise natural pool in the middle of the forest. Ometepe Island itself should not be missed. A one-of-a-kind destination, you can hike up an active volcano, go kayaking in the 19th largest lake in the world, or relax in this stunning pool of water for the entire day. Cost of the day (approx.): Round-trip ferry ride—$6; hotel—$45 to $75 a night; scooter rental—$15 a day; food: breakfast, lunch and dinner—$50 for two.
Laguna Apoyo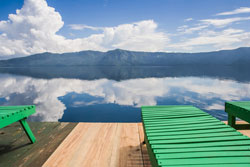 Just 25 minutes from Granada and two hours from San Juan del Sur, this medicinal lake is actually an extinct volcano crater that offers warm-water swimming year-round. Go to the public swimming and restaurant area in Norome or enjoy one of the several resorts on the lake such as San Simian or Apoyo Resort and Spa. Make sure you taste grilled guapote, the indigenous fish of the lake; it may just be the best fish you've ever had. Cost of the day (approx.): A private taxi for a day trip would be $50 from Managua or Granada and $120 from San Juan del Sur. If you decide to stay in a hotel at the lake, it will cost from $40 to $75 a night. Breakfast, lunch and dinner for two will cost about $50.
Mombacho Zipline Adventure
Ziplining is always a thrill and this Mombacho volcano activity is no exception. With at least 14 platforms and views that will knock your socks off, the real adventure comes when you end the experience by jumping off a 60-foot platform on a gigantic tree at least 100 feet high. Take some extra time to tour the organic coffee farm there and ask your guide to show you the cacao trees that also grow on the premises. You'll hardly believe that the seeds from this fruit bless the world with one of our favorite treats—chocolate. Cost: $35 per person. It's easiest to sign up for this trip with one of the tour operators in Granada. Prices vary for the tour, which may include other stops.
Chilamate's Horseback Riding Adventure
Rancho Chilamate's horseback riding extravaganza offers a perfect day, riding through forest and across virgin beaches. The Ranch's Canadian owner, Blue, puts her professional photographer's expertise into the day, snapping shots of your hair blowing in the wind as you ride along the edge of the water on a magnificent steed. Cost: $50 per person. The ranch is located about 25 minutes down the south beach road from San Juan del Sur. Rent a car or take a taxi (about $25) or call Rancho Chilamate to see if they'll send a shuttle for you.
Somoto Canyon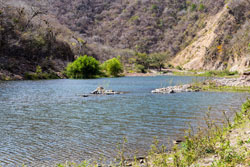 Discovered in 2004, this canyon is not a secret anymore. However, you can still experience it now before it becomes a huge tourist attraction. Choose from 6-, 3- or 2-hour tours. Your trained guide takes you on a hike along the path of the Coco River (which reaches all the way to the Caribbean Sea). When the canyon rises up high and foot travel is no longer feasible, you jump into the river (with your life jacket on) and just float down the refreshing, clear river until hiking is available again. A truly remarkable natural experience. Cost: $10 to $25 per person, depending on the tour. From Managua: Take a bus north to Somoto (about five hours) from the Mayoreo bus station. A hotel in Somoto will cost from $35 to $50 per night.
Get Your Free Nicaragua Report Here:
Learn more about Nicaragua and other countries in our daily postcard e-letter. Simply enter your email address below and we'll send you a FREE REPORT –  Start a New Life on the Beach in Nicaragua.
This special guide covers real estate, retirement and more in Nicaragua and is yours free when you sign up for our IL postcards below.
Get Your Free Report Here