Scott Bergstein and his wife Jessica Coup had never seen Puglia before they decided to move there.
"We've never been conventional in our approach to life-changing decisions," Scott says.
From Pittsburgh, Scott was tired of his law career and easily convinced his young wife to make a change. They retired early and packed up their lives to move across the ocean in search of la dolce vita.
Touring 33 properties in four days, the couple finally chose one to be their new home, a 1,700-square-foot home that they promptly dubbed Villa Tutto, or "Everything Villa."
Located on an olive farm near the town of Cisternino in Puglia, Italy, the house has three bedrooms, two bathrooms, a large kitchen, and a living room with a built-in bar. At approximately $195,000, it also came with an acre of land.
There's also an office space with a fireplace, a small gym, a full external bathroom, a cantina, storage room and equipment area, a high-bay garage, and finally, a wood-fired pizza oven and outdoor summer kitchen. Not to mention the dozens of different fruit trees and an olive grove that produces about 26 gallons of olive oil per year—a new retirement hobby for the couple.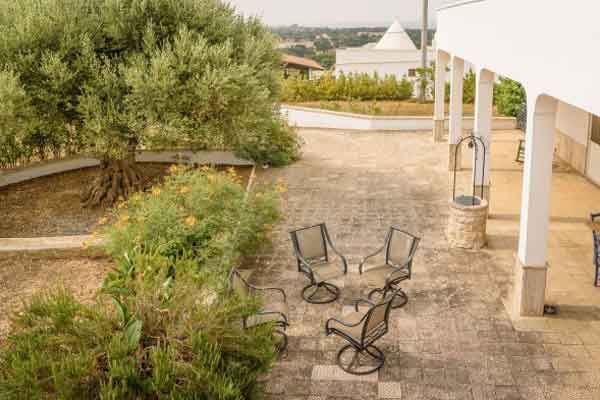 From the expansive roof terrace, the panoramic view spans the towns of Cisternino, Ostuni, Martina Franca, the white city of Locorotondo, and the famous trulli houses of Alberbello.
In 2011 the couple invested a bit more to update the exterior, adding an outdoor barbecue as well as solar panels and other personal renovations.
Besides the olive harvest, Scott and Jessica enjoy Puglia by touring the UNESCO World Heritage trulli houses, the conical-rooved structures characteristic of the area; eating creamy, buttery mozzarella known as burrata, made fresh each day; dipping their toes in the Adriatic Sea; and capping their days with a local verdeca white wine and a plate of spaghetti con vongole (spaghetti with clams). Other times, friends join them for an outdoor barbecue, the smell of the smoldering olive wood permeating the summer air.
"Despite our inability to communicate at a level beyond rudimentary with many of the people we met, our neighbors, the shopkeepers in Cisternino, the staff at the bank, all accepted us and tried their best to have us understand them," Scott says.
Villa Tutto is in the beautiful Valle d'Itria, just two miles from Cisternino and less than 10 miles to the nearest beach along the Adriatic coast. The international airport is just a 40-minute drive away, which is perfect for Scott and Jessica.
"One of the perks of being retired in Europe is having time and easy, cheap access to some pretty amazing places."
With budget airlines and short distances, it's easy to jet around Europe. Since their move to Puglia, Scott and Jessica have visited Dubrovnik, Amsterdam, Paris, Prague, Vienna, Munich, Barcelona, and traveled throughout the Italian peninsula.
"Puglia drew Jessica and me in with its better-than-Pittsburgh climate, its low cost of living, its access to fresh and healthy food, and its lush and fruity wines," Scott says. The couple was able to find that, and more, in Villa Tutto.
Get Your Free Your Overseas Dream Home Report Now

Sign up for the FREE Your Overseas Dream Home e-letter and get a valuable report (free for a limited time) on the The Global Real Estate Boom of 2021: 15 Places Where You Can Profit.
Related Articles
Charming Italian Real Estate and Property
Move to Italy and Enjoy La Dolce Vita (the Sweet Life)
Live Your Dream Retirement in Italy