When my wife, Karen, and I decided to retire in 2004 we knew we needed to look outside our home state of California for a cheaper place to live.
Retiring in California and finding affordable beachfront property was out of the question—it would cost us millions of dollars. But in Panama, for less than $70,000, we purchased a piece of sandy beach in the development of La Barquetta Nice.
Our builders—a young husband and wife team—began construction in 2006. Karen designed our home with the kitchen at the center of the house, so she could entertain company while still being able to enjoy views out over the ocean. My dream was to build a library to house my 5,000 plus books.
The cost of building our 3,000-square-foot beach home was approximately $53 per-square-foot ($159,000). We downloaded the house design from the internet and our Panamanian architect drew up the plans within a month.
When our home was finished we invited all the workers to have a walkthrough of the house, so we could thank them for what they did. One of the workers cooked up a huge pot of chicken and rice for us all to share. On a vacant lot across from our house he cooked it up from scratch in a cast iron pot. It was one of the best meals we've ever eaten.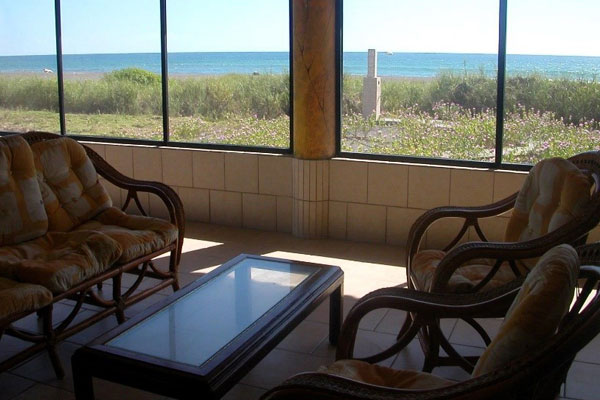 Our builders told us it was extremely unusual for workers to see around a finished house and they were so appreciative of our invite that years later they still speak to us even though they have gone on to other jobs.
A decade after completing our home, we have no structural issues and only mild maintenance due to the sea salt.
Moving to Panama has several advantages for us besides being able to build a home on the beach. For example, we benefited by joining the Pensionado, a program Panama has in place for retirees. This offers us 10% to 25% discounts on restaurants, airplane fare, bus fare, hotels, medicines, doctors' visits, and the list goes on. (I paid just $180 for X-rays, medicines, and doctor following an emergency room visit.)
Our health has improved while living here. We eat more fresh vegetables and fruits that come straight from the local farmers—I've lost over 10 pounds. The local gym is only $3 a day and our neighbors bike into the town of Guaramal twice a week, which is six miles away.
Our social life is packed with potluck parties with fellow expats, and we spend most of our evenings sitting on the beach with our neighbors watching some of the most beautiful sunsets in the world.
Get Your Free Your Overseas Dream Home Report Now

Sign up for the FREE Your Overseas Dream Home e-letter and get a valuable report (free for a limited time) on the The Global Real Estate Boom of 2021: 15 Places Where You Can Profit.
Related Articles
Looking for Beachfront Property? Check out Panama
Most Popular Facts About Panama
Coronado: A Popular Beach Town for Expats in Panama
---
The Countdown Is On! Discount Ends June 15
Right Now Is the Best Time in History to Start Earning as a Freelancer
If you crave the freedom and flexibility of a side income that allows you to earn when you want and play when you feel like it...we have a solution for you.
"Remote work" is here to stay, and we can show you how to capitalize on this trend and turn what you already know how to do into a side income online that can help fund a retirement that looks the way you want it to. Can you really afford to miss this?
Online Portable Income Masterclass
June 26-27, 2021
---