Bill and Mitzi Martain have what they consider an ideal life. They own 10 acres of fertile land in a rural valley, surrounded by hills and mountains. They enjoy sunny, warm weather year-round, with no snow, no ice, no hurricanes or tornadoes. They grow much of their own food and stay active and fit doing chores on their farm.
They do all this and more in Panama, the country that we rated our number one retirement haven in the world.
"I made my first visit here in 1999, on a cruise ship" says Mitzi of her first visit to the country. "At that time I had my own travel and tourism business in Winston-Salem, North Carolina. That's where Bill and I met and were married."
As a young man, Bill was in the Navy and afterward went to work for the airline industry. "Eventually I became a supervisor and thought I had it made—good job, great benefits, nice pension, the works."
But that all changed when the economy went bad, the airline downsized, Bill lost his job…and all his benefits and pension.
"We had expected to live on Bill's pension when we retired, and when that was gone, everything changed," says Mitzi. "We had to find an affordable place to live."
When they decided to look overseas, even though they had both traveled all over the world, Panama was their first choice.
"It's close enough to the States to get to easily," Bill says. "It has a stable economy and government, low cost of living, and a warm climate, so we can be outdoors year-round."
So in 2003 Mitzi sold her business and they moved. "We wanted a place in the highlands, where it's cooler. When we came to our little town, we just fell in love with the area and knew it was the right place for us. Eventually we found 10 acres of cleared, flat land alongside a river at a good price, just perfect for a small farm. We bought it in 2006."
Initially the Martains built a basic home on the farm and spent holidays and some weekends there. "Then one day I just realized that I wanted to be at the farm all the time," says Mitzi, "so we moved here full-time in 2007."
Bill and Mitzi live entirely on their combined Social Security income. Their home is paid for and they have no heating or air conditioning costs. To eliminate any property taxes, they divided the 10-acre farm into three parcels, each with a value below the minimum for taxation. They pay about $60 a month for electricity and internet service.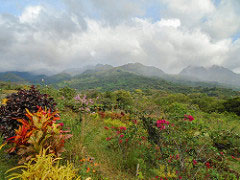 "Our biggest expenses are salary, social security, and health benefits for our farm worker Sixto (around $500 a month), and fuel for our pickup truck and farm equipment (mowers, tiller). Because we live in such a small town, it doesn't even have a gas station, we go to the nearest city (about an hour's drive away) two or three times a month to do our shopping, our banking, and get gasoline and diesel."
While individual expenses will vary, a couple can live comfortably here for as little as $750 a month if they own their home. A monthly budget of $1,500 will easily cover rent, owning a car, and going out to eat or to the movies.
"Working around the farm and doing chores keeps us active and fit, which at our age is really necessary," says Mitzi. "And here there's no pollution in the air or our river. We couldn't enjoy half the quality of life in the U.S. that we do here on our income. We love it here!"
Get Your Free Panama Report Here
Learn more about Panama and other countries in our daily postcard e-letter. Simply enter your email address below and we'll send you a FREE REPORT — Panama: First World Convenience at Third World Prices. 
This special guide covers insider advice on real estate, retirement and more in Panama. It's yours free when you sign up for our IL postcards below.
Get Your Free Report Here