"We're so happy to be here, every day is just a great day," Micki Westhorp says. "We can't imagine being retired anywhere else and having this kind of quality of life."
Micki, 71, and her partner, Jaci Norwood, 62, moved from Dallas, Texas, to Cuenca, Ecuador, with the intention of buying a home and starting their retirement. They found their dream property in a modern condo on the west side of town with an amazing view of the Cajas, the southernmost part of the Andes mountain range.
Cuenca is a 500-year-old city surrounded by mountains at an altitude of 8,300 feet. This UNESCO World Heritage site is a mix of modern brick professional buildings and traditional Spanish architecture, including cobblestone streets and gilded cathedrals. Occasionally, locals still refer to Cuenca as "Los Cuatros Rios" for the four rivers that wind through the city.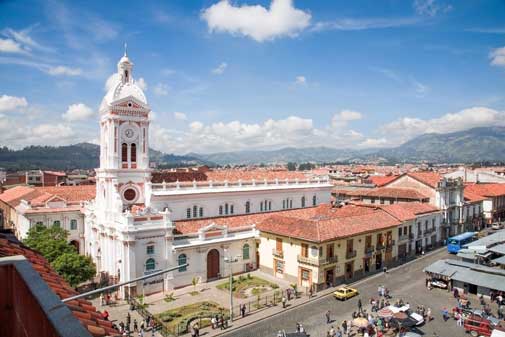 The final decision for Micki and Jaci to land in Ecuador took a bit of time to make.
"Before we retired, we met a 64-year-old lady who was deciding where to retire," Micki says. "She ended up in Thailand, and that changed everything for me psychologically. There were no borders any more, no reason why we couldn't go anywhere."
The couple started seeking advice and researching retirement locations, including Thailand. Several suggestions came back to consider Ecuador, particularly Cuenca.
"The more we found out about Cuenca, the more it was a better fit," Jaci says. "It's a historic city with a beautiful mountain setting, so Micki could hike and I could have plenty of places to photograph. The dollar was the currency and prices were low for most items. It's also close to the U.S. for a visit, the weather is less humid and hot, and Spanish is a lot easier to learn than Thai."
When Micki and Jaci decided to make an exploratory trip, a friend suggested they contact her former landlords, two men who were also from Texas but were now living in Cuenca.
"We met Harry and Steve and liked them right away," Jaci says. "They were buying the penthouse in a new building and were going to purchase another unit as a rental. Even though we wanted to buy, Micki and I agreed it would be a good idea to rent for a while."
The couple agreed to rent the condo sight unseen—two bedrooms, two-and-a-half bathrooms, for $625 a month, including all utilities and furnishings.
"When we walked in the door, we saw that view and that was it, we were home," Jaci says. "The landlords took care of everything, even down to providing towels and silverware and stocking our refrigerator. We didn't have to buy a thing. We just unpacked and started living."
Their 950-square-foot condo is modern in design and outfitted to expat standards, including hi-speed internet, state-of-the-art appliances, and 24-hour security. The condo building sits on the main bus line with easy access to shopping and restaurants.
When a severe illness forced their landlords to move back to the States, Micki and Jaci had the option to buy their rental condo. They had been studying the housing market, inquiring about other properties, so the opportunity was perfect.
"We paid $99,000 for the condo and $10,000 for all the furnishings," Jaci recalls. "It was a big improvement over our $1,300-a-month mortgage in the States. We also saved money because we were able to share one attorney for all of the paperwork, both selling and buying."
"I just paid our property tax and our bill was $15.21 for the year," Micki laughs. "I had to ask them to say it again because I was sure I didn't hear them correctly."
The couple enjoys an active social life in Cuenca. They play cards and board games with different friends, participate in meditation and a Saturday hiking club, and take Spanish lessons. "We have a wide circle of friends," Jaci says. "Most of the expats here are also retired, so it's easy to find time to get together. We make new friends by simply meeting their friends. Cuenca is also much quieter and more tranquil compared to living in Dallas and working full-time."
"Walking out the door every day is an adventure, and we love experiencing the culture and the people up close, even if our Spanish isn't the best," Micki said. "We've traveled a lot around the country and have made many friends along the way."
Their advice for people thinking about buying a home in Cuenca is to remember that there is no multiple listing service (MLS) in Ecuador. Searches take longer because properties show up through personal contacts, social media, and walks around town. The lack of an MLS does mean you can work with several agents at one time, and no one is worried about stepping on anyone's toes.
"We love our life in Cuenca," Micki says. "It has been the perfect mix of climate, culture, and people. We love our home and know there's no other place for us."
Get Your Your Own Home Overseas Report Now:

Sign up for Your Own Home Overseas free e-letter and receive a special report "The Top 10 Locations to Own a Home Near the Water for $150,000—or Less!"
This special report covers the 10 things you must know before buying property overseas as well as pointing you to some of the best places in the world to buy real estate…and it's yours free when you sign up for Your Own Home Overseas e-letter below.
Get Your Free Report Here