The coastal town of Zaton in Croatia lies about five miles north of the ancient walled city of Dubrovnik, where tourists from the U.S. enjoy Game of Thrones tours.
My husband, Jeff, and I are roving retirees. We travel the world in retirement, moving from one idyllic locale to the next as we feel.
People in this beautiful Croatian town welcomed us with warmth and small gifts. We have not encountered any fellow Americans but get by fine in English nonetheless. We share afternoon cocktails and invite locals for breakfast before the busy beach life kicks into gear.
Someone cut a rough set of stairs into the steep stone cliff overlooking the sea on the Dalmatian Coast. We won't be using those. Our apartment is at beach level just behind two restaurants, one of which serves individual chocolate soufflés with a scoop of vanilla ice cream for the equivalent of $5.
The coastal resort town of Zaton lies in the Bay of Zaton on Croatia's Dalmatian Coast.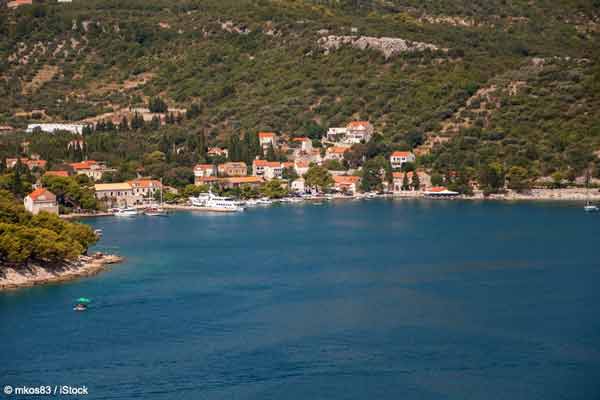 No shark has ever attacked a human in far Southern Croatia. We appreciate that fact, as we look like rotund, tasty seals. The brilliant sun would sizzle our fair skin like bacon, so we sport long sleeves, sunscreen, and hats.
The Europeans we share the warm Adriatic waters with do not wear shoes on the pebbled shore and stretch their towels out on its expanse. Body acceptance is the norm here and swimmers of all shapes use the least amount of cloth possible to maximize the rays. We envy their dark tans but do not emulate them.
We spend endless leisure hours in one of the most desirable places on earth for less than it costs to live in Pennsylvania. Numerous yachts cruise by or lay at anchor for an afternoon in our cove. We live a millionaire's vacation for a fraction of the cost—less than $2,000 a month, all told.
Our apartment is a studio that includes WiFi capable of streaming Netflix, air conditioning, cable, a kitchen, bath, housekeeping, and laundry. We pay $1,200 a month, including the utilities and services, far less than any beachside accommodation back home. If we rented it for six months or a full year instead of only the high-season summer months, we could cut that rate by half.
We cook 19 out of 21 meals a week and shop at the local grocery. Prices are a third less than we paid in the U.S. if we stick to Croatian brands. The stores supply U.S. goods, but those carry a premium price.
Related Articles
Interesting Facts about Croatia
Many tourists travel in Croatia to take advantage of the many beautiful beaches
The Enchantment of a Retirement in Croatia