In 2008, after many years of exploring options to fit our active lifestyle overseas, my husband, Steve, and I made the final decision to move to Costa Rica. We had plans to put our equity-heavy home in Austin, Texas on the market and pay cash for a condo or town home in vibrant downtown Tamarindo on the northwest "Gold Coast" of Costa Rica. We figured we would have no issues with a quick sale since real estate was booming everywhere.
We traveled to Tamarindo that year and toured properties with three different real estate agents. Our budget was $250,000 and we created a "wish list" of criteria: a spacious two- or three-bedroom, two-bathroom turnkey condo, air conditioning, granite countertops, new or gently used appliances, elevator, a terrace with at least a peek-a-boo ocean view, pool, walkable to the beach and area stores, gym, and a garage with additional storage.
What we discovered in 2008 was we had to alter our "champagne" wish list extensively to meet our "beer" budget, as we just could not seem to find a place to meet our criteria in Tamarindo. Later that year the real estate bubble burst and sent shock waves around the world. We didn't sell our home and we couldn't move to Costa Rica—yet.
But as they say, with every cloud there is a silver lining. It took a while for the Austin home to eventually sell (2013), but in that time the condo we loved in Tamarindo (but could not afford) was reduced from $600,000 to $350,000. After renting in the same condo building for several months in 2013, we made an offer for an ocean view unit for $300,000 and it was accepted.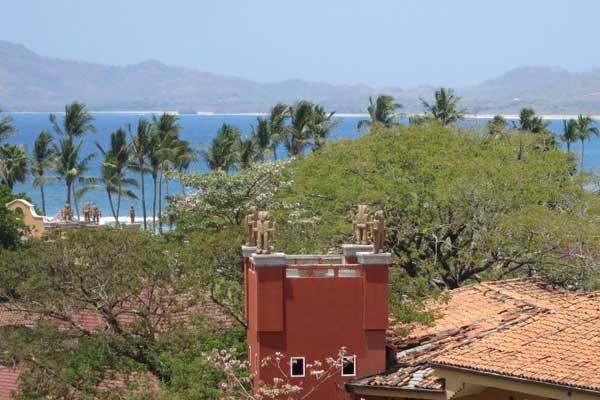 Although it was slightly higher than our original budget, having stayed in Austin a bit longer gave us more years to work and save money. Plus, if you find a comparable, brand-new property in downtown Austin with a view, walkable to all the action for the same square footage, one would be paying something more like $750,000 and upwards. And if you had a view of the Pacific Ocean in downtown San Diego, you'd be writing a check for well over a million dollars. We just never could have afforded something like our Tamarindo home, with all the modern amenities on our wish list, in the perfect location back in the U.S.
Finding a property with a garage, extra storage and an elevator is like hitting the jackpot. Our $400 a month Home Owners Association fees cover the maintenance of these bonus items as well as the beautiful common area, pool, and a property manager.
However, the best savings for us has been our property taxes. In Austin we were paying more than $12,000 each year. Here in Tamarindo we pay about $500 a year. You don't have to do higher math to see how we can live much of the year just on these savings alone.
Having to wait another five years taught us that good things can come with patience. Although Tamarindo is one of the more expensive beach communities on the Gold Coast, there are still many comfortable two-bedroom condos (with a few less amenities) to be found in the $200,000 to $250,000 range. My advice would be to do your research and be patient. Rent first and get to know insider information. Something will come on the market which works for you.
Get Your Free Roving Real Estate Investor Report Now

Sign up for the FREE Roving Real Estate Investor e-letter and get a valuable report (free for a limited time) on The 5 Best Places in the World to Own a Home From $150,000.
Related Articles
Diverse Real Estate Options When Buying Your Dream Home in Tamarindo, Costa Rica
Maps of Costa Rica: Best Beachside and Mountain Towns