For many, the dream of someday retiring to their own home on a tropical island is just that; a dream. But for former Canadians, Lawrie and Lynda Lock, others' dreams are their affordable reality.
"We frequently see pods of dolphins and basking sea turtles, just in front of our house. And, of course, summer time is turtle nesting season. The mama turtles come up, right on our beach, to dig massive holes for their 120 plus eggs. It's magical," Lynda says.
The Locks built an 1,800 square feet home on the small Caribbean Island of Isla Mujeres with beach frontage, two stories, two bedrooms with incorporated bathrooms, a separate powder room on the main floor, kitchen/living area combined, and three large decks.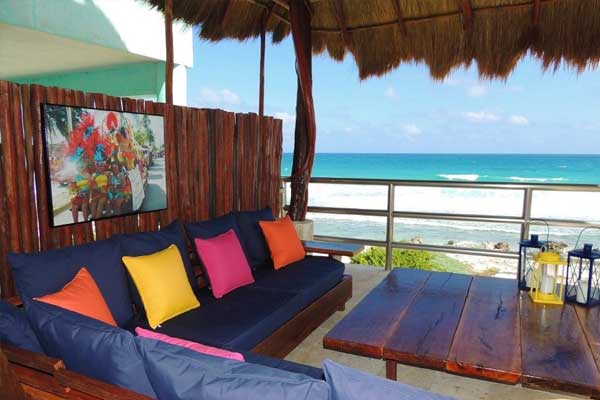 "We get a lot of use out of our decks," says Lawrie. "That's where we take our morning coffee. And saying farewell to the sun, each evening, as it drops into the Caribbean, is our special ritual."
Isla Mujeres is a small island eight miles off the coast of Cancún. It's just over four miles long and only about two miles wide with temperatures normally hovering in the mid-80s.
"The island is just the right size," says Lawrie. "We can get around the whole island with our golf cart. We had been to the other side of Mexico many times but once we discovered the Caribbean side in 2002 and experienced the turquoise water, good food, and friendly islanders, we were hooked."
The Locks chose a local contractor—rather than one from the mainland—to oversee the construction of their home and are thrilled with the result.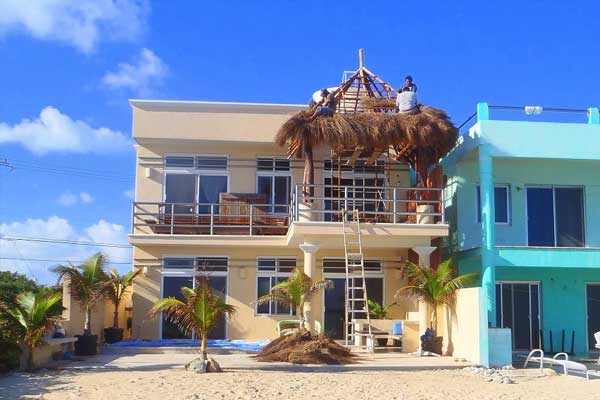 "Local islanders know better than anyone how to construct for an island environment. It was the best experience ever. On time and under budget. Our builder Patricio and his family have since become personal friends over the years," Lynda adds.
"We incorporated marble tile floors, granite countertops, built-in concrete sofas with comfy cushions, and even built-in concrete bases for the beds and concrete night stands," says Lynda. "The house was built for efficiency, ease of maintenance and longevity to endure the salt-air environment," adds Lawrie. "The less wood, the better. You won't find this style of construction back in Canada but it's normal here in the Caribbean."
The Locks hail from British Columbia, but in October of 2008, they decided they'd had enough of the cold and snow. They sold out, packed their car with only the essentials, and made the move.
"Now, we happily get up at dawn and enjoy our morning coffee together while planning our 'busy' day. Eat at home?  Go out?  Those are the big decisions we must make while watching pelicans dive into the surf for their breakfast," says Lynda. "We feel healthy; eating fresh foods, breathing clean salty air, and there is virtually no stress. We haven't had a cold or the flu since we moved here."
The Locks say their all-in total for oceanfront property and home construction including pool, several decks, tile floors, granite counter tops, and appliances totaled around $250,000 back in 2008.
"There is no way we could live like this anywhere in Canada or the States. Our property taxes are less than $70 per year. I sometimes can't believe it, and we only pay about $50 per month for electricity, on average. The hottest summer months can see the electricity bill go up to around $100 per month due to the air conditioning," Lynda adds.
"You can buy fresh seafood everywhere and prices are low," she says. "We can feed both of us in a moderate restaurant for around $8-$10. We have local friends as well as snowbird friends who come down for a few months each year. We stay quite busy, actually," adds Lawrie.
"Our biggest challenge has been learning Spanish. We do try, every day, but it seems that the new words we learn, leak from our brains and fall into our pillows while we're asleep," Lynda chuckles.
"This is your only shot at life. So, do it. If it doesn't work out…change," offers Lawrie. It certainly seems to have worked out for them.
Get Your Free Roving Real Estate Investor Report Now

Sign up for the FREE Roving Real Estate Investor e-letter and get a valuable report (free for a limited time) on The Exact Location of Where to Make the Most Real Estate Profits This Year (Plus 4 More Places to Build Your Fortune in Latin America and Europe).
Related Articles
5 Best Caribbean Islands to Live On and 2 to Avoid