Ryan Kelly had worked many years in sales and management. He says, "After doing the grind for so long, I was burnt out and looking for something else to do with my life. When the Ecuador opportunity presented itself, I grabbed on tightly with both hands."
Ryan and his wife Tiffany settled in the coastal city of Manta. After nearly four years in Ecuador, the Kellys still love their new life.
"We both grew up on the beach in Florida," Ryan says. "We love being able to live on the beach again. Watching whales breach just offshore during the migration season is something that puts it way over top, as most people will never get to experience this sort of life."
"We live in one of the nicest oceanfront buildings in the city. It's a fully furnished, three-bedroom unit with a large balcony and incredible views of the beach and ocean," says Ryan. "A lot of people pay cash for their home or condo. Once that is secured, your monthly bills are very minimal. Property tax is less than $200 a year. Most friends we know live very well for less than $1,000 a month, including all the extras."
The Kellys' electric bill runs about $60 a month, while their average grocery bill is around $300 every month.
Ecuadorian food (and its prices) is another element of life in Ecuador Ryan and Tiffany enjoy.
Ryan says, "In the States, we were paying $8 for a bag of organic spinach, but here in Ecuador we pay 70 cents. The freshest seafood is just a short drive away at the local seafood market, where you can find pretty much anything, and at a fraction of U.S. prices. Shrimp, wahoo, dorado, sea bass and, of course, the best tuna around. Pick your portion size and the fisherman will even clean and package it for you to take home and throw on the grill."
So what was the main reason they chose Ecuador?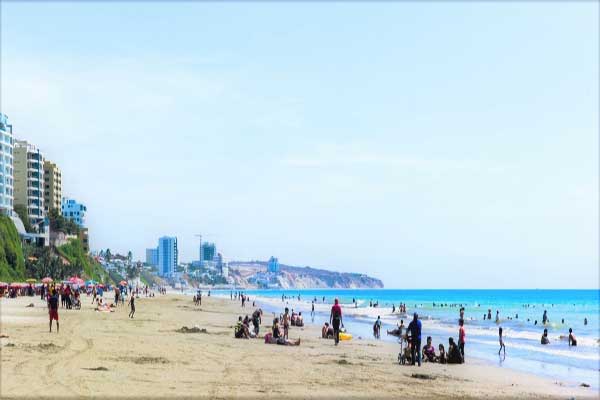 "The main thing that attracted us to Ecuador was the ability to live the beach life, in a gorgeous building, with very affordable private healthcare, and do it all at a fraction of the cost it would be back in Florida," says Ryan. "To be able to start a new business and get out of the rat race and daily 9-to-5 grind was also a very big motivator. The fact that we cut our monthly bills in less than half has been another great thing."
And their favorite thing about living in Ecuador?  "Waking up with a cup of coffee on the balcony looking out over the ocean, instead of being stuck in morning rush hour traffic. Another great thing we enjoy are the sunsets. Living by the water and facing the setting sun allows us the relaxing time to take a break from work, grab a beer or cocktail, and just sit back and watch nature's best light shows."
Ryan encourages people thinking of moving abroad to take that leap: "Sitting there, debating and thinking about all the reasons why you might not make it, or focusing on the difficulties, won't get you anywhere. Just get up and do it. While you're making excuses, someone else is already doing it. Any move in life is going to be an adjustment. But if you go into it with your eyes wide open and ready to enjoy the experience, you'll do just fine."
Get Your Free Your Overseas Dream Home Report Now

Sign up for the FREE Your Overseas Dream Home e-letter and get a valuable report (free for a limited time) on the The Global Real Estate Boom of 2021: 15 Places Where You Can Profit.
Related Articles
Amazing Ecuador Real Estate and Property
In Ecuador, You Can Retire on Little Money