When my husband Clyde was working as a firefighter and paramedic in Corpus Christi, Texas he had top-notch health insurance. While he was still working, the city paid a portion of our premium, but after he decided to call it quits we'd be responsible for the full amount. With a monthly premium of over $1,200 how could we afford to retire, let alone retire early?
Clyde was 57 and I was 51 when we walked away from the working world, looking for a better way of life outside the U.S.
With low medical costs top of our list, Panama had just what we were looking for.
In the popular beach town of Coronado, not far from our home, there are several clinics. We can see an English-speaking doctor without an appointment for just $15. Back in the U.S. this wouldn't even cover the cost of our deductible.
I recently went in for my yearly checkup and paid a whopping $30 to see my English-speaking gynecologist. I came out with an order for my yearly mammogram that can be done at a nearby hospital for a mere $25. It's unbelievable to think I used to pay well over $100 for this procedure back in Texas even with health insurance. And both doctors and dentists here give patients their personal cell phone numbers to use whenever needed.
And although seeing a dentist is never much fun, at least in Panama it doesn't require taking out a loan. A recent root canal cost around $400 and another $400 for a crown, far less than any U.S. dentist would ever charge. A regular cleaning can be had for $25 to $40 depending on the clinic and is always performed by the dentist personally.
I spent an hour with a dentist discussing treatment options and was only charged $20 for the visit. Equipment in both medical and dental offices here is the same as in any U.S. office too.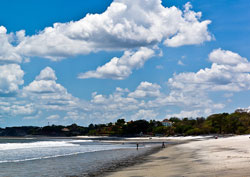 While we usually just pay out of pocket for medical expenses, we do have a local health insurance plan. We pay $270 per month for the two of us and the policy has a yearly $250 deductible. Prices vary by policy, coverage, and age just as they would anywhere else. Since we never meet our deductible the policy serves as a safety net just in case we needed hospitalization.
And speaking of hospitalization, I was hospitalized for a hysterectomy three years ago.  At the time we had not been on the policy for a year yet so the insurance would not cover the procedure. We opted to pay $4,500 out of pocket for the surgery. This included two nights in the hospital in a private room, doctor's fees, and all other costs. Although I went in frightened not knowing what to expect in a foreign hospital, I came out enlightened. The care I received was excellent, with attentive nurses, decent food, and my husband near my bedside.
In the four years we've lived in Panama we've come to realize that things in the U.S. are not necessarily better…just more expensive. In Panama, life is simple, costs are less, and healthcare is affordable.
Get Your Free Panama Report Here:
Learn more about Panama and other countries in our daily postcard e-letter. Simply enter your email address below and we'll send you a FREE REPORT — Panama: First World Convenience at Third World Prices.
This special guide covers insider advice on real estate, retirement and more in Panama. It's yours free when you sign up for our IL postcards below.
Get Your Free Report Here