There are many reasons why people choose to move from the U.S. to sunnier climes abroad. Often, it's for health reasons…sometimes for pure economic necessity—stretching retirement dollars as far as possible.
But my wife Ann and I are fortunate enough that we are here in Salinas, Ecuador just because we want to be.
We met in 2009…and quickly knew we wanted a new adventure overseas. Both widowed and with our adult children all married and raising their own children we figured life is precious; why not try to do something a little different?
So why did we choose Ecuador out of all the places we could move to in the world? Simply because it beat out all the competition. Ann and I have both traveled widely and have seen some beautiful places. Between us, we've toured Italy, France, Germany, and Austria. We've been to Hawaii together twice, visiting three of the islands. We've seen the southwest, and been up and down the east coast. We spent a wonderful week in New Orleans. We've been all over the Caribbean. And everywhere we've been we've looked around and asked ourselves, "Could we live here?"
Then we started seeing articles in places like International Living and blogs from fellow seekers extolling the virtues of South American destinations. In our research, Ecuador stood out as an intriguing place.
The more we studied, the more we liked—Ecuador was hitting all the boxes on our checklist!
For a start, it's a diverse country where you can choose your preferred climate and find a location to match. They have a strong emerging economy, with the U.S. dollar as the national currency. The tourist and expat potential is just getting off the ground, so prices are low. And, under their constitution, foreigners have the same rights of ownership as nationals. And, although on the Pacific Ocean, Ecuador is in the Eastern Time Zone—perfect for staying connected to the U.S.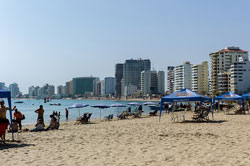 From our research, we selected the southern coast as our ideal location, and took a week to travel there to check out locations and real estate.
It did not take us long to appreciate Ecuador, and the friendly, generous spirit of the Ecuadoreans we met. The beach town of Salinas, especially, stood out for the quality of life it offered. I'm happy to report that now, after 10 months of living here as full time residents of Salinas in a beautiful ocean-front condo (a 1,900-square-foot property that cost just $220,000), we have never been happier.
Yes, living here has been healthier for us. I've lost over 50 pounds and have cut my diabetes medication in half. Yes, we find the weather ideal, with the coldest winter nights maybe down to as much as the mid-60s and the hottest summer days in the 80s. And yes, it is much cheaper to live here than in the U.S. We've slashed our expenses from $6,000 a month in the USA to $1,500 a month in Salinas—freeing us up for more travel.
But that's not why we are here. We are here, because quite simply, we fell in love. First with each other, then with the possibility of doing something a little different with our lives, and then with Ecuador and its people.
Some of our friends tell us they admire our bravery, and would never be able to make such a move themselves, but it feels so right and so comfortable to us. We look forward to a happy and healthy new chapter in our lives, to new friends, a new language, new culture, new challenges, and new rewards—right where we want to be, in our new home in Ecuador.
Get Your Free Ecuador Report Here:
Learn more about Ecuador and other countries in our daily postcard e-letter.
Simply enter your email address below and we'll send you a FREE REPORT – Ecuador: Live Like Royalty on Your Social Security.
This special guide covers real estate, retirement and more in Ecuador and is yours free when you sign up for our postcards below.
Get Your Free Report Here