Our decision to move to Nicaragua was never about moving away from the U.S. Rather, it was more about taking a leap of faith and living a grand adventure. My husband, Scott, and I had both traveled internationally prior to meeting and really liked the idea of continuing to enrich our lives through travel. Scott has been an IL subscriber for nearly 20 years and had the idea of doing something like this for a long time.
After getting married we began traveling the world together, and it was then we both became interested in the possibility of spending at the least part of our time in a warm-weather, foreign destination. We were both raised in the Midwest and lived there for most of our adult lives, and the thought of escaping winter appealed to us. Snow is great as a 10-year-old, but not so much when you need to clear a driveway to get to work.
We took our first trip to Nicaragua in December of 2011. We were hooked from the get go.
As we became more intrigued and explored the idea of making Nicaragua our future home, we were drawn to Granada right from the start. It seemed that in planning each trip, we found ourselves returning again and again.
The large expat community in Granada was a definite benefit for us. It seemed that with each trip we met more people (both locals and expats) and they eventually became good friends. We truly believe that it was these friendships that allowed us to build a foundation on which to base a new life. This very foundation made the decision to move not quite as daunting as it may have been.
We get the best of both worlds having chosen Granada as our new home. We are able to experience the beautiful and historic city with its restored Spanish colonial homes, churches, and buildings, as well as the numerous restaurants and shops. Yet at the end of the day, we return to our home, just outside of Granada. Here, we are able to leave the noise and heat of the city, while still experiencing views of it and the grandiose volcano, Volcan Mombacho, sitting on the shore of Lake Nicaragua.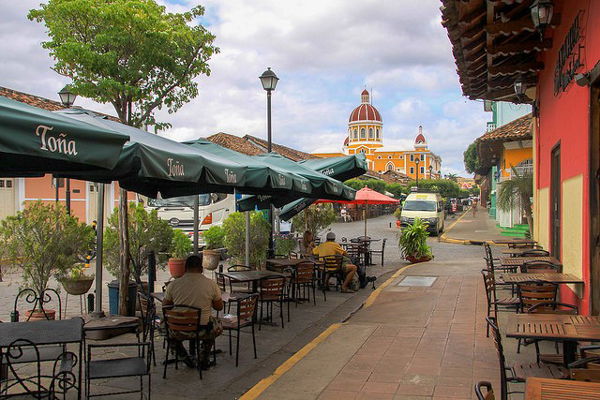 Since Granada is a tourist destination, there are restaurants of all varieties and price ranges. At a local restaurant, away from the central tourist area, a meal for two including a couple of cold beers will run about $12. In any number of restaurants that are popular with tourists and expats, that same meal might run $20 or higher. At the top end, there are a few places where you could spend upwards of $50 for a good steak and drinks. Still, compared to a similar meal back in the U.S., it's less expensive. At the other end of the scale, you can get a full plate of grilled chicken, pork, or beef plus generous side dishes for about $3 from a street vendor.
Scott is a lover of baseball, and was ecstatic when he discovered it is Nicaragua's national sport. A round-trip taxi to the ballpark, a ticket for a great seat, a serving of vigorón (the local pork and cabbage specialty), and two 16-oz beers costs less than $7 per person. Try getting even a beer at a game in the U.S. for that price.
If you're interested in Nicaragua as a place to live, you really have to experience it for yourself—visiting different parts of the country, in all seasons if possible. Experience daily life to see if you and it are a good fit. Rent first, keep an open mind, and come with a sense of adventure.
Get Your Free Nicaragua Report Here:
Learn more about Nicaragua and other countries in our daily postcard e-letter. Simply enter your email address below and we'll send you a FREE REPORT – Start a New Life on the Beach in Nicaragua.
This special guide covers real estate, retirement and more in Nicaragua and is yours free when you sign up for our IL postcards below.
Get Your Free Report Here