Lance and Mary Miller both grown up in small towns, he in Iowa and she in Maryland. "We appreciated the simplicity and intimacy of living in a small community," Mary says.
Mary had been a nurse for many years and Lance had a career in the military and lived in several countries. "I knew that living in a foreign land would sometimes require patience, open mindedness, and quiet determination," Lance says.
The Millers weren't looking for big city amenities when they moved to Costa Rica. Nor were they interested in access to ski slopes and winter sports. "We wanted escape from northern winters, a slower-paced lifestyle, good healthcare, a tropical climate, beach access, and a sense of adventure, as well as ways to stretch our retirement dollars," Mary says. "We found it all in Costa Rica".
When they arrived in 2013, the Millers opted to rent a house on a beach in the small town of Matapalo, about 15 miles south of Quepos. Choosing to rent initially rather than buy turned out to be the right strategy for them. "From extended conversations we had with local expats, we knew that sometimes it's easy to buy but not so easy to sell later," says Mary. "So, we decided to rent, at least initially."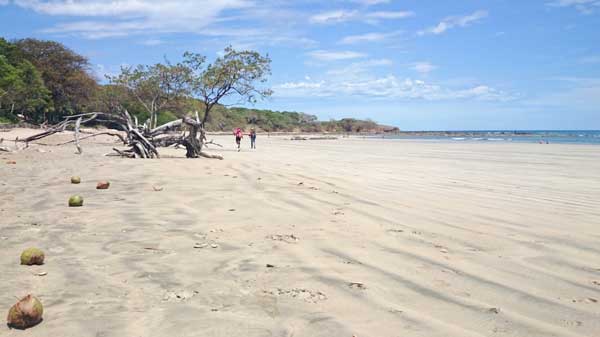 A year and a half later, by word of mouth, they found a bigger house for rent in the hills a few miles outside the town of Quepos that better matched their likes and interests. "It was larger, had more amenities, was closer to the beach, and closer to shopping facilities," Mary says. "And the beach is a quick drive away."
Even though they now live in the country, "We're within a couple of miles of the two largest supermarkets in the area, and within another mile or so they have all the stores and services available in downtown Quepos," Mary explains.
The house is situated on a hillside with an outstanding view of the mountains all around. It is one of three houses on a 43-acre property. The other two are owned by the family of the landlord who also lives there. The third house is occupied by the landlord's son, a doctor, with his wife and infant child. "They're not only friends but our local family," says Mary.
Lance and Mary's house has two bedrooms, two bathrooms, a living room, a fully equipped modern kitchen, and porches front and back. The rent is $760 per month.
The grounds around their house include raised gardens that the Millers have made use of. "At various times, we've grown camotes (indigenous squash), herbs, aloe, tomatoes, and cucumbers," says Mary. "We made a pact between ourselves that only in the case of a dire medical emergency, which could not be treated here to our satisfaction, would we consider moving back to the U.S.," Mary says. "We're living our own version of paradise and have come to love Costa Rica and its people".
Get Your Free Your Overseas Dream Home Report Now

Sign up for the FREE Your Overseas Dream Home e-letter and get a valuable report (free for a limited time) on the The Global Real Estate Boom of 2021: 15 Places Where You Can Profit.
Related Articles
Best Places to Live in Costa Rica: Five Top Expat Havens
In Photos: The Top 5 Beaches in Costa Rica
How to Buy Property in Costa Rica