I grew up in St. Petersburg, Florida, where seniors flock to retire because they can lounge in the warm weather, drink pina coladas under the shade of palm trees, and not have to pay state income taxes. So why would I leave my seaside home by one of the best beaches in the U.S.? Well, Florida's not so cheap anymore…and it's hot.
I have worked hard all of my life and had good jobs, but still didn't save enough money to subsidize my retirement income nor did I have a pension. But I did have fun. And I wanted to continue to have fun rather than spending my days a recliner with a tv remote in my hand.
Why I Chose to Retire in Cuenca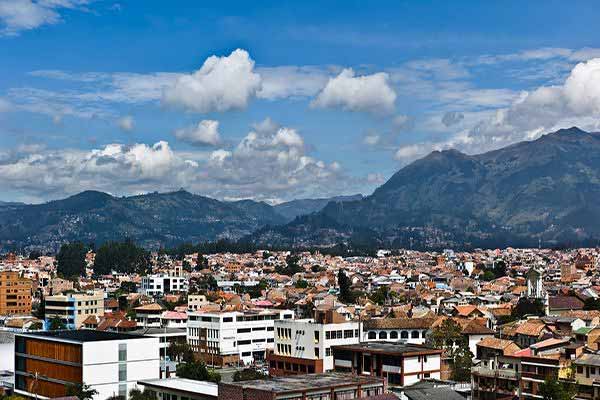 I was lucky enough to get asked on a press trip to come to Cuenca, Ecuador about six years ago and to my surprise, I fell in love with the people, culture, architecture…and aahhhh, the weather.
Cuenca is a UNESCO Heritage site nestled in the Andes mountains known for its 15th and 16th century Spanish colonial and French republic architecture, the three baby blue mosaic domes of the Cathedral of the Immaculate Conception, and the four rivers banked by linear walking trails that run through the city.
It carries the moniker "the cultural center of Ecuador," and is loaded with French-inspired parks, lots of museums, concerts of all types, and cobblestone streets filled with chic shops and outdoor cafes. But the city, which has an urban population of 700,000, is also very modern. Everyone has a smartphone and the city bustles with smartly dressed professionals taking advantage of this new hot spot for tourism.
As soon as I stepped off the plane for the first time, it felt right. I took the opportunity to tour Cuenca's neighborhoods, meet expats, and dip my toes in the culture. And I found, yes, it could be an option.
Cost of Living – Cuenca vs Florida
Before I moved to Ecuador, I decided to run a spreadsheet to compare my expenses in Florida
to Ecuador. I also wanted to make sure I could live off of my Social Security of $1,750 in case I outlived Rowland, my husband (just a fact women live longer; I'm not planning anything). Now after living here for more than four years, this has turned out to be a great choice for us.
Recently I decided to pull my original spreadsheets and update them to see what my actual cost of living in Ecuador turned out to be and how it compared to what I would spend if I still lived in Florida.
For my Florida budget, I included my real-life expenses, knowing that I have always chosen to live below my standard, in smaller homes, with older cars and I don't like to shop. However, I had also paid off my home in Florida, which lowered my expenses. I later sold my house at a profit which allowed me to buy a bigger home outright in Cuenca and skip the largest expense in retirement—housing.  But rentals in Cuenca are cheap ($400 and up) so it's not necessary to buy.
I have no pension, and only enough money in my IRA to cover emergencies and none to supplement my income on a monthly basis. Rowland and I have a total combined Social Security payment of $39,000, so in some ways, I'm sitting pretty—but only if my husband outlives me. After that, my annual income would drop to $21,000. So I also needed to see if I could live alone off of $21,000 in Florida, and if not, what were my options.
Here's what I learned:
I could skate by retiring in Florida, but not on one Social Security check unless I wanted to live grossly under my living standards and sweat a lot. In Ecuador I was able to leave my full-time stressful job and have an active lifestyle—taking art classes, volunteering, doing yoga—whatever I want.
I try and tell my family and friends in the States, that in Ecuador, it's not what you spend, but what you don't have to spend that counts. I don't have (or miss) a car because public transportation makes that unnecessary. I don't have high electric bills, because I don't need air conditioning or heat (but do have a fireplace). Healthcare is 80% lower than in the United States, so a heart attack won't give me a heart attack.
Emotionally I've found friends who are like family. Expats watch each other's back, and I have a girl squad I can rely on in emergencies and who make me laugh and feel secure. And the warmth of the Ecuadorian culture reminds me daily about kindness.
There's a lot of things that go into a move abroad so it's not to be considered lightly. Checking out the location and researching costs are important before you decide to jump ship. My mom was a single mother raising three girls and drilled into us the importance of being able to support ourselves. And now I know I can.
Retirement Budget Comparison
| | | |
| --- | --- | --- |
|   | St. Petersburg, Florida | Cuenca, Ecuador |
| Home | | |
| Property Taxes | $1,700 | $66.25 |
| Utilities (Electricial) | $3,600 | $600 |
| Lawn, Pool, Water/Sewer | $600 | $750 (inc. gardener) |
| Repairs and Maintenance | $1,000 | $960 (inc. maid) |
| Cable | $1,500 | $600 (inc. two providers) |
| | | |
| Misc. Expenses | | |
| Groceries | $4,000 | $4,000 |
| Entertainment & Restaurants | $2,000 | $2,000 (We go out a lot more now) |
| Accounting/Legal/Professional | $500 | $200 |
| Vacation/Travel/Hobbies | $2,000 | $4,000 (We travel a lot more) |
| Cell Phones | $1,200 | $500 |
| Gifts/Charity | $1,000 | $1,000 |
| Personal Care/Shopping/Gym | $2,000 | $1,000 |
| | | |
| Transportation | | |
| Car Payment | $0 | $0 |
| Insurance | $1,000 | $0 |
| Repairs/Maintenance | $500 | $0 |
| Gas | $3,000 | $0 |
| Taxi and Public Transport | $100 | $500 |
| | | |
| Healthcare | $6,000 | $1,500 |
| | | |
| | | |
| Total Yearly Spend | $31,700 | $17,676.25 |
| | | |
| Social Security Estimate | $39,000 | $39,000 |
| | | |
| Surplus/Deficit | +$7,300 | *+$21,323.75 |
*We saved $10,000 and put a further $10,000 into our new home.
Related Articles
Cuenca is famous for its colorful festivals, distinct food, and breathtaking scenery
An Overview of Traditions and Culture in Ecuador
Let Your Money Take You Further by Retiring in Ecuador