We are in unprecedented times.
The stock market's crashed and the world's in lockdown to halt a virus.
But you know all that.
I'm in Cabo writing this poolside in the Quivira Resort. Some of my neighbors from the States are telling me their kids back home are asking them to fly back. I'm concerned for loved ones vulnerable and in lock down in Ireland and across the world. For folks getting hit hard in the stock market, you are in my thoughts.
Fear is back with a bang. The world just got a lot scarier.
And there has never been a better time to be a member of RETA than right now…
Our buying power is stronger than ever…
Our network is wider and deeper…
And the world just got plunged into a crisis…
This weekend I'll be sending you my full analysis of this unfolding crisis to members of my Real Estate Trend Alert. On Friday I'll open the doors to membership so you can try for just $5.97 and access all areas.
For now, I'll walk you through things as I see them in a nutshell…
We were due a big crisis. This was the longest bull run in history.
The last big crisis was 2008. At the time I thought the world was ending financially speaking. I saw my friends and family losing their shirts in the markets and on domestic real estate.
Yet the world went on…and the deals flowed. In fact, right at the height of the meltdown in 2008 I was in Brazil making a killing…because there is always opportunity somewhere when you're looking everywhere…
This is not 2008. Every crisis is different, every crisis has things in common…something I'll go into in much more detail this weekend in your March issue.
One big difference from 2008 is that now there's a few thousand of us in this together. It was in the teeth of the 2008 crisis that I founded Real Estate Trend Alert. That was the moment I could be of maximum service.
For 12 years we've been on a run of spectacular deals. Today we are better positioned than ever. My RETA group buying power is stronger than ever. My network of contacts around the world is larger…
And the world keeps turning. There's no moment when our RETA group buying power has greater collective value than in a crisis.
At the risk of sounding insensitive we are going to find the silver lining in all this. The show will go on. The show must go on.
And one thing is for sure…this latest crisis will create opportunity.
Developers are going to hurt and that's going to give RETA members a huge advantage when I negotiate our off-market deals and discounts. And it means more inventory and a second shot at opportunities we've already had.
RETA members are beautifully positioned for the eventual rebound if you bought alongside me in recent deals.
Our buying power is stronger than ever. Our group has been growing for 12 years.
My worldwide network of local contacts is bigger than ever.
Our contacts will come into their own as the dust settles on this crisis and I predict a flood of fresh deals. For example, an opportunity I like in Colombia just got 20% cheaper thanks to a major currency move. That's the currency move alone…before we add crisis pricing and our group buying power.
One month ago, I brought RETA members our Edena opportunity in Tulum, a chance to buy homes from $149,000.
It's as good a deal today as it was a month ago.
Rents will be down in Tulum for the next while but by the time RETA members take possession things should be back in full swing. And, those homes will be of appeal to folks who now have remote working and living options available to them.
That's important. I believe this crisis will be like pouring petrol on a fire for the growing trend in remote work. And at RETA we follow the big transformational trends like this, it's a path to enormous profit.
I'll explain exactly how I see this playing out in the March issue of RETA this weekend. (Remember, you can try for just $5.97 and get my full report as well as access to all the incredible deals I bring members.)
All our recent RETA deals are not only as good as ever, but I will use this crisis to try and get us a second chance at RETA-only terms and discounts.
Today and tomorrow I am talking with my team of contacts and advisors in Panama to tease out the implementation of a tax code change that will hand us a $70,000 bailout…
This weekend you will get my first report on how this is lining up…
With any of our recommendations at RETA I strongly urge members to travel to see it first-hand.
I don't expect you will be able to do that for the next while. So, I've been working behind the scenes to put together a team of videographers so we can bring you virtual Members-Only Scouting Trips.
The idea is to place you virtually on the ground for these trips.
This has been on my "to do" list for some time. Now it's pressing. I'm making it happen. As a business we are taking this moment to increase our investment in fulfilling your RETA subscription.
We won't waste this crisis.
I don't mean to sound like a ruthless vulture.
But planes will fly again. Global trade will rebound. We at RETA will be out ahead when that happens.
We will find the silver lining and run with it.
Not only did I survive 2008, I prospered. Fellow RETA members did, too.
Get Your Free Real Estate Report Now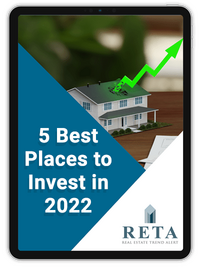 Sign up for our free daily Postcard e-letter and get a valuable free report on the The 5 Best Places to Buy Real Estate In 2022.
Related Articles
Where to Buy Los Cabos Real Estate
Buying Real Estate in Tulúm, Mexico
Real Estate Crisis & Opportunity
Upcoming Conferences
Live Better, Spend Less, Retire Sooner
IL's Retire Overseas Bootcamp
October 21-23, 2022 in Atlanta, GA

In safe, warm, welcoming communities abroad, as little as $1,700 a month can bankroll a good life... this fall, our experts will show you where—and how.
Early Bird DISCOUNT—Save $100 When You Register by Sep. 29
Details Here IL's Retire Overseas Bootcamp
---
Registration Now Open for the Best of Europe Private Screening

In the Right Spots in Europe, You Can Retire in Style—in an Historic, Sun-Drenched Locale—for as Little as $2,300 a Month or Less—Especially Now With the Dollar and Euro at Parity for the First Time in Two Decades.
And We'll Show You How, October 1-2, During the Special All-Online Best of Europe Private Screening.
---
The Income Revolution Forum
What if You Had the Freedom to Enjoy the Good Life Anywhere in the World You Wanted to Be...and Get Paid While You're There?
We'll show you how—with hands-on guidance—you could beat inflation...secure your retirement...ditch your commute...and turn a skill you already have into a portable side income of $300, $600, even $3,000 or more a month.