500,000 visitors will come to London for the Olympics this month. Below are some other diversions to enjoy when you're not at the Olympics.
Olympic mania comes in the form of a "gentleman's day out" in London. See below to discover where to follow the bankers for cocktails at 7:00 a.m., the best barber for a shave, where to buy a good cigar or special-order a shotgun, browse antiquarian maps, or get fitted for a suit…
There's no better place in the world for a fellow to indulge himself than where the very concept of a "gentleman" was first thought up. London is where cigars, shotguns and suits are still sold to royalty by the longest-established specialists of their kind in the world. You just need to know where to go…
Start with breakfast at the Hawksmoor Guildhall, preserve of bankers, day-traders and other City types. The menu is a manly affair. Order a flame-grilled steak with hash browns and eggs and sink into a burgundy leather couch.
You can opt for manx kippers or devilled kidneys on toast. I had the best full English breakfast I've ever eaten: plum pudding bacon, sausages (made with pork, beef and mutton), black pudding, fried eggs, grilled mushrooms, roast tomatoes, and baked beans with pig's trotter.
Cocktails are served from 7 a.m. If you're meeting your London broker and he has bad news, go for a Corpse Reviver: Gin, curacao, lillet blanc, lemon juice and a dash of absinthe. Discreetly tucked onto Basinghall Street opposite the 700-year-old Mayor's and City of London Courts, you'll find details on the Hawksmoor here.
Take a break from the Olympics in London: Have a shave
A barber's chair is the best place to digest a meaty breakfast and my favorite is in Mayfair. The trouble with traditional establishments is that sometimes they have the tradition but have lost the sense of service. Not so Trumpers, in business since 1875. Here my barber talks longingly about the days when his clients were smartly-uniformed cadets from Sandhurst or wore bowler hats (he still gets a few).
Good to know some things don't change, and I had an impeccable wet shave beneath a portrait of the Prince of Wales. Each wooden cubicle has a red velvet curtain, but ask to have it left open and use the mirrors to look behind you…you never know who'll come in.
It isn't cheap—$109 for a shave and a trim—but pay peanuts and you'll get monkeys, and I'm not keen on having a primate shave me. Instead, ask for Gary Stevens and tell him I sent you. He's been in the business for 46 years, 22 of those here at Trumper's, and he knows how to treat a fellow.
After Gary's attentions you have just enough time to pop next door to Heywood Books (once home to writer Nancy Mitford). Established over 70 years ago, its wooden tables heave with books on architecture, literature and travel, some quite unusual—I found an impressive leather-bound volume, Savage Sudan: Its Wild Tribes, Big Game and Bird Life.
Ordering a new shotgun or rifle is not something you do every day. So—if you can afford it—do it in style. Close to Trumper's—just around the corner from the Dorchester Hotel—you'll find James Purdey & Sons. In business since 1814, they've made guns for at least five English monarchs, including Queen Victoria (she gave them to the Imam of Muscat).
Inside, beneath mounted bison and other exotic game, you can drool over the inventory and get a feel for the guns. Ask for John Corry, a dapper young man who knows his stuff. You can buy a Purdey off-the-shelf and delivery to the U.S. is no great challenge; a good thing with a starting price of $95,000. If you're having a Purdey made for you (from $93,000) it takes two years and…rose scroll engraving, walnut stocks…
The guns are masterpieces. But personally, the thought of dropping a new gun worth $100,000 into a lake while duck shooting doesn't bear thinking about. For more affordable guns, take a walk across Green Park toward Pall Mall, and on St. James' Street, you'll find William Evans, yet another prestigious and long-established gun-maker. You'll pay anything from $800 to $148,000.
The oldest cigar store in the world is just across the road from Evans and, since the public smoking ban, one of the only places that a man can smoke in peace. This is where Churchill and Oscar Wilde bought cigars, and it serves what's left of European royalty. There's a small museum in the basement worth two minutes (no more).
The real draw—apart from the huge selection of cigars, tobaccos and pipes—is the upstairs lounge complete with old leather armchairs and complimentary coffee. Some legal dispensation means you can enjoy your cigar here while watching the world go by outside. It looks as if little has changed in a long time—though they do have WiFi as a nod to the Internet age.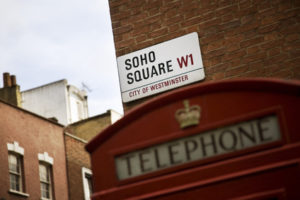 With lunchtime approaching, I recommend Kettner's on Romilly Street in Soho. Auguste Kettner, chef to Napoleon III, established herself here in 1867. A series of Georgian-era houses, Kettner's is a good place to lunch with a lady (I made do with the company of an engaging waitress). The food is delicious, there's a nice selection of salads, and you can still have rump steak and a glass of Spanish red. You'll pay around $80 for two people. I like this place. Apart from good food they hand a man the menu and look you in the eye.
Kit yourself out in style for a day at the Olympics in London
Every man should have one tailored suit, and a good one is all about your silhouette, what you want it for, and what a tailor can do for you. The "lean and clean" look is popular these days. You may think fuller suits have more elegance or are manlier. You may just want to dress like Cary Grant (in which case, head to Kilgour's).
Whatever your preference, I recommend a stroll down Savile Row and chat with some tailors. Do you want a winter or a summer suit? Are you tall? Go for three buttons… Follow the fashion? Go for two… Personally, I go for the rakish one-button effect.
Rising rents in the West End have put traditional tailors under pressure and retailers have crept into the area. Avoid places that don't have their own workshop. They may sell suits, but they aren't real tailors. A bespoke suit (fully hand-sewn) requires several fittings so you'll have to come back. And they can cost anywhere from $1,700 to $9,000. Half bespoke (half-machine, half-hand sewn) are more affordable. Either is worth it.
An Aladdin's cave for the collector, Cecil Court is a small pedestrianized street with more than 30 antiquarian stores trading in books, medals, maps and prints. With time to kill before dinner take a stroll here. (It's just off Charing Cross Road.) In Narbeth's (coins and medals) they have "the tyrant collection" of notes with Kim Jong-Il, Gaddafi, Hussein, Amin, Khomeini, and some guy from Turkmenistan ($20).
Next door, Travis and Emery sells music books; across the road David Drummond sells theatrical books. Tim Bryars does old maps. You can pick your way through the jumble of old books outside Unsworth's (from $3). But I find myself in Storeys looking at prints. An 1851 copy of Strabo's map of the world catches my eye for $20…there's a beautifully-produced 1840 map of Central Europe with duchies and kingdoms long disappeared.
Naval engagements, old country piles, tavern scenes and 200-year-old satirical cartoons…all here at tempting prices. See here for more.
A dining oasis is what you need after a day in central London and stepping into Simpsons is like finding water after a week in the Sahara. Arrive early to enjoy the upstairs bar while awaiting your companions. Take a paper, order a drink…and relax. Simpsons was—and still is—a traditional haunt of the chess set.
As such, the dining room is designed with contemplation in mind. Opened in 1828 the only touch of modernity is the laptop from which the pianist reads his music. Charles Dickens, George Bernard Shaw, Disraeli and Gladstone all ate here. As does Sherlock Holmes, in one or other of the stories. Fellow diners today are a mixture of old English gents and wealthy Asians staying next door at the Savoy Hotel.
I have scallops to start, despite the tempting-looking pigeon. Discussing wine with the sommelier, he tells me of a certain chess grand master who recently dined in Simpsons, and having no one to play asked one of the waiters to spar. In between serving the other diners the waiter beat the grand master. Two chefs circle the dining hall pushing a silver-domed trolley piled high with roast beef and lamb. This is the trademark dish here, and the Chateau d'Anglais 2009 we eventually settle on matches it well.
Retiring to the club is the obvious way to enjoy a good digestive, be it whiskey or cognac, but if you're just in town for a few days, or your membership's up for renewal (see below), I suggest the Boisedale in Belgravia. This is an old-fashioned cigar and supper club with live jazz for diners, a dim-lit whiskey bar at the back, and a cigar terrace with cashmere tartan rugs and outdoor heaters to keep you warm.
The owner is Ranald Macdonald, eldest son of the 24th chief of the Clanranald Macdonald clan, and this is not the place for sushi and spritzers. It's for people—men mainly—who enjoy good whiskey, full-flavored, well-cared-for cigars, and excellent live music. And best of all, the entry fee is just a civil greeting.
If you're feeling rakish after dinner and drinks I suggest Ashbee's Wine Bar in Earls Court, presided over since the swinging '60s by the formidable Elizabeth, a Polish lady with a past. On Hogarth Place, opposite a Filipino supermarket, its closely-packed tables give it a conspiratorial air. Take the perilously steep steps down into this cellar bar and enjoy the raucous fun (though Elizabeth won't stand for shouting).
I fancy their Italian wines (start at $18), but you can also try Polish honey mead, or eat a Swiss fondue. On a wall a plaque reminds you in Spanish that si bebes para olvidar, pagas antes de empezar. "If you drink to forget, pay before you start."
Join the Club
There are still over a hundred of London's famous Gentlemen's Clubs, though many nowadays share facilities. Some don't allow women, others are less fussy, and all have a special focus. There are those you must be voted into, those you can be invited as a guest, and a few you can join…
Get Your Free Report on the World's Best Places to Retire:
Learn more about the best places in the world to retire in our daily postcard e-letter.
Simply enter your email address below to sign up for our free daily postcards and we'll also send you a FREE report on The World's Top 10 Retirement Havens.
Get Your Free Report Here