Few things are more personal than what we eat every day. "What is patriotism but the love of the food one ate as a child?" asked writer Lin Yutang.
So, what's cooking in Costa Rica? Let me, a health-conscious cheapskate with gourmet tendencies, be your guide.
First, flexibility will help you to enjoy Costa Rica's tasty eats. There's a happy medium, though. Somewhere between completely changing your diet to become a Costa Rican campesino or buying items identical to U.S. suburban supermarket items. Living exactly like a local will be cheap. But monotonous. Rigidly clinging to the past will be expensive. And frustrating.
Instead, think of two categories of grocery items: Those you buy locally (most) and those you bring via checked baggage from home (some).
Local goodies include the wonderful produce in the ferias, or farmers' markets. Lettuces, cabbages, carrots, and tomatoes sold at low prices will be familiar, as will some tropical fruits, such as pineapples and mangoes. (Lemons too, but they're usually not yellow.)
Seeking a new thrill? Try sampling amazing fruits that are rare in northern climes. Try fresh lychee (looks like a hairy red insect before peeling), papaya, star fruit, and jocote (a cashew relative, but nothing like a nut). At the feria, $15 or $20 will supply produce for two people for a week. Meats, eggs, and dairy are economical as well.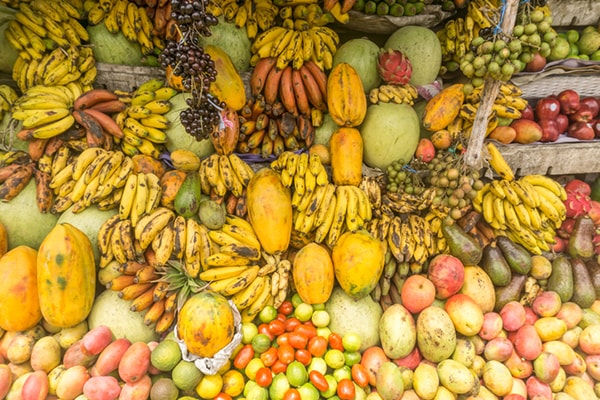 Buy fresh meats at high-end supermarkets (Mas X Menos, Automercado, or PriceMart) or specialty butchers—there are a lot of butcher shops in Costa Rica. Due to the carefree approach to refrigeration here, I'd rather pay a bit more for peace of mind. Many folks, however, buy all their chicken, beef, and fish at the feria. Even I cave and buy cured ham there. Delicious. Eggs are all pretty much free-range in Costa Rica and are available everywhere. Maybe your neighbor will be selling them if you live near a country town.
For staples, such as milk, bread, and tortillas, look to your local corner store, known as a pulperia. Also, liquor stores are open late and carry essential household supplies and groceries. You can find great supermarket deals on wines from Chile and Argentina, especially reds. Rum is available at every price point, as is beer, from basic CR lagers (Imperial, Pilsen) to craft beers. If a recipe requires some Gringo or Euro ingredient not commonly found in Costa Rica, your best bet is PriceMart, (owned by Costco) if you're a member—or Automercado, if you're not. Think deli pickles, Greek olives, and apple pie from the bakery…
What should you bring in the suitcase by air? Condiments. If you enjoy a varied international menu at home, bring your favorite bottled sauces, gravy, curry pastes, and dried spices with you. You may find such things here, but they won't be cheap. Dried dill is unknown and almond butter is about $13 for a small jar. Varieties of peanut butter are limited, so tote your preferred brand. Aged cheeses tend to be pricey, but I worry that Customs has tightened up on bringing those in. Peanuts aren't expensive, but, except for big bags at PriceMart, other nuts are. Excellent coffee at value prices abounds, yet a good cup of tea is hard to find. Domestic mint and chamomile teas are fine, but best to bring your own orange pekoe for a quality brew.
Don't be afraid to experiment. Maybe you'll soon find yourself making tortilla sandwiches with peanut butter and blueberry jam, accompanied by yogurt and fresh lychees for lunch. I do. It's all about adaptation, a beautiful thing.
Get Your Free Real Estate Report Now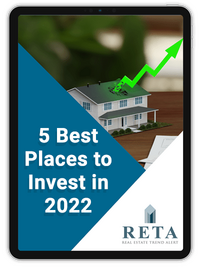 Sign up for our free daily Postcard e-letter and get a valuable free report on the The 5 Best Places to Buy Real Estate In 2022.
Related Articles
Quepos, Costa Rica: Living In Paradise And Loving It
Enjoying An Active Life In Costa Rica
Finding Your Costa Rica Base Camp
Upcoming Conferences
Live Better, Spend Less, Retire Sooner
IL's Retire Overseas Bootcamp
October 21-23, 2022 in Atlanta, GA

In safe, warm, welcoming communities abroad, as little as $1,700 a month can bankroll a good life... this fall, our experts will show you where—and how.
Early Bird DISCOUNT—Save $100 When You Register by Sep. 29
Details Here IL's Retire Overseas Bootcamp
---
Registration Now Open for the Best of Europe Private Screening

In the Right Spots in Europe, You Can Retire in Style—in an Historic, Sun-Drenched Locale—for as Little as $2,300 a Month or Less—Especially Now With the Dollar and Euro at Parity for the First Time in Two Decades.
And We'll Show You How, October 1-2, During the Special All-Online Best of Europe Private Screening.
---
The Income Revolution Forum
What if You Had the Freedom to Enjoy the Good Life Anywhere in the World You Wanted to Be...and Get Paid While You're There?
We'll show you how—with hands-on guidance—you could beat inflation...secure your retirement...ditch your commute...and turn a skill you already have into a portable side income of $300, $600, even $3,000 or more a month.