Weary of bleak news and memes on social?
Me too. Welcome to my Covid-gloom-free zone.
This week in our Saturday wrap-up I want to have fun, talk future travel, and ponder some great income opportunities.
Let's dream and scheme together…
Straight away, drop me a line and tell me where you want to visit when travel is back on the table.
"Pronounced How?"
I found a photo of myself in Slovenia last week…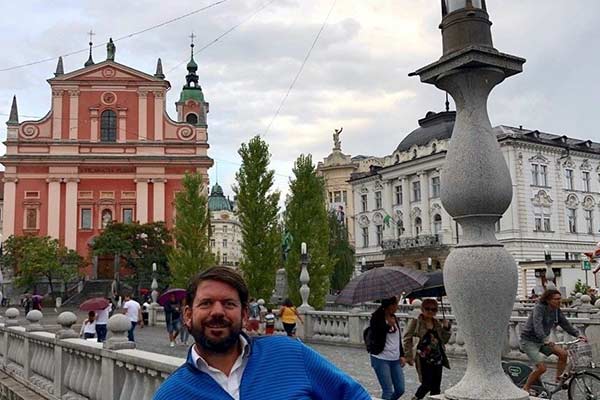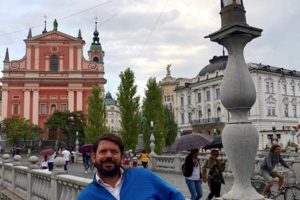 And it is one of the most beautiful places I have ever been.Once part of Yugoslavia, Slovenia is a small, young vibrant country sandwiched between Austria, Italy, Hungary, and Croatia. It was one of the former Yugoslavian republics that escaped the break-up without much conflict.
I was in Slovenia the tail-end of 2018. My local connections arranged a customized tour so I could get a true sense of what was going on, who was investing, what are they investing in, and where exactly. I've become an expert at avoiding the glossy brochure pitch and getting the real deal from on-the-ground connections.
Ljubljana is the Disney-like capital. (Pronounced "loo-blee-ana," although I have heard that locals simply call it "Lublana.") It's a city rich in beautiful buildings and parks. Think baroque, Art Nouveau, and lots of cheerful pastel colors.
I was on the ground looking into a big idea…the convergence of Central Europe.
Austria and Central Germany have some of the highest real estate prices in the world. Yields in a place like Munich are miserable, think 1%. Hop a border or two though, and you have Slovenia…Poland…
Culturally and educationally these countries are broadly similar. And it's only in the last few decades since the Iron Curtain fell that market economies have developed.
I believe we're going to see a major convergence between parts of Slovenia and Poland and Austria and Germany.
There's almost no downside risk in these markets. Look for city center apartments in central locations that are set for regentrification. Look where the hipsters and the arty community are moving. The yuppies will soon follow. Look for dynamic places where we have the choice of short- or long-term rental.
And scouting Slovenia is a joy. A pleasure. I'll be back there when I hit Europe.
Getting back to Europe is top of my travel list. As well as this big convergence we are now going to see an incredible wave of opportunities in Europe as the dust settles on the Covid crisis. (I said no gloom, not no talk of Covid…)
None of us are traveling right now. But that just gives us time to work on our bucket lists.
Besides, the deals just keep coming and RETA members and I still have plenty of ways to play them.
Virtual Travel, Profitable Investment
On Thursday, RETA members hammered the phone lines for our latest incredible deal. This was the opportunity to own true beachfront condos in a stunning community close to Panama City for a phenomenal RETA-only price…
Along with the six-figure gains that I predict ($135,700 within five years or less) and a fat future yield I figure could be 15.7% or more, these condos are true beachfront.
True beachfront condos are rare everywhere…
Travel the world and it's just a fact. In many places you can't build anything close to the beach…in other places it's just far too expensive. No way you're putting condos where you can make more money with a luxury resort hotel.
So, our RETA opportunity at Surfside—which we had in part because of the Covid crisis—is pretty extraordinary.
Tell your friends you got a two-bedroom luxury condo right on a stunning Pacific beach in a superb amenity-rich community for just $214,300 and they will either be extremely jealous or think you have cabin fever and are deluded.
The master bedroom is full-frontal ocean view. Your living room is full-frontal ocean-view.
The incredible amenities—gym, spa, pool, restaurants—all look out toward the ocean….all on the beach.
You leave your couch and an elevator ride later you are in the warm ocean waters…toes in the sand, salt on your lips.
With a condo at Surfside you're going to spend all your time either on the beach or looking at the beach…the ocean is everywhere you look.
I don't normally share developer's renders here in RREI. I reserve them for Real Estate Trend Alert when I bring the full details of the off-market deals I negotiate to members. But just to give you a little taste…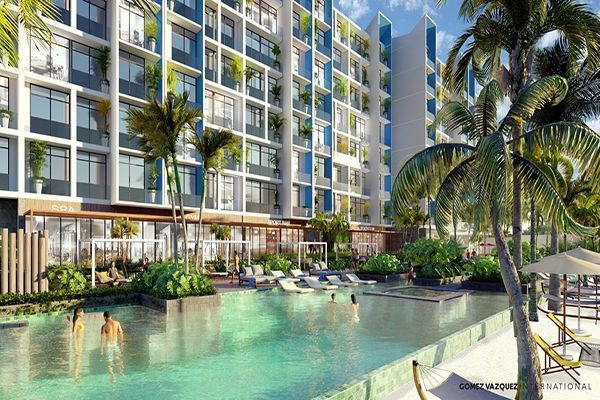 Now we're rolling straight into another killer opportunity in RETA and we've pioneered a way to bring members inside the opportunity from the comfort of their homes…
Very soon, I'll be bringing Real Estate Trend Alert members on the first virtual Members' Only Scouting Trip.
From the comfort of our homes we're "going" to Tulum where I'll present members with the opportunity to own spacious two-bedroom homes for just $149,000. (That's a RETA-only price.) That's for a home I predict will be worth $225,000 within a year of delivery.
Financing means that with a manageable down-payment and a few balloon payments you can own for an incredibly low $799 a month…
There is nothing else like this in Tulum. So much so, that it was tough finding true comparisons to show you how good our deal is.
I looked at super high-end homes around town and you'll find spacious luxury condos in the $250,000 to $400,000 range. But detached homes of this superb quality with this level of amenities and privacy are almost non-existent…which is one reason I believe that a rapid gain in value is so likely…
The Covid Crisis is going to super-charge the rental appeal…
It was inevitable that as Tulum grew and vacationers came that plenty of them would decide it was too beautiful and the weather too warm to leave. An ever-growing number of retirees call the area home… You'll find mobile professionals, young digital nomads, folks coming to work in tourism…families come for extended breaks over the holidays…
"I decided I didn't want to endure another cold winter," is a common reason given for staying in Tulum. After all, if you look up "tropical paradise" chances are it comes with a photo of Tulum.
Because of Covid 19, millions of people who never before worked remotely are now working from home. This was a growing trend anyway. Now it's been massively accelerated and the world is not going back…
If you could be anywhere, where would you want to be? A short-drive from one of the world's best beaches on the Caribbean…
But right now folks who want a comfortable, modern rental for a few months close to Tulum are almost completely out of luck.
I have a home in the Akumal area I'm currently renting for three months to a lady who has regularly wintered in Tulum. She loves Tulum but wanted a home in a quieter place. Edena is exactly the kind of community where she can have her cake and eat it.
There are condos coming in Tulum…as we know. And you'll find some town homes. The few homes communities tend to be more suburban and not at the same level of luxury as Edena.
I figure on a gross yield of around 13% and the option of renting it long-term, short-term, or mixing it up. Plus your own place in Tulum.
Opportunity Asia
My travel and scouting schedule has always been pretty chaotic. Long before Covid close-downs.
I'm at the mercy of our opportunities. Where I'm going next is often a last-minute affair. An opportunity arises or a deal I've been cooking suddenly comes to the boil and I'm on the next plane.
So it's strange times indeed at the moment…
My bucket list is getting longer by the day while I wait for travel to take off again.
I see opportunities bubbling everywhere…I sometimes feel like that kid in the movie The Sixth Sense, seeing what no else does. Everyone is running around confounded and I just see opportunities piling on top of more opportunities.
Just one off the top of my head…
Asia might come out of this Covid crisis very strong…
Typically, I haven't found Asia to be a cauldron of possibility for RETA. With restrictions on foreign buyers, measly yields, alien and challenging real estate markets…why would you invest there when you could double your money closer to home in Panama or on the Riviera Maya? When you could own a very profitable dream home in Europe…
But I have found opportunities in Asia…specifically in Thailand.
On my last trip to Thailand I found a pricing anomaly in the historic and beautiful city of Chiang Mai. A brilliant way to own something rare, undervalued, and in high demand.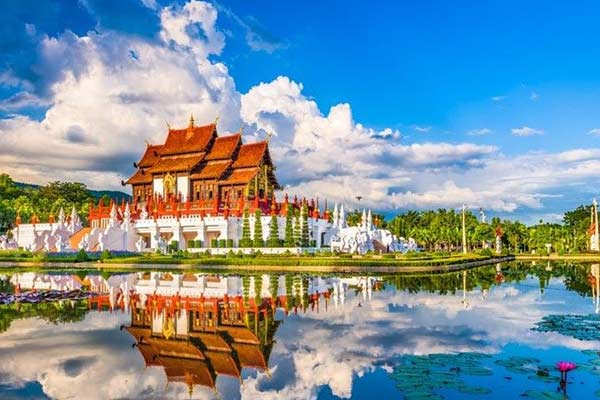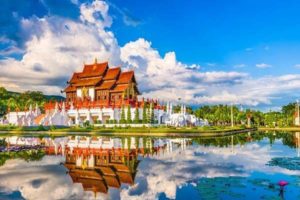 Chiang Mai in the north has reestablished itself as a strategic crossroads in Asia. Foreign investment has poured in and thousands of expats from all over the world call Chiang Mai home.
They come for the good weather…the low costs…delicious food…and all the little luxuries the lower cost of living allows. There's a rich art scene, great healthcare, loads of social activities, and an international airport on the doorstep.Chiang Mai in the north has reestablished itself as a strategic crossroads in Asia. Foreign investment has poured in and thousands of expats from all over the world call Chiang Mai home.
This influx of rental-seeking foreigners has driven profits for savvy investors. When I first visited in 2013, I found opportunities to make gross rental yields in the region of 10% to 15% per year.
The neighborhood of Nimmanhaemin—Nimman for short—is Chiang Mai's most popular district with renters. It's ideal for the digital nomads, retirees, and slow-traveling folks that Chiang Mai attracts.
Trendy and happening, you don't need a car in Nimman—everything is on your doorstep. It's compact and walkable with three or four main streets and side lanes stuffed with trendy hangouts. From Nimman, Chiang Mai's Old City is only about a mile-and-a-half away. You can walk, jump in a tuk tuk, or drop a couple of bucks on Grab (which works like Uber).
As I predicted, prices rose in Nimman. When I visited last year new, top-end pre-construction condos cost around $300 per square foot.
But I found a way to own a spacious condo for around $100 per square foot…
New-build condos are typically around 40 square meters. In the past though, developers built condos from around 80 square meters right up to 200 square meters—just over 2,150 square feet.
Chinese and Thai buyers mostly go for the shiny new condos. There are cultural reasons for this, and they typically just aren't as interested in rental returns. Real estate is more of a store of wealth for them.
Yet, these larger units—which are very rare in Nimman—are highly sought after by the huge expat community. Young digital nomads like to share, splitting rent, with their friends. Older couples want that extra space and feel cramped in a typical local sized unit.
Supply for these bigger condos doesn't meet demand.
In June last year I told members of my Real Estate Trend Alert about a 2,206-square-foot condo in an awesome location priced at around $224,000. (That's just over $100 a square foot.)
The two-bed property was directly across from the Maya Shopping Mall, just a two-minute walk from Nimmanhaemin—maybe less. In a building called Hillside 4.
The main living area looked directly out toward Doi Suthep where a renowned mountain temple gleams golden in the sun. You have two terraces, two bedrooms, and two bathrooms. The Maya Mall has a movie theater and a good food court. And you can find everything from motorcycles to major fashion brands.
I reckon rent that long-term and you can figure on around $1,200 a month. That's a yield of 6.5%. Not the killer yields of anyone who followed my recommendations in 2013—those days are past—but still solid.
I've dropped my contacts in Thailand a line to see what's going on across the country's real estate markets right now and I'll be reporting back right here in Roving Real Estate Investor.
Flash Deals
There's going to be a lot of immediate distress in the wake of the Covid crisis.
My advice is simple…stay away from the gloom and focus on the opportunities. Think about where you are going to go, how you are going to make your money, and how much fun travel will be after an extended lockdown!
Having a large network of contacts around the world is going to pay serious dividends.
For instance, every now and then in Real Estate Trend Alert I send a special Flash Deal. These are hot, one-off investment opportunities that I expect will go fast.
It could be a single home or condo, or an unusual opportunity…. I've found them all over, by the beach in Belize, lake-view in Costa Rica…on the cobbled streets of historic Europe…and in Chiang Mai, as I mentioned above.
Often the seller is motivated…their circumstances mean they want out…sometimes it's just an overlooked opportunity, ours for the taking, and other times it might be an auction property…
Whatever the case, it's always a deal I recommend RETA members pay immediate attention to—they don't stay on the table for long.
My Copala condo here in Cabo is a hub of global real estate intelligence. And as details flood in from my contacts around the world I feel we're at the beginning of a flood of flash deals in RETA.
Already I'm getting details of reduced-price properties as globally real estate markets shudder to a halt and buyers dry up.
Then there are real kickers like the falling currencies of places like Brazil and Colombia. We can buy enormous upside at knock-down bargain prices.
That's how you get rich. You buy valuable things at bargain prices.
And I have given my team a simple instruction: Bring me deals.
If I think they cut muster and stack up then you'll get everything you need to act on them in Real Estate Trend Alert.
Don't get gloomy, get wealthy. And prepare to travel again!
As I asked at the start…tell me where you plan to go when travel is back on the table! Email me at [email protected].
Wishing you good real estate investing!
Get Your Free Real Estate Report Now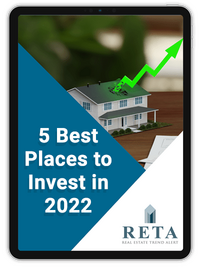 Sign up for our free daily Postcard e-letter and get a valuable free report on the The 5 Best Places to Buy Real Estate In 2022.
Related Articles
The 10 Best Places to Invest in Real Estate
A Historic Home for Only $31 Per Square Foot
You Can't Get Closer to a Beach Than This…