When visiting the charming university town of Montpellier, France, it's tempting to spend all your time exploring the medieval city center, Ecusson. There's good reason for that, of course. Ecusson's winding cobblestone streets offer enchanting attractions—boutiques, artesian workshops, leafy squares—at every turn. But there's so much more to see in Montpellier than its historic heart.
Like flamingos. Wild pink flamingos.
You see, Montpellier lies right at the cusp of the Mediterranean Sea and its beaches are readily accessible by public transportation. Once you leave the city center and pass through the suburbs, you'll notice the land becoming increasingly wild and scrubby and dotted with lagoons. And that's where the flamingos live.
I admit, I had no idea that Montpellier had flamingos—I thought they were farther southeast in a marshy area called the Carmargue—and was taken totally by surprise when I spotted them.
I was on one of Montpellier's famous tram lines, heading to the beach, when I first noticed a couple of lagoons that looked as if they were filled with puffy pale pink buoys. Don't laugh, but I was idly wondering why a lagoon would need buoys, when suddenly a few of the buoys stretched their necks and drew themselves up on their spindly legs.
From then on, I was glued to the window craning my neck to catch another glimpse of these magnificent birds as we glided past.
That gives you some hint of the diversity of Montpellier: from chic boutiques and museums to incredible wildlife in less than a half hour.
And then, of course, there's the beach.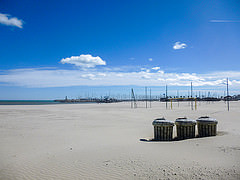 For people like me who have to travel hours by car or train to get to a beach usually, it's a thrilling idea to live in a lively city that has a great beach quickly accessible by public transport. Montpellier has four large beaches nearby: La Grand Motte, Carnon, Villeneuve-lès-Maguelone, and Palavas-les-Flots.
Although I'd heard that Villeneuve-les-Maguelone is the prettiest, I headed for Palavas, since it's the closest to the city center. It's a charming town and a refreshing escape from the city.
It was late March when I visited, but it was warm enough for me to take off my shoes and let my feet sink into the cool white sand. The beach was almost completely empty—it was like it was waiting for summer to arrive. It was easy to imagine the beach full of laughing children playing in the gentle, crystal-blue waves, and adults lying on colorful beach towels under huge umbrellas. As Palavas is the most popular beach town in the area, I imagine that summer is just like this…but when I was there all was quiet, except for the crying of a few seagulls. And I loved it.
In the attractive town, just a few minutes' walk from the beach, things were a little more lively. The town's main strip is divided by a large canal, lined with bobbing pleasure boats, and is flanked on both sides by a stretch of restaurants, cafés, and pastel-colored low-rise apartments. Even though lunchtime was well past, people were sitting on the cafe terraces enjoying coffee or a glass of rosé.
Still, as you wandered down the strip, there was again a sense of waiting for summer: large boards propped in front of boats advertised water-based activities, like catamaran rides and parasailing. A few tourists peered interestedly at the signs, but no one was around, even if we'd wanted to take them up on their offer.
In the end, I plopped down in a cafe that had a huge old-fashioned purple velvet sofa and—why not?—ordered a glass of local white wine and daydreamed about having a little pied-à-terre in Palavas. Based on the listings I saw in real estate agency windows, you'd have no trouble finding a little studio apartment in the center of town for about $113,000 or a one-bedroom apartment starting from about $136,000.
Not bad for being so close to the beach…and flamingos.
Get Your Free France Report Here:
Learn more about France and other countries in our daily postcard e-letter. Simply enter your email address below and we'll send you a FREE REPORT: A Taste of France: All the Ingredients for the Good Life.
This special guide covers real estate, retirement and more in France and is yours free when you sign up for our free daily IL postcards below.
Get Your Free Report Here