Recently, I was talking to some IL readers. They'd heard about Panama's mountainous Chiriquí Province and had a lot of great questions for me. One, in particular, gave me pause.
"If you had to pick the one best place to live in all of Chiriquí, where would it be?" asked a retired gentleman from Saskatchewan.
"Well," I mused, "for me it would be about halfway between David and Boquete, because it's just right."
Take the climate: Boquete, an area that is particularly popular with expats, rests on the slope of the Baru Volcano at about 4,000 feet elevation. Some call it the land of eternal springtime due to its moderate 60 F to 80 F year-round temperature range. The valleys are often shrouded in mist and a frequent drizzle known as bajareque moistens the air. It's lovely, but for me it's a little too cool and rainy. (For many others I've met, it's perfect, I hasten to add.)
David, on the other hand, is close to the Pacific coastline and fully tropical. During the rainy season from May through November the near-daily showers bring cool relief, but the temperature persists at about 70 F to 90 F year-round. At the height of our summertime in March and April, it's hot and dry.
The Goldilocks sweet spot is right in the middle, along the highway between David and Boquete. In the areas of Dolega, Potrerillos, Caldera, La Tranca, El Frances, and Alto Boquete the climate is a bit cooler than David and a bit warmer than Boquete—just perfect.
I know a couple who live in a development on the west side of the highway called Brisas Boqueteñas, which would be a great place to look for a rental or resale home. Another expat couple lives in Boquete Canyon Village, just off the highway to the east, with townhouses and custom homes at the edge of a spectacular ravine.
Social life is our next consideration and for that you can't beat Boquete. This expat haven has been attracting retirees and entrepreneurs for a few decades, yet the town itself retains its tranquil hamlet charm. The combined effort and energy of the locals and transplants has created a destination overflowing with activity. Hiking, birding, knitting, painting, cooking, investing, reading…all these interests and more have dedicated clubs in Boquete. Lions Club, Rotary, Hospice, animal adoption, and charitable groups are just some of the civic organizations.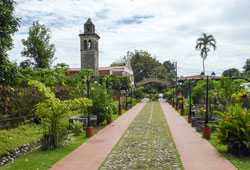 Art shows, live music, and theater are staged at the public library, a number of restaurants, and the Boquete Community Theater. The area is drawing artists, craftspeople, and practitioners of alternative healing these days as well. There's no other town in Chiriquí that has the variety or structure of social activities and opportunities that Boquete presents.
However, if you need to shop or take care of business, chances are you'll be better off in David. It's the provincial capital of Chiriquí, so it's home to all the government offices and agencies. If you buy a car or real estate, need a license for a corporation or a business, or have dealings with immigration or customs, for instance, you need to come to David.
While all of the small towns have grocery stores, a pharmacy, and maybe a gas station, most residents make regular trips to David to shop. And we have it all! Supermarkets, department stores, hardware, furniture, appliance stores, clothing, and shoes…even a huge PriceSmart box store. David is a commercial hub of service providers, too, with auto repair, insurance and banking, agricultural products, construction materials, and office products.
And finally, David takes the lead in health care and medical services. With two public and two private hospitals, numerous clinics, labs, specialists, and medical suppliers, for anything more than a scratch or a head cold, David is where you should go.
The great news is that with the four-lane highway that now connects David and Boquete they're only about 45 minutes apart. And by shopping around you can find your own sweet spot half-way in between the two. Perfect climate and endless social opportunities in Boquete, plus convenient shopping and all the business and government necessities in David…you really can have the best of both worlds here in Chiriquí. So, what are you waiting for?
Get Your Free Panama Report Here:
Learn more about Panama and other countries in our daily postcard e-letter. Simply enter your email address below and we'll send you a FREE REPORT — Panama: First World Convenience at Third World Prices. 
This special guide covers insider advice on real estate, retirement and more in Panama. It's yours free when you sign up for our IL postcards below.
Get Your Free Report Here