Although retirement is still a good 20 years away for me, whenever I travel throughout France these days, I find myself thinking: "Now this place might be a great place to retire!" I thought it when I was relaxing on a sun-soaked café terrace in Aix-en-Provence a few months ago. And I thought it again as I strolled along a golden sand beach in Trouville, a seaside town in lower Normandy, a few days ago.
The truth is, almost everywhere seems tempting. From the sun-dappled cerulean waters of the South of France to the magnificent snow-topped mountains of the Rhône-Alps; from the medieval villages of the Dordogne to chic avenues of Paris, each region provokes enchanting dreams of a different style of life.
Where could you see yourself fitting into France? If you can't decide, simply try matching your interests with the characteristics of a particular region to narrow your search. For example, let's say you…
…are a foodie. French cuisine is legendary, of course, and appreciation of excellent cuisine is a cherished French tradition. Yet some regions are more dedicated to producing high-quality cuisine than others. If you are the kind of person who could spend hours amid the bursting stalls of an outdoor food market, loves dabbling with new types of cuisines and cooking styles, and who reads cookbooks for fun, then take a look at the city of Lyon.
Lyon, a beautiful laid-back city of a half-million in the Rhone-Alps region, is known as France's gastronomic capital. With more than 2,000 restaurants, numerous daily outdoor markets, and multiple cooking schools, you can spend your days immersed in France's food culture without ever growing bored.
…are a sun-worshipper. For those that crave sun, sun, and more sun, the South of France is the retirement destination for you. Yeah, I know. Even the words "South of France" sound expensive. But I'm not talking about St. Tropez or Cannes or those other locales where the millionaires play. I'm talking about the Languedoc-Roussillon, a stunning, geographically diverse, affordable area where real people live.
The Languedoc is a region that hugs the Mediterranean Sea and shares a border with Spain. Boasting an average of 300 days of sun, three mountain ranges, and a long coast of white sandy beaches, the Languedoc region is a place where you can enjoy exploring the great outdoors for most of the year. You can rent a home in the Languedoc countryside for as little as $800 a month or even buy a small house for prices starting at $150,000.
Retire to the Countryside in France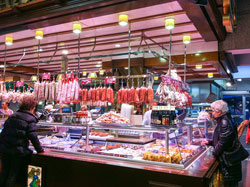 …love the countryside. When it comes to beautiful countryside, you're spoiled for choice in France. If your idea of retirement is living in a small picturesque village that's surrounded by gentle verdant hills, where you can walk to the local boulangerie for a tartine and café crème every morning, where you can experience the distinct changing of the seasons, then the Dordogne is a region that will appeal.
The Dordogne (also called the Périgord) lies in the Aquitaine region of southwest France. Known for its deep green vistas, fairytale castles, prehistoric caves, and delicious foie gras, it's a magnet for expats, particularly British ones, who treasure living in the picture-perfect image of France. You can find beautiful homes here, such as a perfectly renovated three-bedroom villa house, for $170,000 and up.
…adore traveling. For me, one of the most compelling benefits of living in France is its location. Hop on an airplane and within 90 minutes you could find yourself eating squid-ink pasta in Venice, dancing in a nightclub in Berlin, hitting the Swiss Alps' ski slopes, or cruising the canals of Amsterdam. And depending on where you live, you don't even have to get on an airplane.
In parts of the gorgeous Midi-Pyrenees region in southwest France, you can drive to Spain for lunch and be home in time for dinner. In Provence, northern Italy is only a few hours away by car or train. Certain towns in the eastern section of the Rhône-Alps, such as the idyllic town, Annecy, are so close to Switzerland that some people actually work in Switzerland while living in France.
Free France Report:
Learn more about France and other countries in our daily postcard e-letter. Simply enter your email address below and we'll send you a FREE REPORT: A Taste of France: All the Ingredients for the Good Life.
This special guide covers real estate, retirement and more in France and is yours free when you sign up for our free daily IL postcards below.
Get Your Free Report Here