I've always loved to explore the areas in which I live. Whether I was bushwhacking through wild Alaskan terrain or driving down dusty country roads in Minnesota farm country, I relished the thrill of seeing what's around the next bend. It could be a fantastic little family-owned apple orchard or a mama moose with newborn twins.
Now that I'm in Ecuador I have just as much fun exploring my new home and I'm never disappointed at what I'll find. Because I live in the mountain village of Cotacachi and as International Living's Ecuador Highlands Correspondent, I've had the chance to investigate many of the mountain towns in this country. Though many of them are in close proximity to each other, I'm always amazed at the individuality of each.
Colonial Cuenca
Cuenca, as you probably know, is the most popular highland city among expats. It's not tough to understand why when you see the stunning colonial architecture, well-kept parks, and the babbling rivers that push their way through the urban areas. Adding to all that is an inexpensive and highly convenient public transit system and enough activities to keep anyone occupied every day. For city-lovers who are looking for a large expat community and cultural events, Cuenca is where it's at.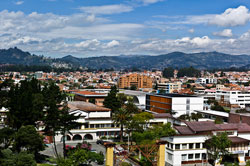 Looking for a more pastoral life? That's where wonderful little towns like Cotacachi or Vilcabamba come into play. Both towns have a strong expat community, which can help ease those occasional longings for home, but that doesn't mean they've lost their respective favors. They're both awash in local Ecuadorian culture.
Charming Cotacachi
Cotacachi is a little craft village nestled between two great volcanoes in the heart of the northern Andes Mountains. Its small-town charm is undeniable. Little family-owned shops line the streets, schoolchildren meander home together in the afternoons, and the smell of roasted chicken or hot bread rolls drifts out of tiny diners.
Vilcabamba : "The Valley of Longevity"
On the southern end of the nation's highlands you'll find Vilcabamba. Known as "The Valley of Longevity," this town is the perfect place for those looking to have their own little organic farm, health retreat, or art center. With a lower altitude than many other popular highland towns Vilcabamba offers warmer temperatures and is home to many free-spirited expats.
Adventure in Baños
Those looking for a bit of adventure should check out Baños. Situated at the midway point of Ecuador's mountains, it's a hub for outdoor activities. You can mountain-bike your way down the eastern slope of the Andes to the jungle town of Puyo, trek to magnificent waterfalls that cascade down in crystalline ribbons, or bungee-jump off a bridge above a river.
After a full day of activity you can soak in the many thermal springs for which the town is named. And if you still haven't found enough to get your adrenaline pumping, consider that the town sits near a fairly active volcano which provides a spectacular pyrotechnic show from time to time.
You have your own individual tastes, needs, and desires, which is why I encourage you to do a bit of exploring of your own. You may find yourself captivated by San Antonio de Ibarra, the sleepy little woodcarving town just outside of Imbabura Province's largest city. Or perhaps Quito's Old Town will make you feel right at home surrounded by history and architecture. As I've found in my travels, Ecuador's highlands have plenty to offer for people of all kinds.
Get Your Free Ecuador Report Here:
Learn more about Ecuador and other countries in our daily postcard e-letter.
Simply enter your email address below and we'll send you a FREE REPORT – Ecuador: Live Like Royalty on Your Social Security.
This special guide covers real estate, retirement and more in Ecuador and is yours free when you sign up for our postcards below.
Get Your Free Report Here