Whenever I meet new expat or Tico friends in Costa Rica, the question invariably comes up: "Why did you move here?"
The answer is actually pretty simple. We were looking for a better lifestyle than we had in south Florida, where we were living before we moved. We found it—and our new and improved quality of life has meant that my wife, two young sons, and I are still here and happy two-and-a-half years later.
There are a lot of "components" to our Pura Vida lifestyle, and I'd say based on my conversations with dozens of fellow expats during my time here that we're far from alone.
A huge one is freedom from the stresses of day-to-day life in North America: traffic, high living expenses that kept going up, the constant "noise" about politics and celebrities, and that general consumer culture that seemed to compel us to spend our Saturdays shopping for things we didn't need.
All that negative energy 24 hours a day takes a lot out of you. In Costa Rica, my life is calmer, quieter—a lot of concerns I had about things I have no control over have melted away. The need for "stuff" or having the latest electronic gizmo is gone. I feel like I'm focused on what's important, like family and doing things that I enjoy.
That's possible because I don't need to be chained to a desk 10 hours a day to provide for my family. I work from home. Sure I put in a full day. But it's on my schedule. I can work less because of the lower cost of living in Costa Rica.
We stick to the local farmers' markets—loading up on a week's worth of produce for $40 a week. We save money and have a healthier diet too. We also have a very nice home for a great price. It's furnished, with an open-air rancho (a covered patio separate from the main house) with a full kitchen and professional grill, as well as a large yard, herb garden, and fruit orchard. We're on nearly an acre and have an awesome view of the Central Valley below us. We're in a big house. There's just no way we could have afforded a home like ours in the U.S.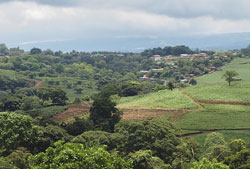 We're not the only ones either. Friends in the same neighborhood in two-bedroom homes are paying as little as $300 a month.
As an added bonus, in Costa Rica we're also able to afford to have someone clean our house once a week, for five hours, for $20 (she does a great job so we actually pay more than the going rate). And the pay for our gardener is included in the rent. Not having to spend the weekend cleaning and working in the yard is a huge benefit.
Thanks to our location in the country's popular Central Valley, my schedule, and the money we're saving, we also have plenty of time and funds for travel. Costa Rica is a small country, so from our town in the center we can be almost anywhere in no more than six hours' drive. And the nearest beach is about an hour away. We've surfed the Pacific, soaked in volcanic hot springs in the Lake Arenal region, spotted toucans in a Caribbean coast jungle and then snorkeled among a dozen species of tropical fish minutes later…and there's still so much more to see.
In short, in Costa Rica, opportunity and possibility is all around us. And we're truly enjoying life.
And there's so much more that contributes to that feeling: great weather year-round, high-quality but low-cost medical care, friendly people—both Ticos and expats, the deserted beaches, strolling through bustling market towns, trying exotic new fruits at the market, talking to taxi drivers about the World Cup…I could go on and on. And it's all part of the experience.
Free Costa Rica Report:
Learn more about Costa Rica and other countries in our daily postcard e-letter. Simply enter your email address below and we'll send you a FREE REPORT – Why Are Americans Still Flocking to Costa Rica. 
This special guide covers real estate, retirement and more in Costa Rica and is yours free when you sign up for our IL postcards below.
Get Your Free Report Here