I visited the Lake Arenal region a few weeks back with family from out of town. When people visit us here in Costa Rica, we usually end up there at some point. Just three hours by car from our home in the Central Valley (and the international airport), it's an easy drive—very picturesque as you pass through the rain forest, farmland, and small villages of the countryside.
We have a favorite spot to stop for lunch about halfway—worth a visit if you're ever out this way. The Lands in Love hotel is set well-back from the road in the middle of a cloud forest and beautifully-landscaped garden. We enjoy the Mediterranean, Asian, and Indian menu items—there are even many vegetarian and even vegan selections available (including some awesome hummus.)
Why do we always go to Arenal? Because it's unlike any other area in the country and it's always cool to see the reaction of the people we bring there. The landscape is very dramatic, for one. A cone volcano dominates the landscape, rising 5,479 feet from farmland and forest. It's active but not dangerous. To the east of Volcan Arenal is the 33-square-mile lake of the same name.
Then there are all the things to do, like hiking among pristine rain forest where sightings of howler monkeys, toucans, and other species are common; kayaking; fishing; lounging in hot springs warmed by volcanic activity deep underground (the water is said to have medicinal properties but I just like a nice soak.) You can also enjoy a delicious and cheap meal in one of the many local restaurants serving up the Costa Rican national dish known as the casado (rice, beans, salad, and your choice of fish, beef, chicken, or pork)—though here they put their own spin on it by shaping the rice like a volcano.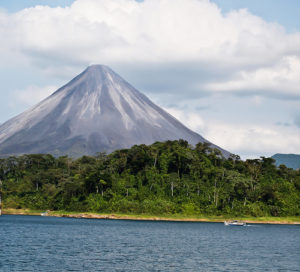 These activities may tend to the "tourist" side of things. But the expats who live here full-time take part as well. It's a great place to be active and out in nature.
Of course, if rest and relaxation—or spending time with friends—is more on your agenda, that's fine too. The lake, around which most foreign residents make their homes, is peaceful. That's a term that gets thrown out a lot. But it really applies here.
You won't hear many powerboats or Jet Skis breaking the silence. Though there are places to tie up if you're a boater, there are no huge marinas. Costa Rica is still a developing country, so boating is a luxury that most locals can't afford.
There are no high-rise hotels or condos—a godsend in such a beautiful location. Development is restricted along the lakeshore. Even the winding two-lane road that hugs the shore has little traffic. Where you'd usually find a big lakeside resort at a similar lake in the U.S., here you'll see a dairy farmer sitting on his front porch, taking a break from tending his herd.
Many expats—numbering in the hundreds these days with more arriving each year as word gets out—like nothing better than to relax on the terrace of their home, looking out over the lake as they enjoy breakfast or an after-dinner drink. It's quite a view. The lake is pretty narrow, so from wherever you are you can see the opposite shore: fields and trees in a thousand shades of green slope down towards the calm waters. You won't be roughing it as far as housing. You can have a North American-style home with comforts you're used to, like side-by-side fridges and even luxury touches like granite countertops, for bargain prices.
There's a listing at present for a four-bedroom home that sits on 2.25 acres, with a clear view of the lake. Asking price: $189,000. Much simpler homes are available in the area, too, like a two-bedroom for $59,000 near the village of San Luis—and it has a lake view.
Now, Arenal is quiet. It's not a bustling area by any means. If you like an active nightlife or shopping malls, it's not the place for you. But you do have all the modern conveniences like high-speed Internet, cable TV, hot water, and all that. Small villages on the shore have grocery stores that everything you need and cozy little restaurants. There are doctors, hospitals, banks, and all the rest.
But primarily it's a haven for rural calm. And for those who live there, it's just the way they like it.
Editor's Note: Learn more about Costa Rica and other countries in our daily postcard e-letter. Sign up for IL's free daily postcard here and we'll send you a FREE REPORT – Why Are Americans Still Flocking to Costa Rica.
Related Articles:
You Can Have It All in Costa Rica's Central Valley
Enjoying the Best Climate in the World in Costa Rica