I'm walking barefoot on volcanic sand that sparkles like diamonds in the sun…and the only sound I can hear is the soothing crash of waves on the shore.
There's no music or shouting from vacationers or revelers to break the silence…and I don't have to step around chairs or towels or anything else. In fact, I have the beach almost to myself. There's a girl jogging up ahead, and that's it for today.
You see, on Panama's Coronado Beach, huge resorts don't line the shoreline. There's a small one a few minutes' drive from the water, which also serves as a country club for the golfing enthusiasts who live here. But besides that, there are surprisingly few inns and hotels to be found.
As I take pictures of laughing gulls and sandwich terns, I think to myself, "This is exactly what a beach should be."
I've always loved living in or near coastal areas. I'm drawn to the ocean, and can't imagine living hundreds of miles from it. But touristy beaches don't appeal to me.
I've been to some of the most popular beaches in the world—including on the French Riviera and the Bahamas—in the course of my work. I loved learning about the local food and culture. But in a lot of these places, I found it near impossible to relax and enjoy the actual beach surrounded by rows and rows of occupied chaise lounges and hawkers trying to sell me unwanted trinkets. On top of that, there was usually music blaring from beachside bars. Where was the peace and tranquility?
In Coronado, things are different.
Just an hour from my Panama City apartment, Coronado is a white-and-black sand beach on the Pacific. The water is an azure blue and pleasantly warm all year round.
A lot of expats have moved here over the past five years, so the town has really grown. The community here is active and friendly, and there are always events to choose from. Live music at popular eatery and bar Picasso is a favorite…but there are quite a few other restaurants to choose from in and around Coronado.
All the conveniences are here, too. Upscale supermarkets…new stores…and even a new hospital. Nothing is lacking.
And yet Coronado is still small and quiet. It's never overrun by tourists…and that doesn't look set to change anytime soon.
That's what helps keep costs down and makes this such a great place to live. Here, you can enjoy the luxury of living on or a few minutes from the beach at an affordable cost. The cost of living isn't the lowest in Panama, but to live in similar locations in California, you'd need to shell out twice as much money—or more.
In Coronado you can rent from about $1,000 a month or buy from about $150,000. Sure, there are fancy places here that could cost you double, but you don't need a million dollars to live by this beach. After rent or mortgage, budget $800 to $1,500 a month for power, water, gas, supermarket trips, entertainment, routine checkups, cell phone, Internet, cable television, and fuel and maintenance for your car.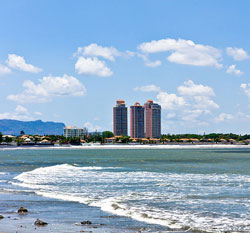 It almost sounds too good to be true. One might wonder, why isn't everyone flocking here?
It's partly because Coronado isn't the obvious choice when it comes to mainstream tourism. Places like Cancun have spent a lot of time and energy attracting big-name resorts and becoming household names. And that's great for them. But Coronado's developers chose to go a different way, growing slowly and making most of their sales via word-of-mouth…very little advertising.
That mellow attitude seems to have seeped its way into the collective consciousness. So what you'll find is a convenient beach destination that's unfussy and inexpensive, where expats drive by you in golf carts and wave hello, and supermarkets sell familiar brands from back home. And the locals are open and friendly…not sick of tourists.
If this all sounds good to you, then head on down to give Coronado a try. Just remember to leave the fanny packs and resort wear behind…
Get Your Free Panama Report Here:
Learn more about Panama and other countries in our daily postcard e-letter. Simply enter your email address below and we'll send you a FREE REPORT — Panama: First World Convenience at Third World Prices. 
This special guide covers insider advice on real estate, retirement and more in Panama. It's yours free when you sign up for our IL postcards below.
Get Your Free Report Here