I never imagined that life would coax me into living in the hot, tropical jungles of Costa Rica. My first visit to Costa Rica was on a whim, after being temporarily laid off from my marketing job in Kentucky. I opted to volunteer for an organization that helps youth and adults reconnect to nature through adventure.
Over the months living there, I watched as my habits changed; instead of waking up to an alarm, I woke up to a stream of sunlight and impossible greens, and instead of working from a cubicle, I was checking emails from a deck overlooking banana plants and palms. Soon, the temporary change began to feel like something more long-term.
Four years later, I have settled down in the Osa Peninsula of Costa Rica's southern zone in a situation not too different from the one that led me to pursue jungle life full-time.
I help manage a treehouse community that offers off-the-grid living, just an hour south of some of the country's most beautiful beaches. Here, expats seeking a simple life immersed in nature have come together to create a collection of homes perched in the jungle canopy, fed by solar energy, and supported by a combination of stilts and impressive foundations like 200-year-old Mastate trees. The houses are rented out as a source of income, and a way for travelers to experience what life here feels like, whether that's brewing coffee 90 feet in the air, or hiking to the remote waterfalls for a refreshing escape beneath stories-tall bamboo.
As a property manager, housing and garden-fresh food is my payment, and the access to high-speed internet means that I can have a separate source of income with my remote marketing work.
Living off-grid has the benefit of privacy, security, and natural luxuries—afternoon dips in turquoise pools fed by our year-round river. Weekends are spent perusing the farmer's markets in Uvita, watching sunsets and scarlet macaws at Playa Tortuga, or taking the bumpy, but wildlife-saturated drive, to the world-famous surf break at Pavones.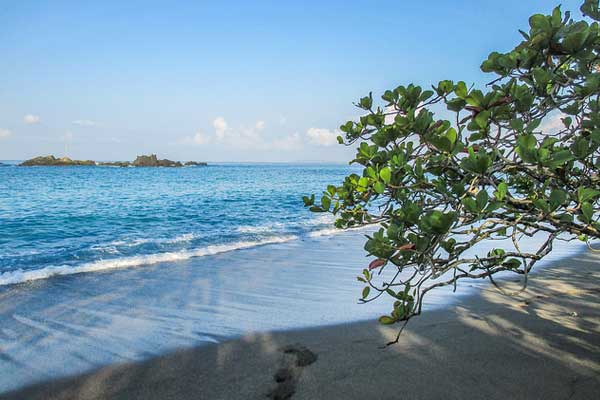 Life in the jungle of Costa Rica is simple, but rewarding. My husband Pablo trains for marathons by lacing up and traversing the footpaths leading between local fincas. He picks the sweet, smaller criollo bananas off the trees to recharge with a dose of potassium, but I eat them just to experience what a real banana should taste like.
Beers in the tiny local town cost less than $2, and a fresh casado with the catch of the day never costs more than $7. Pounds of fresh lychee fruit, mangoes, and young green coconuts are sold in piles alongside the road by older, smiling locals. We are happy to oblige (and do so often). Even with a section of our budget dedicated entirely to fruit, we never spend more in a month than we would on a nice dinner back in the States.
For nearly five years we have traveled throughout Costa Rica, but it wasn't until we happened upon the remote southern beaches and the dramatic jungle-lined mountains that tower over them that we found home. Surrounded by tranquilo locals, the simplicity of small town living, and one of the most biodiverse places on earth, we've found a pace of life that feels right, and affordability that lets us live in paradise without the cost of luxury living.
Need a Way to Fund a New, Better Life?

Join our Fund Your Life Daily e-letter today, and you'll hear from us five times a week, telling you about ways to earn income that lets you live anywhere, travel anytime… and give you the funds to make your dreams of a better life real. We'll also send you your FREE report Fund A New, Better Life With These 6 Portable Careers.
Related Articles
Affordable Day-to-Day Living in Costa Rica
Maps of Costa Rica: Best Beachside and Mountain Towns