The "greater fool" theory works like this…
You invest in a stock, regardless of its long-term outlook, because in the short-term you believe that its value is set to rise.
Why would it rise?
Because a "greater fool" will be willing to pay even more.
In a bull market, the greater fool theory holds up…to a point. Right now, the appetite for speculation is huge. Tech and EV (electric vehicle) stock is white-hot. Tesla alone has risen 800% over the last year. While bitcoin speculation has gone stratospheric…
And who knows, it might all continue to rise for some time…
There's always a greater fool…until there isn't, or the fool becomes you.
I don't invest this way. It's risky and ungrounded in real-world value. In times of such economic uncertainty, it becomes treacherous. Pandemic…high unemployment…political crisis…inflation…There are too many unknowns…
I like control and security. I like to spread risk around. And I like assets I can use, that can generate income.
In other words, I like real estate… I believe it's the single best asset you can hold, not only in times of uncertainty, but at any time.
Furthermore, I use an investment strategy that's grounded in a tried-and-true profit principle. I'm not doing what everyone else is doing. I look for the smartest long-term plays. And I look for built-in advantages, like paying much less than other people.
I believe real estate is the single best asset you can hold, not only in times of uncertainty, but at any time.
In particular, I mean income-earning real estate. Because when you own an asset that creates money, you can capture huge appreciation, and still never need to sell.
A quick example: Last week, I brought RETA members the opportunity to own luxury two-bed condos from $137,000 a stroll from a stunning beach in a true beachfront community…on the closest, nicest beach to Panama City, Playa Caracol.
That crazy $137,000 price tag is for RETA members only. And it's ours because we're getting a huge $65,000 discount thanks to what I call "the Great Bailout." It's a huge drive by the Panamanian government to promote and develop tourism along the country's Pacific Riviera. They are effectively footing the bill for a vast chunk of the construction, and the developer is passing the savings on to RETA members in the form of a massive $65,000 discount.
The potential gains are huge. I figure these condos will be worth $250,000 five years after delivery—$113,000 in potential gains.
Best of all, along with capital appreciation, this deal promises to throw off a handsome yield, and is totally hands off.
Playa Caracol is set to become the premier destination for Panama's well-heeled and it's growing middle-class. Untapped tourism, a booming local middle class and international professionals creates a large and diverse pool of potential renters. Thousands of international executives and foreigners are drawn to Panama City and when they want to relax and enjoy the beach, they go west to the Pacific Riviera and Playa Caracol.
And with an onsite rental management agency…owners don't even need to do anything…
I figure once the community is established, with 60% occupancy at $170 per night, we'll see yields of as much as 13%…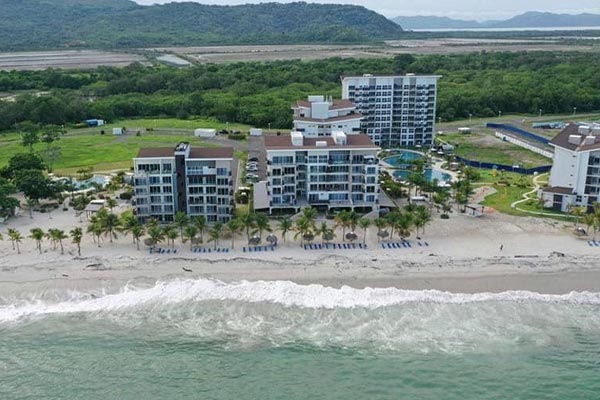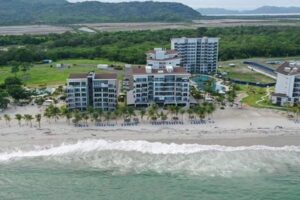 This is a classic RETA-only deal…where only RETA members had the opportunity to act. Ordinary investors didn't even know about the existence of this opportunity…
In fact, connected locals and insiders often don't know anything about deals like this. RETA get in first. And by paying much less, our potential profits are more…
For example, in a 2017 deal in Playa Caracol, RETA members bought from $199,000. By August 2019, a similar condo farther from the beach listed for $299,000—a paper gain of $100,000 in two short years.
And in a period of crisis, like we're living through right now, incredible opportunities to profit and diversify come across my desk at an astonishing rate.
Ten months on from the start of this crisis and we've already had an amazing run. To pick just a few deals we've seen…
I was able to re-negotiate an already killer RETA-only deal on luxury condos in, Tulum, on Mexico's Riviera Maya. Members could lock down spacious homes for just $149,000—homes I figure will be worth $225,000 shortly after delivery. But because of the crisis moment, I was able to negotiate a free pool—valued at $7,000—on top of the RETA discount we were already getting.
On Portugal's Algarve, thanks to a German developer who wanted to make some quick sales, we had the opportunity to buy high-spec homes on a vineyard close to the beach town of Carvoeiro from just €133,000 ($149,336 at the time).
In Spain, members have locked in 50% discounts on stunning condos in one of the most sought-after locations on the Costa del Sol. The bank selling the condos wanted a fast sale. The original price was set with a 27% discount. Then COVID happened and they cut another 23% off the price. What was a killer deal became an incredible deal. The start price of €325,000 was slashed to €164,000.
In Uruguay, members could lock down ocean-view lots ahead of a Path of Progress from just $31,356. Cash buyers got an additional 15% discount. I expect these lots to be worth $50,000 when the world recovers from the current crisis over the next few years.
That's not to mention our opportunities in Costa Rica, Nicaragua, Colombia, Belize, Brazil, and elsewhere across my beat…
And 2021 is already promising to be a banner year.
There are a flood more deals is on the way.
For instance…
In just a couple of weeks I'll bring RETA members an incredible deal in Playa del Carmen on Mexico's Riviera Maya.
Our RETA-only price is crazy low, from the sub $200,000s… We can own a stones' throw from everything Playa offers and yet be in this tranquil and high-end community…just a short golf cart ride from the best beach in Playa.
I'll be bringing RETA members an incredible deal in Cabo San Lucas. Members will get a RETA-only opportunity to own condos with stunning Sea of Cortes views…
And I'm planning an exclusive new deal on premium condos in Tulum—some of the closest condos to Tulum's prized white sands—in the region of $175,000…
Get Your Free Real Estate Report Now
Sign up for our free daily Postcard e-letter and get a valuable free report on the The 5 Best Places to Buy Real Estate In 2023.
Related Articles
My Real Estate Trip in Lagos, Portugal
Homes With Land for as Little as $98K