For affordable European living, it's hard to beat Spain these days. It's always been one of my favorite countries—a place I return to over and over, thanks to its enjoyable, laidback lifestyle; the great food; warm, sunny weather; beautiful beaches; and rich culture. Whether I'm looking to sit at a seaside cafe enjoying a meal and a drink, stroll a historic city by night, or relish a world-class museum, Spain delivers.
And these days, with the low euro and low cost of real estate, spending time in Spain is cheaper than it's been in years. A couple can live comfortably for as little as $2,400 a month, including rent of a small apartment. (If you choose to buy your own place, there are cities, even along the coast, where you can find digs for under $100,000.) If you prefer to stay part-time, Spain's varied (but generally warm) climate means that you can always find someplace that is sunny and warm, no matter what time of year.
Most expats prefer living on the coast—not only for the sea and the beaches, but also for the year-round warm weather, the ready availability of property to rent or buy, and good rail and air connections. (It also helps that there are more English-speakers on the coast, too.)
A number of Spain's coastal destinations—like the Costa del Sol, on the southern Mediterranean coast—are well known, and most people recognize their names. But for every well-known destination, there is a less well-known—but equally beautiful—destination not that far away…and it often offers lower prices and fewer tourists.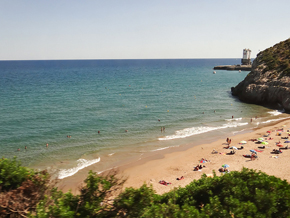 Here are a few places I particularly like.
Barcelona is many people's favorite Spanish city, and with good reason. It's Spain's second city, after Madrid, and offers all amenities, beautiful architecture and style, and urban beaches. But it's expensive, at least by Spanish standards. So an area I prefer instead is the Costa del Garraf, a string of little towns just south of Barcelona. You're as little as 20 minutes from Barcelona by commuter train…but you'll enjoy less-crowded beaches and smaller towns with a cozy atmosphere. Sitges is the best-known town on this coast.
Alicante, on the eastern Mediterranean coast (the Costa Blanca), gets loads of European beach tourism. It's a lovely, mid-sized city with very accessible urban beaches. But folks often tend to forget that Valencia, at the north end of the Costa Blanca, also has urban beaches. As Spain's third-largest city, Valencia has all the goodies of a major metropolis—but in a smaller, more manageable package. And, though prices are rising here, cost of living and real estate is still much less than in Barcelona and Madrid. If you want a city lifestyle with beach on the side, this is the place to come.
And finally, there's the Costa del Sol. Guaranteed sunshine, easy train and air connections, and everything from chic, upscale villages (Marbella and Puerto Banus) to big cities (Malaga) to charming former fishing villages (Nerja). But for lower prices, fewer tourists, and a more purely Spanish atmosphere, check out the Costa de la Luz. Lined with unassuming little beach towns, this stretch of coast—west of Gibraltar, on Spain's Atlantic coast—is still off the radar for most North Americans. (The Europeans have found it, though.) To get there, fly into Malaga and head west…or take the train from Madrid to the ancient port city of Cadiz; you can get there in about three hours.
Get Your Free Spain Report Here:
Learn more about Spain and other countries in our free daily postcard e-letter. Simply enter your email address below and we'll also send you a FREE REPORT — Live the Good Life in Sunny, Affordable Spain.
This special guide covers real estate, retirement and more in Spain and is yours free when you sign up for our IL postcards below.

Get Your Free Report Here