In places across the world, the great re-opening is kicking off at different speeds and in different ways.
And if there's one thing this crisis is showing us, it's that we want to travel… Specifically, we want to travel to the Riviera Maya…
Just a couple of months ago, with the U.S. in the grip of crisis, data released by Expedia revealed that Cancún was among the top five destinations Americans were searching for flights to.
Not only did it beat out every other international destination…but it ranked ahead of most domestic destinations too.
It's not surprising. Flying to Cancún is as easy as it gets, and the beaches and attractions of the Riviera Maya are as stunning as they come.
And now, the Riviera Maya and the Mexican Caribbean is the first destination on the continent to receive the Safe Travels Stamp from the World Travel & Tourism Council, due to the high sanitary measures put in place throughout the region.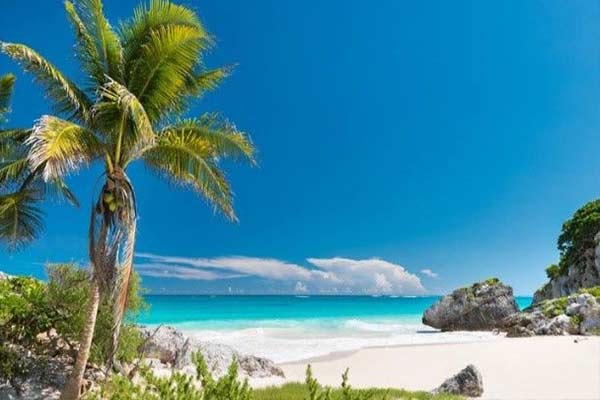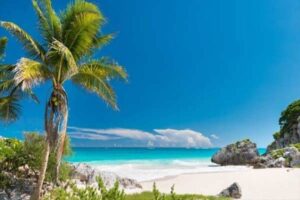 More than any other destination on my beat, the Riviera Maya is set for a quick recovery once it's fully reopened. Not just because it's doing the right things now, but because it's been doing things right for decades…
I've been tracking the juggernaut Path of Progress running south from Cancún along the 80-mile stretch of the Riviera Maya for 15 years, but its phenomenal growth started long before that.
Its origins begin in the smart thinking and deep pockets of Mexico's tourism investment authority, FONATUR. Back in the late '60s they scoured Mexico for the perfect location into which to pour funds and roll out major infrastructure. They settled on Cancún, where they built the international airport, began major highways, and gave incentives to major hotel groups.
With more infrastructure came more visitors, and tourism quickly rolled down the coast. About 50 minutes south of Cancún, the fishing village of Playa del Carmen transformed from a one-horse town where pigs roamed dirt streets into an international resort city of over 200,000 residents and millions of visitors…it has large malls, an international dining scene, box stores, and a very international community.
This has happened so fast it's mind blowing. In 2007 Playa del Carmen was the world's fastest-growing city…today I think that title could easily go to Tulum.
Tulum is the end of the line for this mega Path of Progress. To the south, 1,000 square miles of UNESCO-protected biosphere called Sian Ka'an prevents it from stretching any farther.
As the end of the line, Tulum developed differently than Cancún or Playa del Carmen. Development restrictions have kept it boutique and high-end. You can shop for designer kaftans, handbags, or jewelry in fashionista-style boutiques on Beach Road. Or enjoy the boho-chic vibe in any number of Instagram-friendly beach clubs.
Still, even in the Riviera Maya's most exclusive destination, the juggernaut Path of Progress has delivered explosive growth. In 1960, there were just 92 people living in Tulum. By the year 2000, the population had grown to 12,000. And last count, in 2018, it was more like 40,000.
I see this current crisis as a speed bump on this juggernaut Path of Progress. It will slow it down temporarily, but it can't stop it.
We saw this slump-recovery pattern play out already in the Riviera Maya following the 2008/09 financial crisis. It was no picnic at the time, sure, but the setback has since been dwarfed by a major run of growth in the proceeding years.
The thing is, the Riviera Maya is an inherently desirable destination…
It has miles and miles of pure Caribbean beach bliss. It has it all…perfect weather, famous coral-crushed white sands and turquoise waters, fine dining, and almost every activity you can imagine.
It has near universal appeal as a place to live and vacation. I love to invite young family members and my parents because it has something for everyone.
You can enjoy the ultimate beach-bumming experience, lounging on some of the most spectacular beach on earth…and then, an hour later, be awestruck by the wondrous ruins of one of the most brilliant pre-Hispanic civilizations of all time…
Submerge yourself in the colorful underwater scenery of a limestone cenote, swim with whale sharks and turtles over the second largest reef system on earth…or spend an evening partying in Playa del Carmen or indulging in Tulum's internationally renowned culinary scene.
And it's so easy to get there…
In recent years, the number of active airlines operating Cancún Airport was as high as 70, with around 130 total destinations (about 100 international). And once travel returns, I expect the Riviera Maya to be one of the first major international tourists destinations to quickly reestablish its airlift.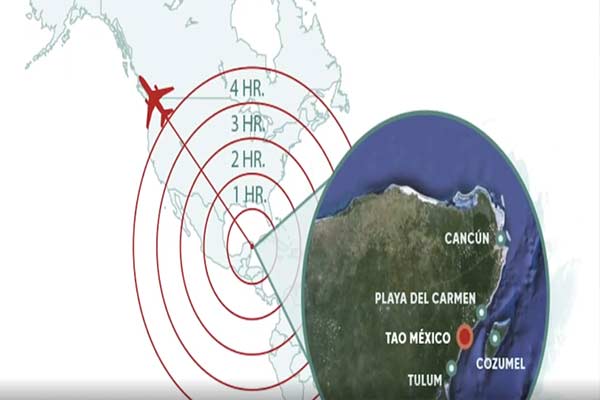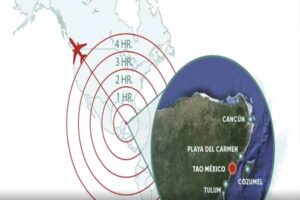 Proximity is a key factor in the recovery, not just because it's convenient for tourists but because it sets up the Riviera Maya as the idea destination for mobile workers who want to rent long-term.
This crisis is going to accelerate the trend in remote work and the Riviera Maya is going to be a major beneficiary…
Over the past few months, millions of workers around the world have left their office behind…and many of them won't be going back. Nor will they continue to live in expensive cities or in cookie-cutter commuter towns.
Why would they, when they can live and work by the beach in Tulum? It's easy to get to from the U.S. and Canada, plus the time zones are convenient, just an hour to two hours of a difference depending on where in North America you're talking about.
As Tulum grows, owning real estate that is rare, discreet, and exclusive, sets us up beautifully for explosive rental demand and rapid potential for gains.
Like most places, tourism on the Riviera Maya has some way to go before it sees a recovery. But by the time these condos are built in 2023, I expect travel will once again in be full swing. When it is, we'll own the perfect vacation rentals to serve both the vacationers seeking the eco-chic sun, sea, and sand combination the Riviera Maya offers and folks staying longer term to work remotely.
Connect with Ronan on Instagram  or Facebook
Get Your Free Real Estate Report Now
Sign up for our free daily Postcard e-letter and get a valuable free report on the The 5 Best Places to Buy Real Estate In 2023.
Related Articles
The 10 Best Places to Invest in Real Estate
A Killer Deal and Bargains in Europe
Your Questions About RETA Answered