Picture this…
You step outside your spacious luxury condo and into the warm tropical sun.
From your terrace, you watch the palm trees sway gently in the soft ocean breeze. The birdsong is best in the early dawn…
In front of you, the dewy grass of an immaculately manicured fairway sparkles in the morning light.
You might play a round in the late afternoon…
But not before you take a stroll along your secret white-sand beach, just a few minutes away…and not before you sit down for a lunch of fresh ceviche at the beach club.
This is heaven. Private island living…except you're not on an island. You're right next to a buzzing vibrant beach city…in your own serene and tranquil retreat.
This is the latest RETA-only deal, and it's in Playa del Carmen on Mexico's Riviera Maya.
It's the chance to own stunning luxury condos in an incredible community…close to everything this booming beach city offers yet discreet and exclusive. This one is for you if you want a true oasis close to the best beach in Playa, a secret stretch of Caribbean sands just for you and your renters.
Our prices are insanely low. Members are getting in at a RETA-only ground-floor price of $192,800 in a top-tier community…
Elsewhere in this community, folks are paying $300,000…$400,000…even as much as $4 million.
That's what makes this deal so hot. Our price is simply unheard of in a community like this.
We're buying in a next-level master-planned community.
Today, I want to hand you over to my senior researcher, Margaret Summerfield, to explain why "master planned" is such an asset when investing overseas.
Three Reasons Why You Should Consider a Master-Planned Community
By Margaret Summerfield
I've lost track of the number of folks I've met over the years who plan to do things a little differently when they buy a home overseas.
They want to live it up and go local. The rules and regulations of a master-planned community are not for them, they tell me.
The dream sounds like fun. The reality, less so. Because if there's one way to protect the value of your home…and save your sanity…it's buying in a master-planned community.
I'll explain why in a moment. But first let's back up a little…
What is a master-planned community?
A master-planned community is essentially a large-scale residential neighborhood. They are carefully planned from the outset, unlike ordinary residential neighborhoods that can grow and develop in a chaotic fashion. These communities have their own internal rules and regulations, in addition to any local planning and zoning laws. They often have recreational amenities, too—golf courses, beach clubs, restaurants, gyms, jogging trails. A master-planned community is initially controlled by the real estate developer, but, once it is established, control is handed to the homeowners.
Here are three reasons why you should consider buying in a master planned community.
1. Control
I'm a control freak. I like things organized and orderly. I'm quite shocked that I managed almost 14 years living in a"regular" neighborhood in Latin America. Because if there's one thing I didn't have, it was control over what happened around me.
Latin America is not the Wild West. There are rules and regulations, same as back home. But they can be hard to enforce.
Like when the residential house across the street from me turned into a nightclub.
It breached a raft of local planning and zoning laws. The noise was horrendous and way above permitted levels. Sleep became impossible. Neighbors banded together and complained to different authorities, who promised action, but proved ineffectual. The nightclub carried on. I eventually moved.
As did the nightclub, six months later. Yet again, it was right across the street from me, in another residential building. Luckily, I was renting, so could move again. Not ideal, but better than neighbors who owned their condos and didn't have a hope of selling them at market value with the nightclub next door.
If you can't face that nightmare scenario…or a neighbor starting a car-repair workshop…or the house next door falling into such a state of disrepair it affects the value of your home…then a master-planned community should top your list.
In addition to local laws, the community will have its own. And they can be enforced much more quickly and easily. This will help protect your property value. You will likely know from the moment you buy exactly what is allowed in the community and the type, size, and density of what can be built alongside you.
Higher-end communities simply won't allow car repair workshops, or any business that's noisy or a nuisance, to open. And these communities have requirements to maintain homes and outside space to a certain standard. That is great for your property value.
Larger master-planned communities also normally need a certain amount of"green" space that isn't built on—whether a golf course or hiking trails or forest—to comply with local zoning regulations. That's not the case with a regular neighborhood. It's another nice bonus of owning in a master-planned community.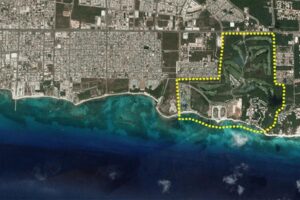 2. Amenities
This is one area where master-planned communities often excel. Whether it's access to a private beach club or golf course, swimming pools or clubhouses, they're a plus. There's the exclusivity factor—knowing that the gym isn't open to the public, for example. Or, the convenience of having a pool on your doorstep or a place in the community for business meetings.
Landscaped grounds create a sense of calm and space and walking and jogging trails are something that most people enjoy. Amenities can also add value to your home by making it more appealing to both buyers and renters.
3. Security
Many folks buy a home overseas that they use part-time, maybe for vacation or a few snowbird winter months. A lock-and-leave home makes sense in that scenario. You can leave it knowing that there is secured, gated access to the community. And, there is usually someone to take care of emergencies like plumbing leaks while you're gone.
That's a bonus when you're thousands of miles away.
Get Your Free Real Estate Report Now
Sign up for our free daily Postcard e-letter and get a valuable free report on the The 5 Best Places to Buy Real Estate In 2023.
Related Articles
Caribbean Living for a Third Less Than California
Own a Dream "Fixer Upper" in Europe
A Quick Note From Stunning Chiapas, Mexico
>