The expat community was much smaller when my wife Cynthia and I arrived in Cuenca in 2010. Back then, there were maybe only 500 or so, and a lot of those were old Peace Corps folks who had been here quite a while and faded into the landscape.
As part of the first big wave of gringos to hit town, all of us were pioneers who truly needed each other for assistance and support in our new adventure. Cynthia and I would introduce ourselves to every North American we saw (on the street, in a restaurant—it didn't matter) and exchange contact information.
It was actually a good way to get to know people; problem was, we really had no place to get together. So, some expats approached a local restaurant owner and persuaded them to use their bar area every Friday for a "Gringo Night."
Probably 1,000 new foreigners had arrived in Cuenca that year—the event was, unsurprisingly, an immediate success. Still, there were six other nights of the week with nothing organized going on, so I talked another restaurant owner into offering a second Gringo Night on Tuesdays. My instincts were correct—with only word of mouth over 100 folks showed up the first evening!
News spread of these events' success and suddenly Gringo Night wars broke out, with different restaurants promoting food and drink specials on the same evenings.
Meanwhile expats continued to arrive in Cuenca, and some of them began opening places serving American-style food. Then more expats arrived…and with them more restaurants. More expats…and even more restaurants.
Today both of those original places are gone, as is the whole concept of Gringo Nights.
What the heck happened? Basic supply and demand economics. In those early days there were a lot of gringos with very few places to congregate; now, yes, expats continue to come to Cuenca, but there are restaurants and bars all over town where you'll find expats almost any time of day and night. Those "meet and greets" have morphed into more specialized events like Trivia Night, Murder Mystery dinners, and performances by popular musicians.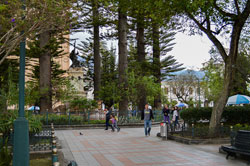 This little story illustrates the growth of the expat community in Cuenca over the past few years from 500 to perhaps 5,000, as well as its evolution from those pioneer days. The "Big 3" drawing cards—low cost of living, moderate climate, and outstanding health care—are still very much in play.
A couple can enjoy a comfortable lifestyle here for less than $20,000 a year. The temperatures, though a bit cool-ish in our "winter" of July and August, never have you sweating bullets or reaching for an overcoat. And medical procedures performed by highly trained physicians in top notch facilities cost as little as one tenth of what you would pay in the U.S.
And for anyone thinking of moving here the great news is that the larger expat population has made relocating to Cuenca easier than ever. It's easier than ever to buy cranberry sauce during Thanksgiving. (In fact, the grocery store had so much last year, they had to put the remaining cans on clearance this summer!) If DIRECTV isn't already included with your rent, it's easy to get it. Because of more expats looking to file paperwork for things like visas, the process has become much easier in recent years.
Related Articles