Win Your Dream Retirement Overseas With International Living
Retirees Wanted to Test-Drive Life Overseas for a Month – FREE – in Europe's Top Retirement Haven
The ideal candidate is of (or close to) retirement age, hails from the U.S., and believes that – in the right places overseas – it's possible to live better, for less. Details below…
Dear International Living Reader,
We're looking for someone to spend a month in Europe's top retirement haven—on us.
If you like the idea of relaxing in Old-World Europe, making new and interesting friends from all over the world, trying new things, and maybe even reporting about your adventures…this could be for you.
You don't need any writing experience but you should be willing to keep in touch and let us know how you're getting on in your new home.
We want to send this one lucky winner (or a couple) to The Algarve in Portugal to experience first-hand the life we report about regularly on the website and in your International Living magazine. We'll pay for the round-trip airfare, your accommodation, and a generous expenses allowance.
THE COMPETITION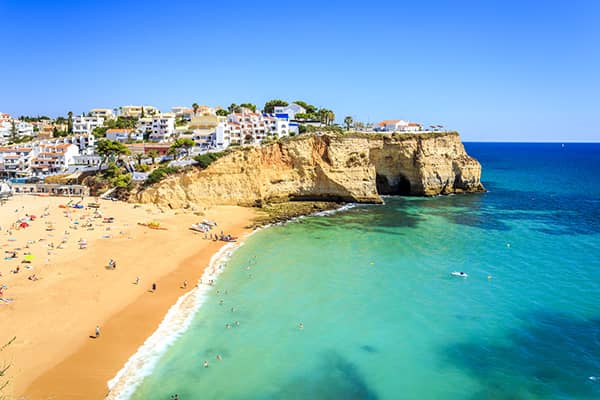 In 2022, we're going to send a lucky winner (along with a friend or spouse) to Europe's top retirement destination abroad—for a full month, FREE.
We're looking for an American with a sense of adventure, a willingness to try new things, and a belief that you might not have to settle for an uncomfortable retirement at home—when you could be living "the good life" overseas…
For over 40 years, International Living has been pointing readers to the best-value destinations on the planet… showing them how to trade up in retirement to enjoy a champagne lifestyle on a beer budget… how to travel smarter… start international businesses… invest in booming overseas markets… and more.
We believe the world is full of opportunity… and that you don't have to be rich and famous to take advantage of it…
In fact, by sending a lucky winner (or couple) to Portugal, we'll prove it can be done… that you can enjoy adventure, fun, and the joys of a comfortable retirement… on less than it would typically cost you to stay home.
The Prize

Details about What the Winner Receives…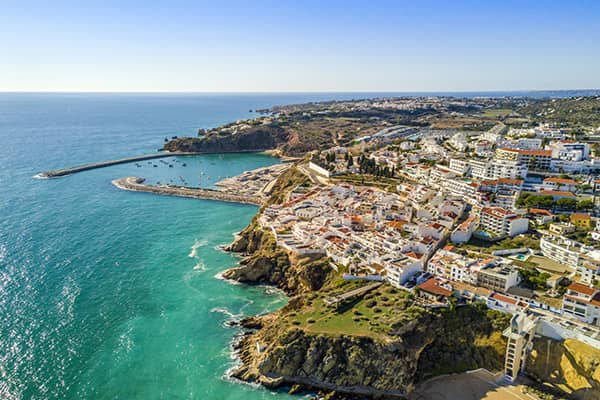 WHERE YOU'LL GO…
One lucky winner (along with a friend or spouse) will win a month's stay in The Algarve, Portugal—free.
Portugal is Europe's Top Retirement Destination for 2021. This tiny country in the southwest corner of Europe has something for everyone. Vibrant cities full of Old-World charm, miles of golden sandy beaches, green, rolling hills, some of the best healthcare in the world, low cost of living, and safety.
You'll also win free access to Portugal 101: Your Blueprint for an Affordable European Lifestyle, which offers a huge amount of information, recommendations, tips, advice, and insights about living, traveling, and investing in Portugal in one place… in living color… on video.
WHAT WE ASK…
Though you don't need any writing or reporting experience to win this competition, we are looking for a candidate willing to document their stay and share details about how much things cost, what he or she does to stay busy, impressions of Portugal, and living overseas, likes, frustrations, pleasant surprises, and more. This will include a video diary.
How to Apply
Enter your email address below and complete a short survey (you will receive a link by email). The deadline for submission is Monday, Oct 18.
Please note that only one entry per person is allowed. Please read our Terms and Conditions before entering this competition.
Submission of entries is now closed.
OFFICIAL "Retirement in Portugal" COMPETITION RULES
The Retirement in Portugal ("RETIREMENT") Competition (the "Competition") is sponsored by International Living, LLC (the "Sponsor").
2. HOW TO ENTER CONTEST:
Participant will enter their email where indicated on the Contest webpage (intliving.com/dreamretirement) and will complete a survey. Initial participant entries will be accepted and judged between September 20, 2021, at 12:00 AM EST and October 18, 2021, at 11:49 PM EST, (the "Entry Period"). Sponsor's Judging Panel will select twenty (20) semi-finalists to submit a video diary of specified length and format. Once the Semi-Finalists have submitted their video diary, those entries will be posted online for a public vote. Public voting of Semi-Finalist entries shall occur between Nov 8, 2021, at 12:00 AM EST, and end on November 22, 2021 at 12:00 AM EST (the "Voting Period"). The Sponsor's Judging Panel will select the top three (3) entries from the Semi-Finalists to become Finalists. The Finalists will be interviewed by the Judging Panel and will be asked to submit a final video diary. The video submissions for Finalists and Finalist interviews will occur between November 22, 2021 12:00 AM EST and Dec 5, 2021 12:00 AM EST. Sponsor's Judging Panel will select a Grand Prize Winner on December 6, 2021.
Purchase of Sponsor products does not enhance chance of winning.
Each Participant represents and warrants that the entries, video diaries, and other submitted materials are original work, has not been copied in whole or in part from any other work, and that the Participant is the sole author with the full power to submit the same. Participants may not use content, text, photo, video or audio clips from movies, television shows, songs, soundtracks or any other works that were produced and/or published by other companies or individuals. Each Participant further represents and warrants that the completed entries do not incorporate any material that would require the consent of any third party and/or any information, pictures, images, music, sounds, video footage or other materials that would violate the intellectual property, proprietary or privacy rights of others. Each Participant hereby waives any opportunity or right to inspect or approve the content submitted by the Participant and/or the final product in which it may be used or incorporated.
LIMIT ONE (1) ENTRY PER PERSON. No changes to any entry materials or information are permitted once the entry has been submitted, unless otherwise stated to the entrant by Sponsor. All entries become the property of Sponsor and will not be acknowledged or returned. Entries that do not conform to these guidelines, based on the discretion of the Sponsor and/or the Judging Panel (as defined below), or are received by Sponsor after the end of the submission deadline will not be eligible for prizes.
3. ENTRY JUDGING CRITERIA. Semi-Finalists, Finalists and the Grand Prize Winner will be selected by a panel of judges consisting of Sponsor employees (collectively, the "Judging Panel") and scored based on the Judging Criteria. The Judging Criteria consists of, but not be limited to:
Originality (Entries should use original content, not excerpts from existing materials.) and
Relevance (Entry addresses the subject matters)
All decisions are made in the sole discretion of the Judging Panel and are final.
PARTICIPANTS SHALL NOT SUBMIT:
Copyrighted material (including photos, music, screenshots or video clips from any sitcoms or movies)
Advertisements
Profanity or vulgar content
Political references
Pixelated videos
4. ELIGIBILITY: Open to residents of the 50 United States and D.C., 21 years of age and older as of October 18, 2021 at 12:00 AM ET, except for employees of Sponsor, their affiliates, subsidiaries, and agencies (collectively, the "Promotion Parties"), and members of their immediate family or persons living in the same household. Void where prohibited. By participating, you agree to these Official Rules and the decisions of the Judging Panel.
5. DISQUALIFICATION
Persons found tampering with or abusing any aspect of this Competition, as solely determined by the Sponsor, will be disqualified. The Sponsor strictly prohibits the use of robots, software or any system that generates non-human responses. Any attempt to tamper with or undermine the legitimate operation of the Competition is a violation of these Official Rules as well as criminal and civil laws. The Sponsor reserves the right to seek remedies and damages from any responsible individuals to the fullest extent permitted by law. In the event any portion of this Competition is compromised by any non-authorized human intervention or other causes beyond the control of the Sponsor which, in the sole opinion of the Sponsor, corrupts or impairs the administration, security, fairness or proper play of the Competition, the Sponsor reserves the right, at its sole discretion, to suspend or terminate the Competition.
6. LIMITATION OF LIABILITY: By entering this Competition, participants waive all right to, and hold the Promotion Parties harmless from, any claim, liability, loss, damage (including punitive, incidental, and consequential damages), or expense (including attorneys' fees) arising out of or in connection with participation in this Competition or the acceptance, use, or misuse of any prize. You release and forever discharge the Promotion Parties and Facebook from any and all claims, counterclaims, actions, losses, damages, liabilities, demands, causes of action, and expenses, including attorneys' fees, heretofore arising in law or equity, known to you, related to the Competition. SOME JURISDICTIONS DO NOT ALLOW THE LIMITATIONS OR EXCLUSION OF LIABILITY FOR INCIDENTAL OR CONSEQUENTIAL DAMAGES, SO THE ABOVE MAY NOT APPLY TO YOU. Promotion Parties will not be responsible for: late, incomplete, or incorrect entries; an participant's failure to receive prize notices due to participant's spam, junk email, or other security settings or for participants' provision of incorrect or otherwise non-functioning contact information; technical, hardware, or software malfunctions, lost or unavailable network connections, or failed, incorrect, inaccurate, incomplete, garbled, or delayed electronic communications whether caused by the sender or by any of the equipment or programming associated with or used in this Competition; by any human error which may occur in the processing of the entries in this Competition; or any typographical, technological, or other error in the publishing of the offer, administration of the Competition, or announcement of the prizes. If, in the Sponsor's opinion, there is such an error, or there is any suspected evidence of tampering with any portion of the Competition, or if technical difficulties (including viruses and bugs) compromise the integrity of the Competition, Sponsor reserves the right to request that the Sponsor, in its sole discretion, cancel or modify this Competition in a manner deemed appropriate by the Sponsor.
By submitting an entry to Sponsor, Participant grants to Sponsor a perpetual, irrevocable, nonexclusive, royalty-free license to use, reproduce, display, distribute, publish, modify and create derivative works from the entrant's submission for any purpose and in any media now known or hereafter developed.
Sponsor reserves the right to promote and publicize, through any means available, the progress, development, process, news, and success of all entries, in whole or in part, to promote the Sponsor, the Competition, and future competitions. In addition, Sponsor shall have the right, in its sole discretion, to edit, composite, morph, scan, duplicate, or alter the submission for any purpose which it deems necessary or desirable. Each Participant irrevocably waives any and all moral rights the entrant or team may have in the submission.
7. PRIZE: The Grand Prize Winner (or also "Winner") of the Competition shall receive a month's stay in The Algarve, Portugal with a guest, a cost of living stipend of $1,500, and roundtrip airfare for two. (Estimated retail value of the Prize package is $5,000). Sponsor reserves the right to select the Grand Prize Winner's accommodations in its sole discretion. By accepting the Grand Prize, the Grand Prize Winner agrees to document their month in Portugal via video diaries and writings, as reasonably requested by Sponsor.
Locations and pictures shown in promotional materials are for illustration purposes only. All other details of the Grand Prize not expressly stated herein are at the Sponsor's sole discretion. Sponsor reserves the right to substitute the prize for a prize of equal or greater value. The prize is non-transferable and is not redeemable for cash. The Grand Prize Winner shall be announced on or about December 6, 2021. Winner will be selected from all eligible entries received by Sponsor during the Competition Period. The Judging Panel will review and score the top entries to determine which entries will be declared the winners. The prize will be awarded only upon winner validation and verification by the Sponsor. No transfer or assignment of the prizes is permitted. No substitution of the prizes will be permitted, except that the Sponsor reserves the right, in its sole discretion, to substitute the prizes with a prize of equal or greater value. The Grand Prize Winner will be announced on Sponsor's webpage, in its daily newsletter, and across Sponsor's social media pages. Sponsor will also contact the Grand Prize Winner within 2 days after the date of the selection of the winner. If the initially selected Grand Prize Winner cannot be contacted after two (2) attempts, is ineligible, or fails to claim the prize, the prize will be forfeited and an alternate winner may be selected by the Judging Panel from among the highest scoring remaining eligible entries. Acceptance of a prize constitutes permission for the Sponsor and its affiliates to use the winners' name, likeness and biographical information for advertising and promotional purposes without compensation, unless otherwise prohibited by law. The Grand Prize Winner and their guest must present a valid passport at the time of acceptance or the prize will be forfeited. The Grand Prize Winner shall be required to sign and return an affidavit of eligibility, submit to a background check, and sign and return a liability/publicity release and a W-9 form within ten (10) days of notification (or return the signed forms within ten (10) days of receipt), or the winners' prize(s) will be voided. The Winner must consent to a background check or he or she shall be disqualified from the Competition and shall not be eligible to receive the prize. Winner is responsible for all Federal, state and local taxes and all other costs and expenses not specifically stated herein. The Grand Prize Winner must coordinate with Sponsor to schedule their trip within the 2022 calendar year.
8. CHOICE OF LAW AND FORUM: Participant agrees that all matters arising out of or relating to this Competition and these Official Rules are governed by, and construed in accordance with, the laws of Maryland, without giving effect to any of its conflict of laws provisions thereof. Participant further agrees that any legal suit, action, or proceeding arising out of or relating to this Competition and these Official Rules shall be brought exclusively in the applicable federal or state courts located in Baltimore Maryland.
9. PRIVACY: Personal information submitted by participants is subject to both the Sponsor's Privacy Policy stated on https://internationalliving.com/about-il/privacy-policy/.
10. WINNERS LIST: For the names of the prize winners available after Dec 6, 2021, send a self-addressed, stamped #10 envelope to: TCC, 335 Clubhouse Road, Hunt Valley, MD, 21031, USA.
11. SPONSOR: Three Founders Publishing, LLC, 808 St. Paul Street, Baltimore, MD 21201, USA.
Process For Choosing the Winner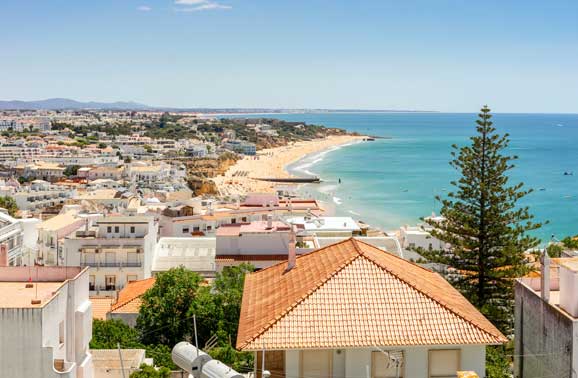 Oct 18 — The application stage closes and we will be selecting 20 finalists to proceed to the next stage of our competition. Each finalist will submit a video explaining why they would like to retire overseas—and why we should choose them for a one-month test drive in Portugal.
Nov 8 to Nov 22— The public will have an opportunity to vote for their favorite videos among these 20 finalists. Taking those public votes into account – together with our own in-house preferences – we'll narrow the finalists to three.
Nov 22 to Dec 5 — We'll interview those three finalists, ask them to record one final video diary, and then we'll choose a winner.
Dec 6 — We'll announce the winner on this page, on our social channels, and in our free e-letter.